After what I suspect was a bout of "ramp rage" by somebody unknown, one of the lights on my trailer got broken. I thought of replacing the lights (couldn't find a matching single one) and connecting up the wiring using soldering (and then waterproofing the joints), but I decided to take a different approach, and fit a removable lightboard as you see on the back of powerboat trailers. My old trainer lights were getting dunked in salt water at least four times a week, which can't be good for them....
The problem is that kayaks don't have a wide transom like powerboats do, so I broke down the requirements into individual sections.
First I made up a cradle from marine ply, with broomsick horizontal supports (painted in white enamel to match the plastic board).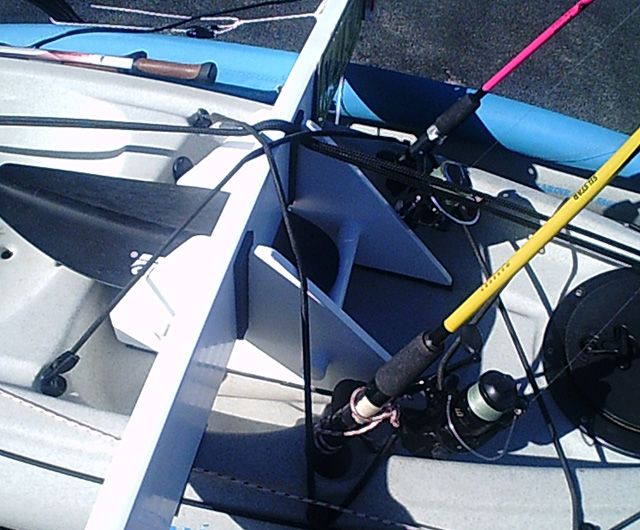 Its height aligns with the side rails, so the lightboard sits on wetsuit foam underneath at all contact points, with more foam at the front edge of the cradle slot.
The board (and cradle) is held down with the rear cargo bungees, plus anotherbungeed line which passes under the hull. In order to further locate the board against wind resistance when travelling at 70mph, other lines lead forward to loop around the folded aka. However, the whole thing is so snug, I doubt these are really necessary.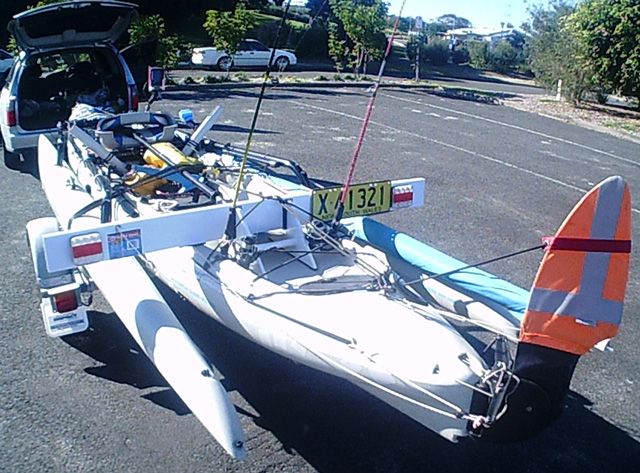 Now swhen I am at the ramp, I just put the whole thing into the back of the car, and my new lights never ger dunked.
_________________
Tony Stott
2012 Tandem Island "SIC EM"