Hey Longfellow,
Several possibilities, probably the most obvious is the nice flat deck space forward that other folks have used for mounting purposes. Note the flat area between the toes of my flat's boots. Also note the flat area just forward of the starboard mesh pocket (and also on the port side). These were built into the AI mold for just this purpose--mounting accessories. Hobie--always thinking when they design their boats!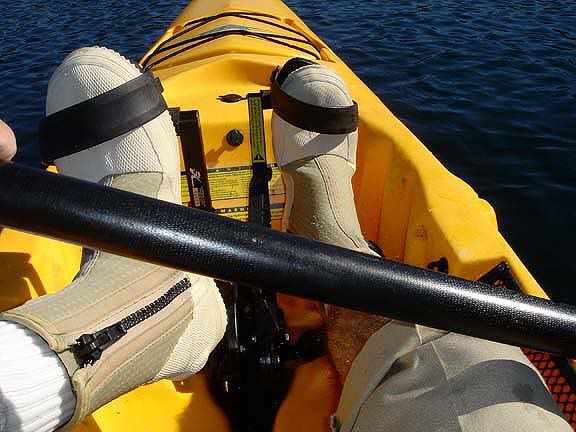 But don't forget the unique possibility afforded only by the Mirage Drive yaks—your mast tube. Several of us have used this for mounting cameras and other gear. Also check out the recent thread over on the Hobie Kayak Fishing Forum about mounting a FF on the Revo using the mast tube, as shown by Val and Hoit in the below link.
http://www.hobiecat.com/community/viewtopic.php?t=6484
Here is a pic by Hoit showing on his Revo what I'm referring to. This will work on any Mirage Drive yak (they all have a mast tube built in for sailing). Have fun getting her rigged!