Design flaw
a mistake or fault in something that makes it useless or less effective.
Macmillan Dictionary

a fault or weakness, esp. one that happens while something is being planned or made and that makes it not perfect.
Cambridge Online Dictionary
Hobie Island AI 2 and Tandem design flaw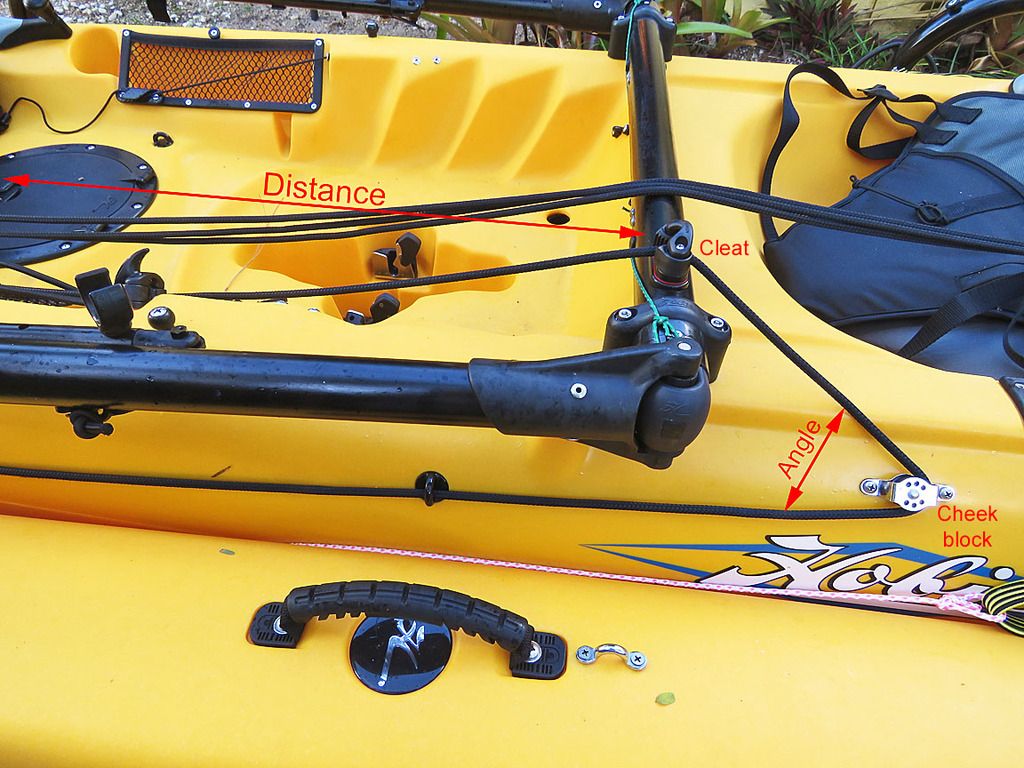 There are 2 problems with the Hobie main sheet deployment on the AI 2 and Tandem.
(1) The
angle
is too open, making it difficult for the pilot to lift the main sheet high enough to release from the cleat. The problem is aggravated in stronger winds, just when it may be necessary to release the main sheet as quickly as possible.
(2) As the pilot tries to lift the main sheet high enough, the large
distance
does not give him enough leverage. Stress on the shoulder is possible. PeteCress has recently posted on this problem. It is more noticeable on the AI 2 because of the extra
distance
between pilot & cleat.
The Tandem, both front and back, has the same problem, but the
distance
is less. The reduced
distance
makes the problem less pronounced, although a small person may experience it.
In a post last June regarding the pros & cons of the AI 2, I wrote, "
location of the main line cam cleat is too far forward (sharp downward angle of the line to the hull block makes it hard to release sail in moderate to strong winds.)
" To see that quote, you will have to scroll way, way down to get to my "pros & cons of the AI 2" (
viewtopic.php?f=70&t=7276&start=720
Yakass posted (about the AI 2):
viewtopic.php?f=71&t=54969
Yakass wrote:
What I do agree with Chekika about is that it can be tricky to uncleat the main sheet in stiff winds. I think this is partly due to the extra distance from seat to xbar. I did round up in the wind at one point when my sheet got stuck in the cleat when I was hit by a big gust with full sheet out, and this happened to Carl (in surf) to. We found a really simple and cheap solution for that at SLH - we just moved the forward block upwards and forward (6" forward, 2" higher) of its default position and this reduced the angle from the block to cleat, making it a heck of a lot easier to operate.
Yakass' solution greatly reduces the
angle
. With this mod, the cleat releases easier, but it does not solve the
distance
problem on the AI 2.
My solution on the AI 2, and shortly on my 2014 tandem, was to move the cleat back along the gunwale. I did this before I saw Yakass' solution, but note that his and my
angle
are about the same. I did not move the block. Moving the
cleat
back along the gunwale eliminates the distance
AND
the angle problem.
This is clearly a design flaw on the AI 2 and, to a lesser degree, the Tandem. Others have moved the main sheet
cleat
back along the gunwale on their Tandems. My apologies for not looking them up and noting them here.
Keith