Matt Miller said:
Quote:
The Pacific is predictable. No sudden storms... that makes it a great place to sail.
Right on, Matt, whereas the Gulf of Mexico and the tropics are just the opposite--lots of sudden storms and rain squalls that can take you from a bright, sunny day to rain so dense your visibility is cut to less than 50 feet, and with wind gusts that can put you on your beam ends in less time than it takes to write this.
My one dunk while sailing the Sport or OB came from a wind micro-burst that originated from a rain squall about 6 miles away on a beautiful sunny day.This thing was completely without warning and came barreling down the bay before anyone knew it was even there! I went over in less than 5 seconds, even with both outriggers extended. Fortunately, I was carrying my new waterproof Pentax Optio W10 camera at the time--my Sony would have been toast! Also fortunately, three HobieCat sailors who had just trailered their boat saw what was happening and came charging out into the water to give me a hand. Turned out that the tip of my mast was embedded in the bottom, so it was a bit of a pain to get it out so we could right the boat! About 20 minutes after I took this pic, the day went from this--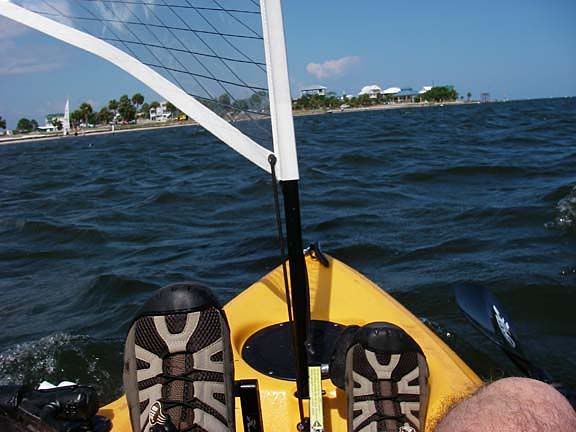 --to this. And the beach began clearing in a hurry as this rain squall came bearing down on us! But everything was bright and sunny, and no rain at all, when the approximately 50 knot micro-burst hit me.