Tiger Key, a Paddle-In, Fishing—an Everglades trip
Quote:
I put five dollars, a jackknife, fishing reel, and associated paraphernalia into a box and secreted it in my desk drawer. If disaster struck, I would be ready. If anyone survived, it would be me.

Steven Callahan, "Adrift"
It is about 8 mi from Everglades City Ranger station to Tiger Key. The route is straight-forward since it is clearly marked to Indian Key. Then, make the turn to the northwest to sail up Gaskin Bay, finally, turn left into a cut. Once through the cut, you can see Tiger Key beach to the west. This is a "beginner" trip. Of course, if the wind is ripping, or you are sailing against the incoming tide with a strong off-shore wind coming through Indian Key Pass, it can be tougher, a lot tougher. And, if you have never done this sort of thing before, it is still pretty easy to get lost if you don't pay attention to your charts and compass (modern day people put a route on their GPS and simply follow it—others hate that simple-minded approach, and they don't trust the electronics anyway.) Here is my track as I and 3 other Hobie Adventure Island sailors did the trek. We also had a kayaker (Bob Manz) with us. The winds were light, and we had to tack into Gaskin Bay, so the kayaker got to Tiger Key first. That used to bother me, but today I accept it as luck-of-the-draw, or should I say the weather. The AI pilots were Bill Waller (Polecat), Bob Quirk (Quirkster), and Lou Greenwell. Four AIs in the Everglades National Park—that has to be a fleet record.
Google Earth image of my track to Tiger Key spit.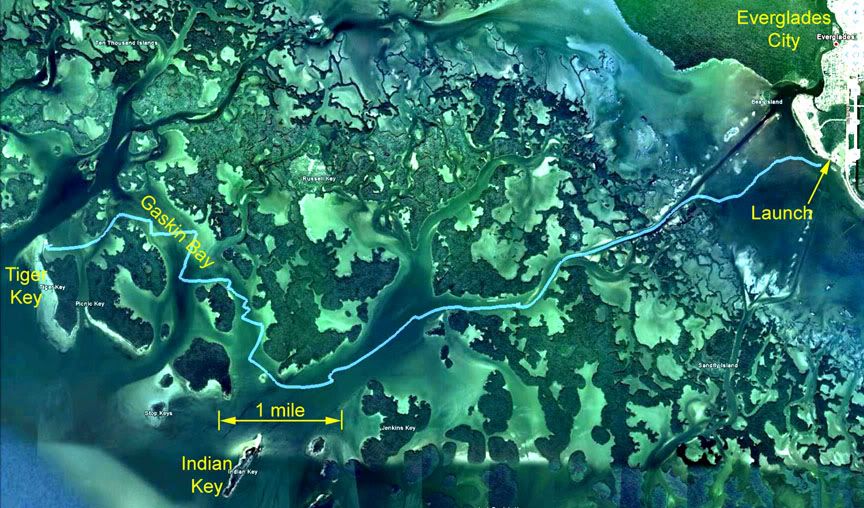 Do you know what a "spit" is? Here in Florida, it is a long, narrow sand bar—an extension of an island, and it can be quite large. It often has the shape of the trajectory of one's spit. In the everglades, a spit frequently can be found at the northern end of an island. Indian Key has a pronounced spit as does Pavilion Key. Sometimes the "spit" curves around so much the area becomes like a pancake, making a great camping site. That is the case at Tiger and New Turkey Key 20 miles southeast.
Here is the Pavilion Key spit from eye level:
We often camp on these spits, because they have a breeze reducing bug problems.
Chokoloskee Bay after our launch from Everglades City
Lou in Indian Key Pass
Quirkster took this picture when we were in the wide part of the Pass.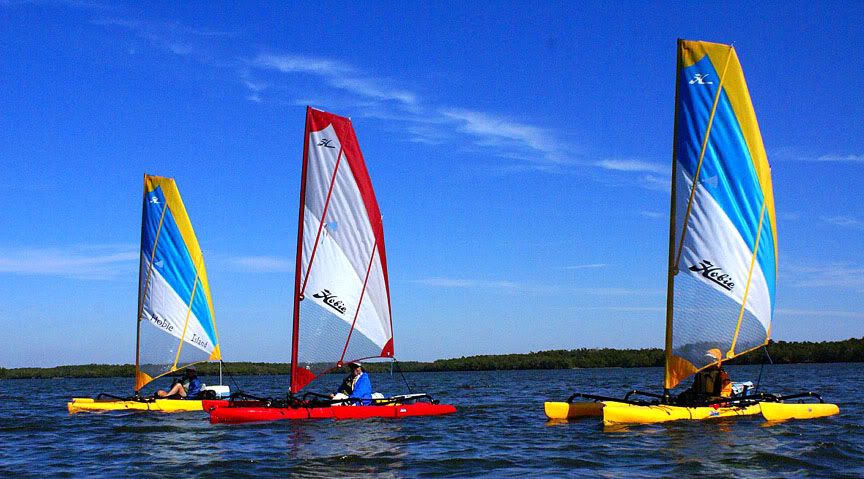 The boys have made the turn into Gaskin Bay
—we had to beat into the wind as we made our way up the bay.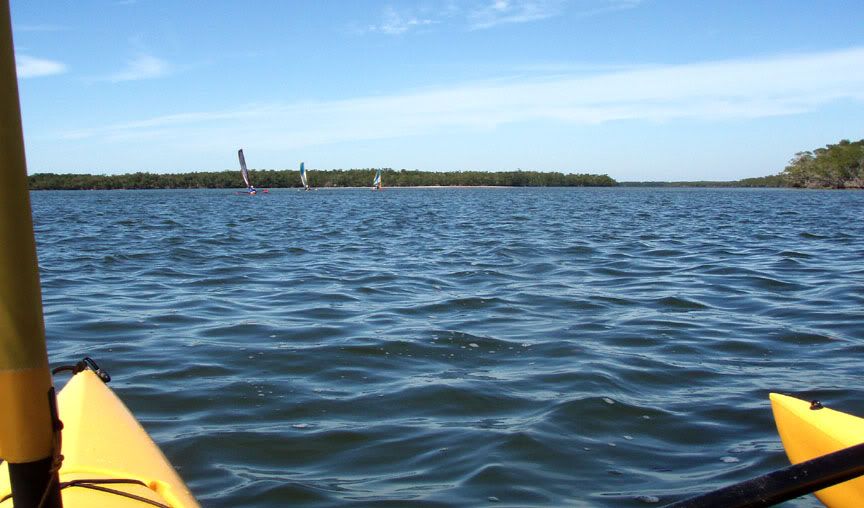 Evening on Tiger Key spit—it is near high tide.
The tide has reached the back of my AI on the right.
The tide is receding. Not much free board on these spits at high tide.
With really high tides in September-October, a spit can be under water. High tides and high winds can make for interesting times on a spit.
Guess which one is the kayaker. Bob Manz on left. AI drivers are Quirkster, Lou, and Polecat.
Quirkster took this picture—I'm on the left.
Note the nice fire pit which Lou dug. Lou is very environmentally conscious. When we leave this campsite, there will be no evidence of a campfire thanks to Lou.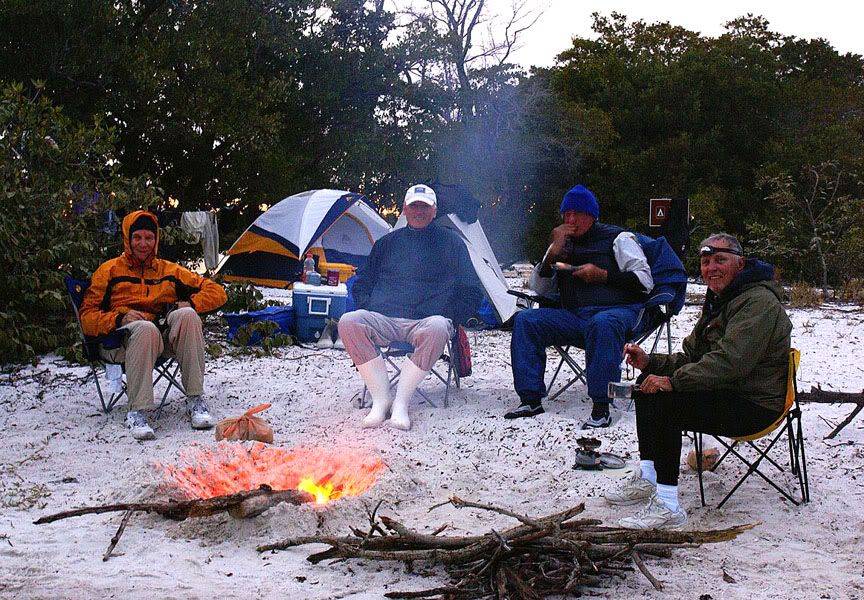 Sunrise
Today is a fishing day. This is my track starting and stopping at our spit.
My track covers about 3.5 miles. I fished shorelines and deeper water. I had my sail up—the other 3 (Quirkster, Polecat, and Lou) fished in Adventure mode. My big screw-up of the day came when I caught the mainsheet under one
untethered
rod/reel (I had 2) and dumped it in the water. Dumb! The kinks in my track are because I was not trolling. Rather, I would go some distance either by sail or fins, stop, cast for fish, then move to another. I've put some red dots indicating a couple of my stops—but there were many, many stops.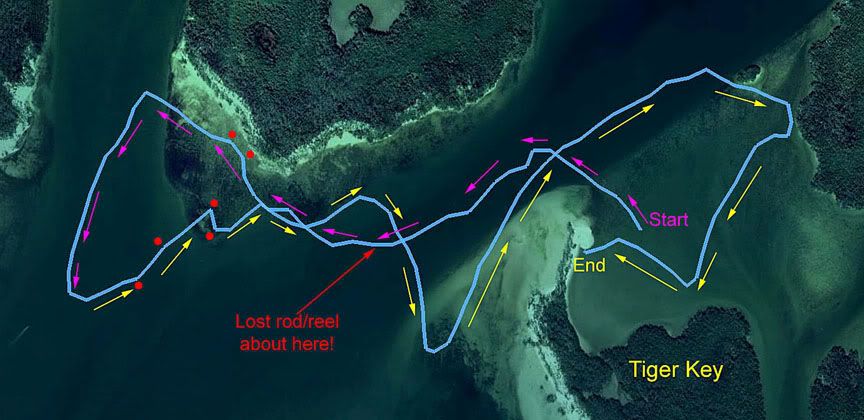 Quirkster takes a picture of me as I talk about the one that got away.
We have a visitor, Miles, seated on the right listening politely.
Quirkster displays the ONLY fish we caught
—he is too embarrassed to bring it in close to shore—I used my zoom. It is a Spanish mackerel—we usually don't bother with these but in a pinch….
The 3rd day out is going to be a big day. The Bob's are packing up and leaving, but first we will travel to Indian Key for the "Capt. Wright's Paddle-In."
Capt. Wright runs a successful kayak fishing guide service. Probably about 100 people will show up—but, we will be the only Hobie AIs. This is my route to and from.
We deliberately arrive in formation.
Cindy arrived ahead of us and took this picture of our approach. You don't know Cindy. The Bob's will leave us, but we picked up Cindy Augustyn.
Polecat (in black), Lou (in red), and Quirkster (in grey) check out the buffet set up by Capt. Wright and his crew.
Each of us donated $10—it went to a school in the Chokoloskee area for student environmental studies
These paddlers are fishermen and women. Most are checking out each other's gear.
Back at camp. Meet Cindy. She is a kayaker and a strong paddler.
On the last day, after we were all packed and waiting for favorable tides,
Cindy, Lou, and I did a hike to the front of Tiger Key. It was beautiful.
Cindy can always improve a picture.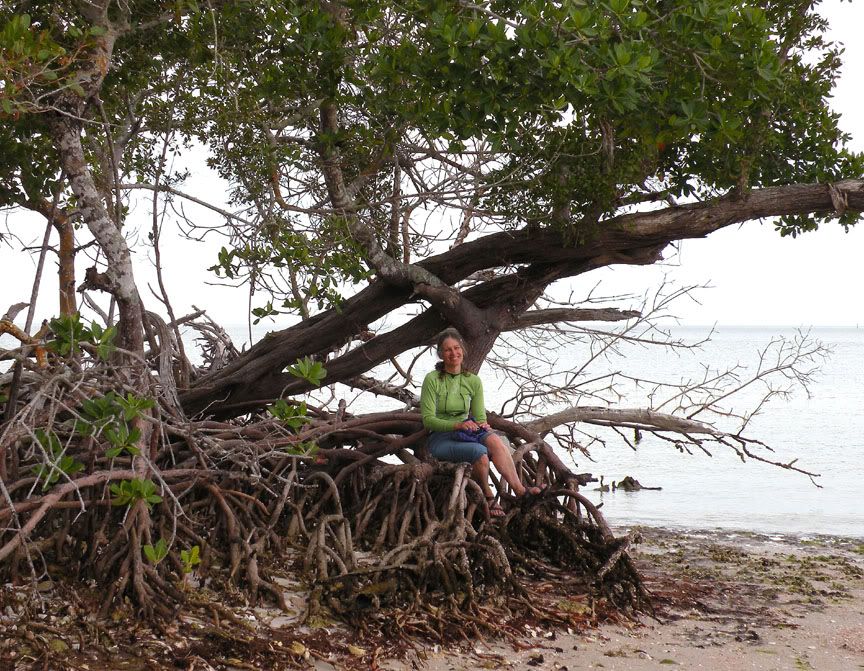 Cindy expresses her disapproval of some clueless campers.
These are the ashes they left. It is a pet peeve of mine. How can campers be so disrespectful of the beaches? This is a wilderness area. You don't leave trash on the beaches. Many people have a fetish about campfires—to them, campfires are like Motherhood and apple pie. If you
MUST
have a campfire, dig a deep pit near the previous night's high tide line, have your fire, burn all the wood to ashes, and fill the pit in before you leave.
Otherwise, DON'T HAVE A CAMPFIRE.
It is pretty simple.
DO NOT LEAVE ASHES AND PARTIALLY BURNED FIREWOOD ON THE BEACH—THAT IS A NO-BRAINER.
Be good stewards of our beaches.
More of Tiger Key
A couple of Ibis (Chokoloskee Chicken, Curlew) walking with us.
The white one is an adult. The brown one is a teenager—it will turn white when it reaches adulthood.
Lou got this great picture of an osprey at its nest.
Sunset on Tiger Key by Quirkster
Concluding comments:
Fun trip. Great people, good spirits, good weather, and a beautiful setting made for a quality, relaxing trip.
No problems with boats or gear. Fishing could have been better, but recent, unusually cold weather has put a dent in the fishing. Frankly, our group seldom has good fishing at Tiger—next trip we will be heading 35 mi southeast, where the big fish hang out—stay tuned.
Lou was using my wife's AI. It was his first time sailing an AI. At times he suffered from lack of knowledge. For example, as we returned from Indian Key and passed through a shallow area by the Stop Keys, I'm calling to him to uncleat the rudder line. I could see him looking around, but he doesn't understand. Of course, we had not told him to
cleat
the rudder line. Things like that kept him on his toes most of the trip—but he loved it.
Keith