Pavilion Key—New Faces and Good Fishing
This trip was planned with 2 friends in mind. As the date approached, they along with a third regular could not do the trip, so it was beginning to look like it might fizzle. As it happened, we had a very good group. Gil Companiori brought his charming wife, Yadira. Kayakers Erika Fitzsimmons and Alex Oancea joined us. Alex had just finished the Watertribe Everglades Challenge (300 mi—now
that
is an expedition.) Then, to my surprise, 3 young people from around Orlando came at the last minute. We had 9 people Including Jim Quinlan and myself.
Jim and I were the first to reach Pavilion on Friday afternoon. Gil & Yadira were behind us by 30 minutes—Gil had been fishing.
Here is Jim & my campsite Saturday morning.
Beautiful and tranquil, yes, but Friday afternoon when we landed there was rain all around. We rushed to get our tents up, but the rain hit just as I was getting my poles up. By the time my tent was up & I had jumped inside, it was pouring. Buckets! Winds were on the order of 25 mph. I heard Jim exclaim, "This is a disaster!" Still, it was not so bad. Both of our tents worked just fine. In the middle of it all, Jim was staking out my tent guy lines. Thanks Jim!
The rest of the group arrived Saturday. First, Erika and Alex paddled in. Then, Denise & Joshua Bowers arrived in their Tandem Island along with friend, Nickolas Bongiovanni.
Nick being the sport & athlete he is, paddled this Ocean Kayak out (9+ miles)—ugh!
The young people definitely added a new dimension to this trip. They all had interesting stories.
When Denise and Joshua Bowers were not posing for me,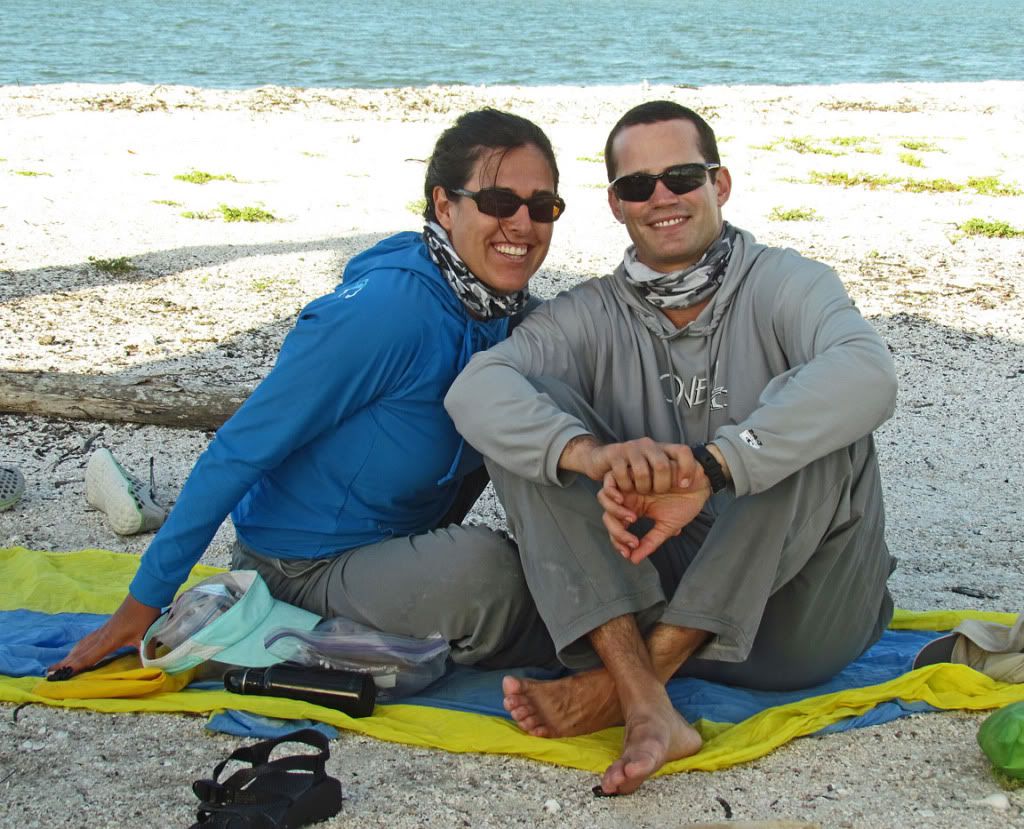 they were stretching.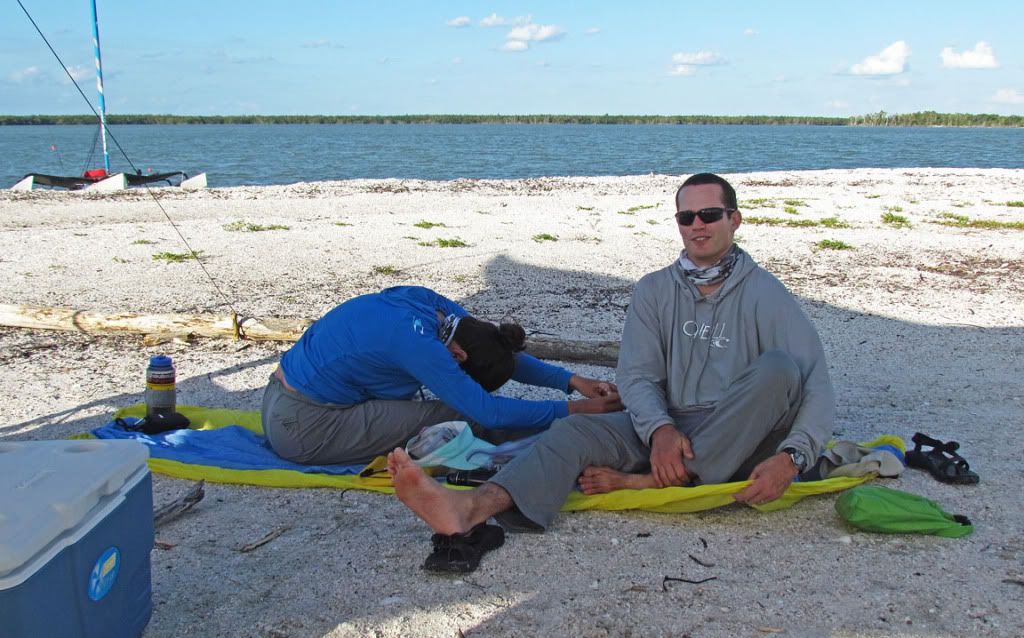 Turns out, Denise and Josh are professional athletes. They also began the Watertribe EC in their new Tandem Island. This year the winds were absolutely brutal. Because of their lack of experience and their new boat, coupled with absolutely the worst winds/weather of any Watertribe Everglades Challenge, they were forced to drop out. I'm sure they will be back next year smarter and stronger.
Gil and Yadira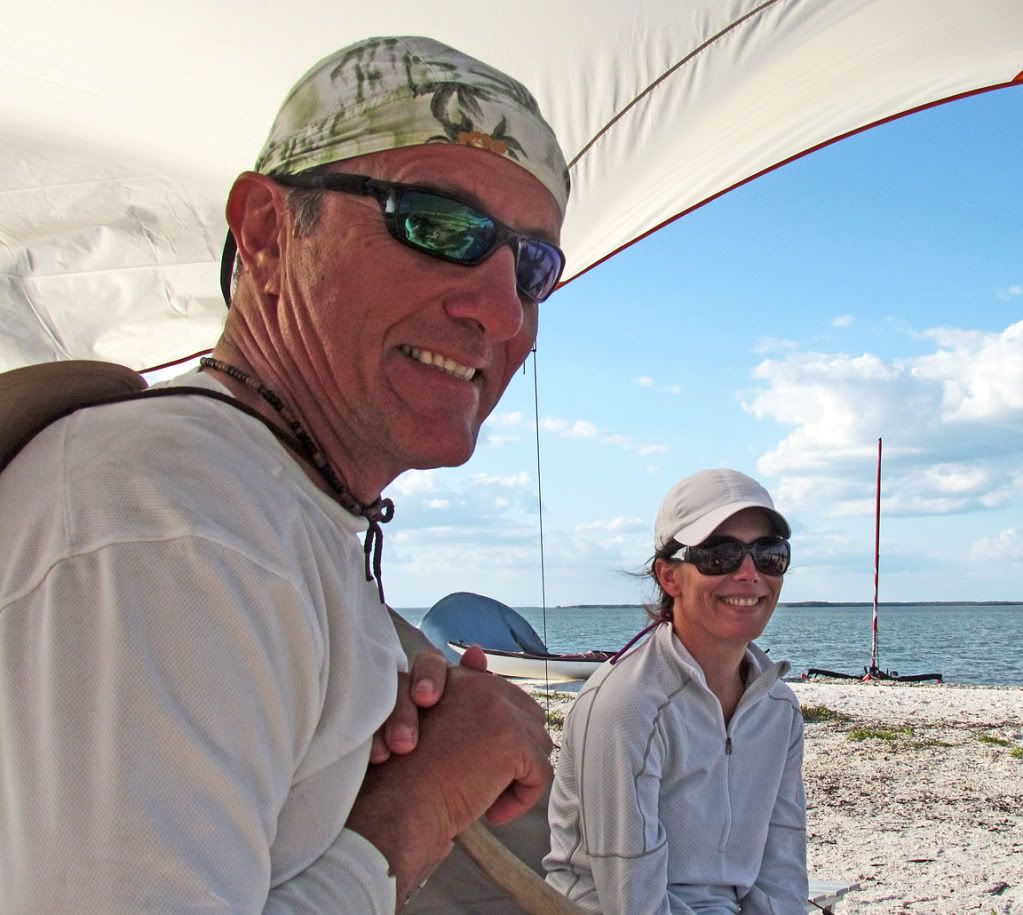 Much of Saturday was spent fishing, at least by Yadira, Gil, and myself.
Yadira loves to fish and caught the biggest sea trout of the trip—a 23" fish.
I accidentally cut Gil out of the picture, but I got the important aspects.
Gil also set up the largest tarp I've ever seen on Pavilion Key.
Yadira, Erika, Gil, and Alex exchange stories. Later, we had our traditional Saturday night fish fry.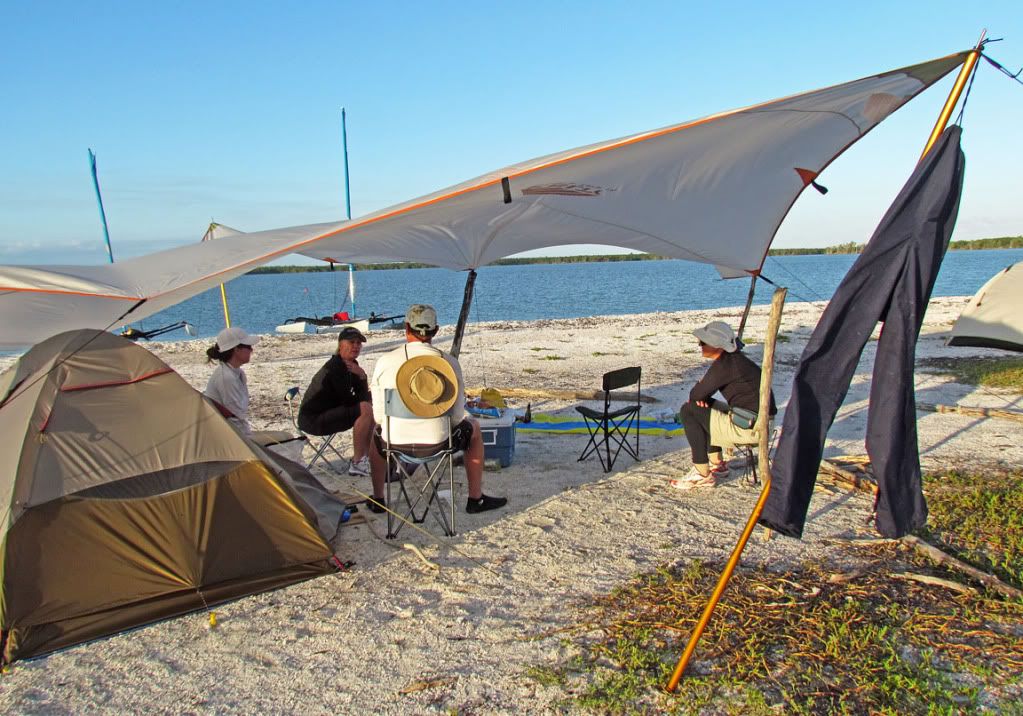 Erika & Jim catching a little tarp shade.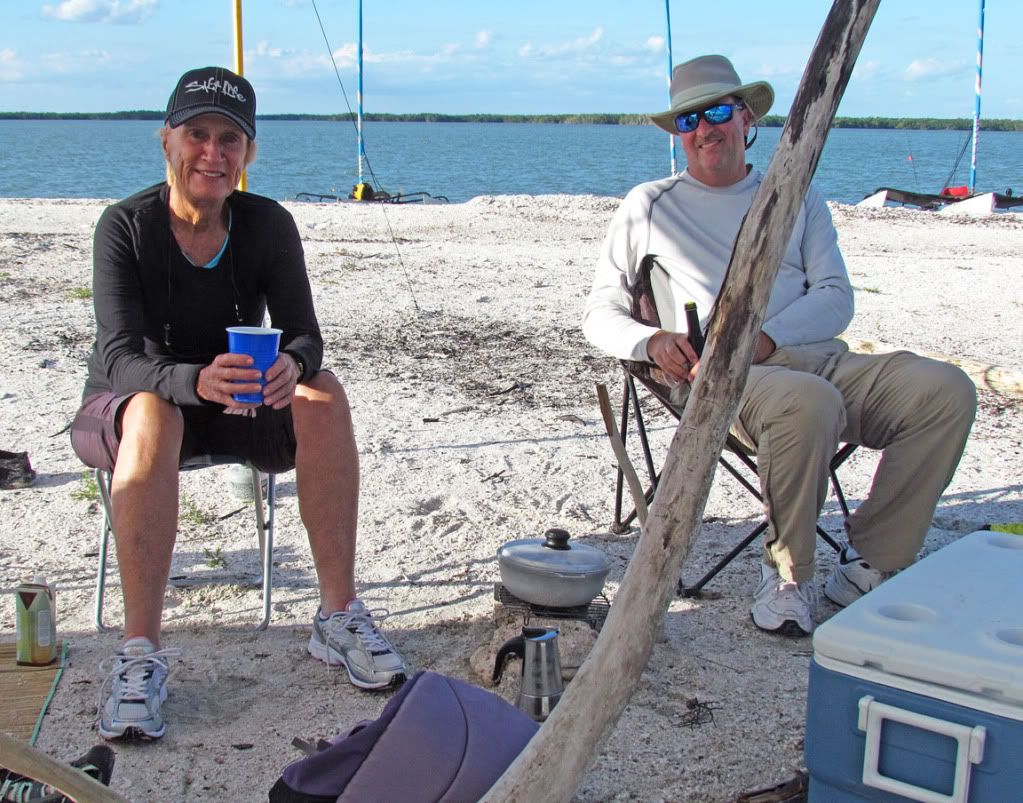 Jim won the creative prize of the trip when he converted a haka into a table.
For the story of hakas see
http://www.hobiecat.com/forums/viewtopic.php?f=69&t=37645
Everyone was up bright and early Sunday morning to begin the trip back to the main land.
Alex and his trusty kayak
—not the one he did the Everglades Challenge in. Alex and Erika left early to catch the best tidal current through the passes.
I got the kids to pose with me for a morning picture:
Josh, Nick, Denise, & me.
Shortly after, everyone got serious to return to Chokoloskee.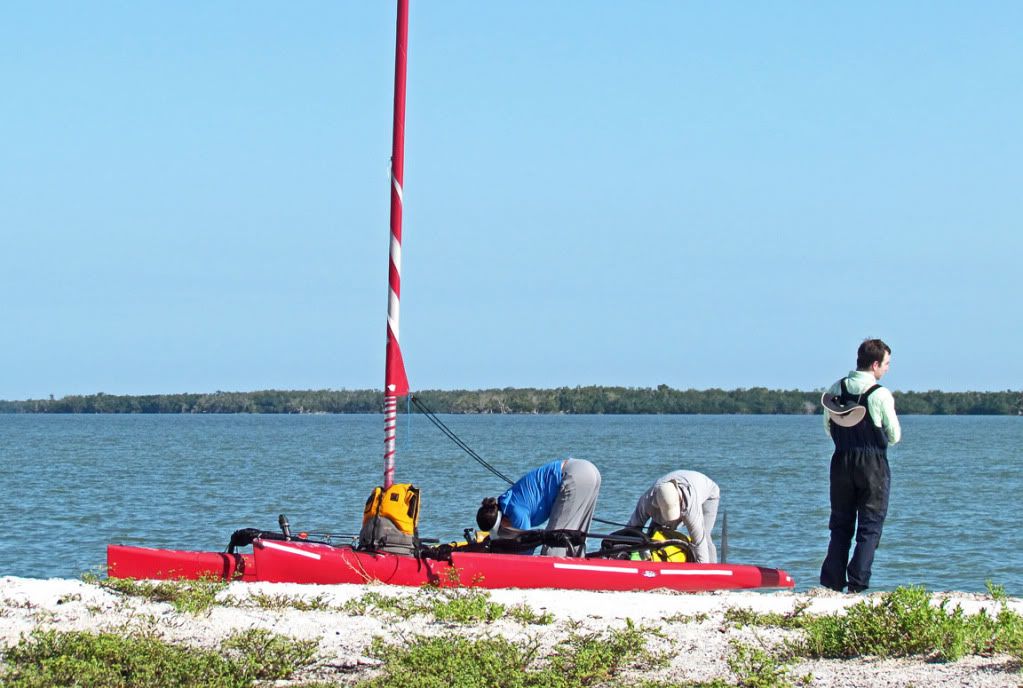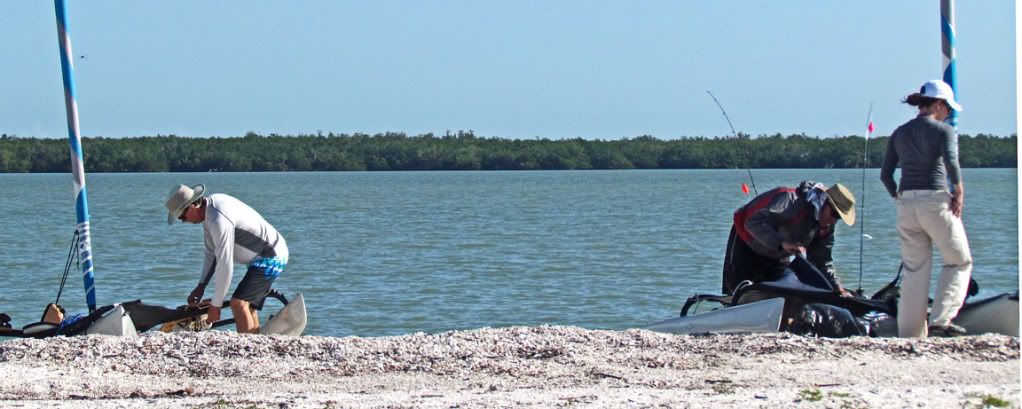 What was I doing? Drinking coffee and taking pictures.
I did catch a nice 20" trout on the return.
This group was great. They all independently made their way back to Chokoloskee. Getting back is no small feat. The area is known as the "Ten Thousand Island" area of the Everglades. Here is an overview Google image.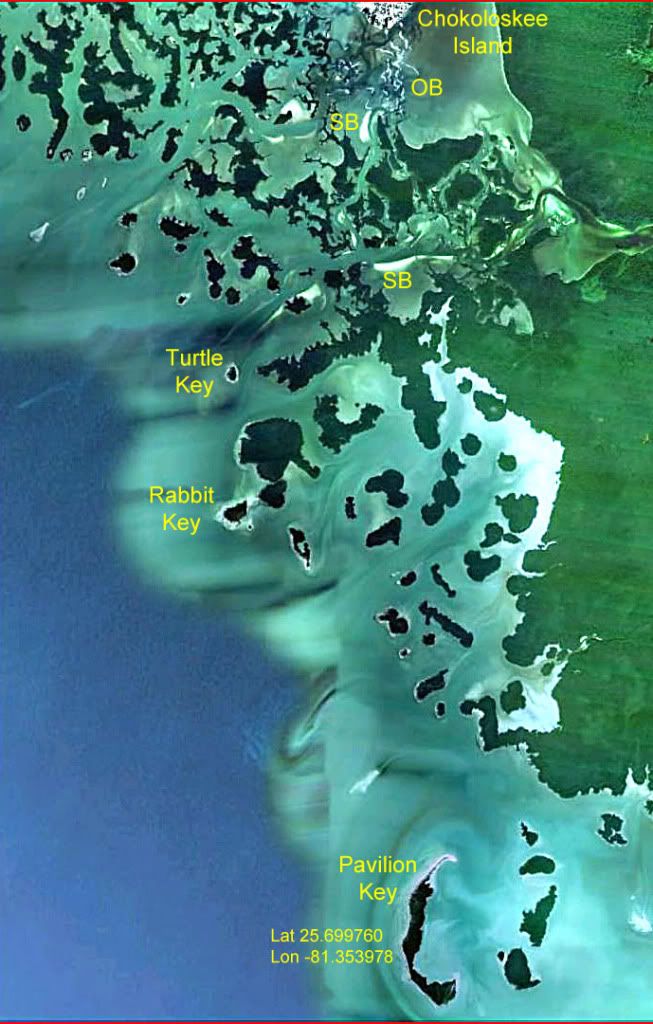 Sand bars (SB) and oyster bars (OB) can be "found" throughout the area. The boater who finds a sand bar is usually just stuck. If the boater "finds" an oyster bar, he may damage his engine (powerboater) or rip out his transom (AI/TI). More images are posted below. Also, if you want to peruse the area on Google Earth, the Lat/Lon for Pavilion is given on the image.
Keith