Flamingo to Chokoloskee: A trip of firsts
I was excited to do this 7-day trip. You might say, "But you've done this trip 16 times." Yes, you're right, but this one is different. You respond, "Different! What can be different after doing a trip 16 times in the last 17 years?" Well ….
For one, this was the
first time
I did the trip
solo
. In addition, I was trying out—testing—a number of things, not least of those being me. With each trip, it seems I'm another year older. Therefore, this trip was a test to see how I would do—solo.
Secondly, this was the first time that I would be using hakas. How would they work?
Third, and haka related, I would not bring my regular table. Instead, I would try out my haka table. Would my haka table work? Alternatively, would I throw it on my big pile of bad ideas?
Fourth, I ditched my usual sunshade tarp and its four large circus tent stakes. Rather, I tried a large beach umbrella and a post-hole sand stake to combat the brutal Everglades' sun.
Fifth, I've got a new inflation system for my air mattress. For years, I've carried a bulky Coleman 4-D battery-powered pump to inflate Nancy's and my mattresses. It worked fine, but there was that little worry--it might quit. So, I'm testing this new system which weighs an ounce.
Sixth, and one of the biggest tests, was my new front hatch seal. It's a radical design. On a recent trip, my boat took on 1-2 gal of water/day via the front hatch seal—everything up front was wet. Frankly, I was quite confident my new seal would work and couldn't wait to test it on this trip. Basically, I was expecting a dry boat.
This was enough anticipation and excitement for this solo trip to keep me awake. Here's my report.
This is the Google Earth image of coastal Everglades National Park. It is a wilderness area. On the image, the red underlines are my intended camps, and the red dots are actual camps.
At the launch, there was another first: my son, Scott, and his wife, Marilyn, were at the launch in Flamingo.
Marilyn took this picture with her iPhone. Scott & Marilyn have always shuttled my car over to the end, but this was the first time they were at the start with me.
It's going to be cold out front in FL Bay. A front is coming through. Winds predicted to be 10-20 mph out of the North with gusts to 28 mph.
It was cold on the water. The winds would drop down, but they would roar back with a vengeance. As I rounded East Cape Sable, they were on my nose, straight out of the northwest.
Therefore, I decided to quit early and pulled up on ECS. This is my camp site. It is south facing and sheltered from the wind.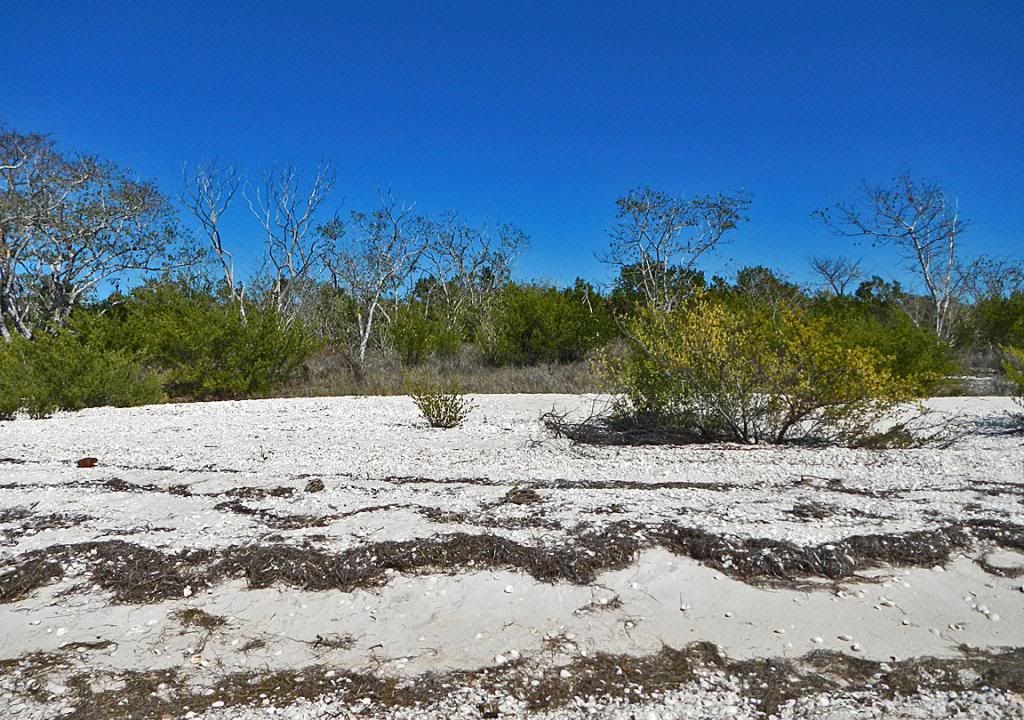 This is the site after I have spruced it up a bit. Right away, you can see my haka table and my beach umbrella. They worked great throughout the trip.
On Day 2, I planned on making 20 miles to Scorpion Beach at Graveyard. Generally, I will be on a nice reach with winds of 15-18 mph.
I'm expecting another difficult day sailing (dds) with strong winds.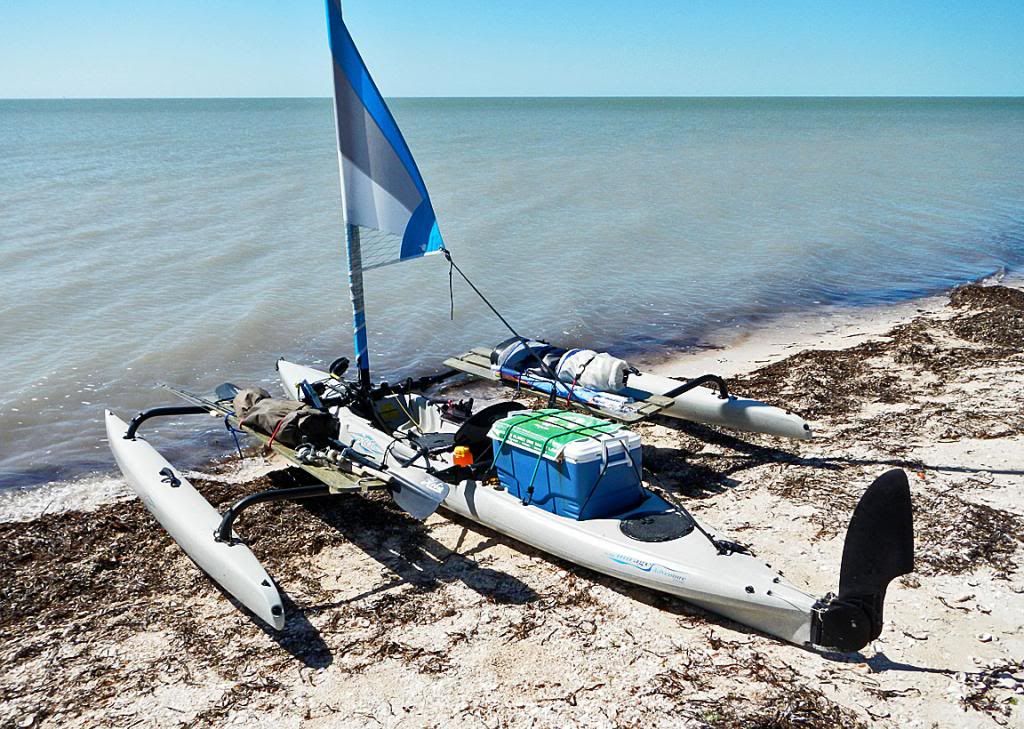 It was.
Scorpion Beach on Ponce de Leon Bay.
The explorer Juan Ponce de Leon learned the hard way that the Everglades could be hostile territory. In 1521 he was wounded by an Indian arrow in this area and later died from the wound—thought to be due to a poison-tipped arrow. Can you imagine that in 1521, almost 500 yrs ago, there were Spanish explorers here? (Try to ignore the net some clueless fisherman left on the beach.) The winds dropped immediately after reaching Scorpion.
On Day 3, as I left Scorpion Beach, I was immediately in strong winds. I partially furled the sail.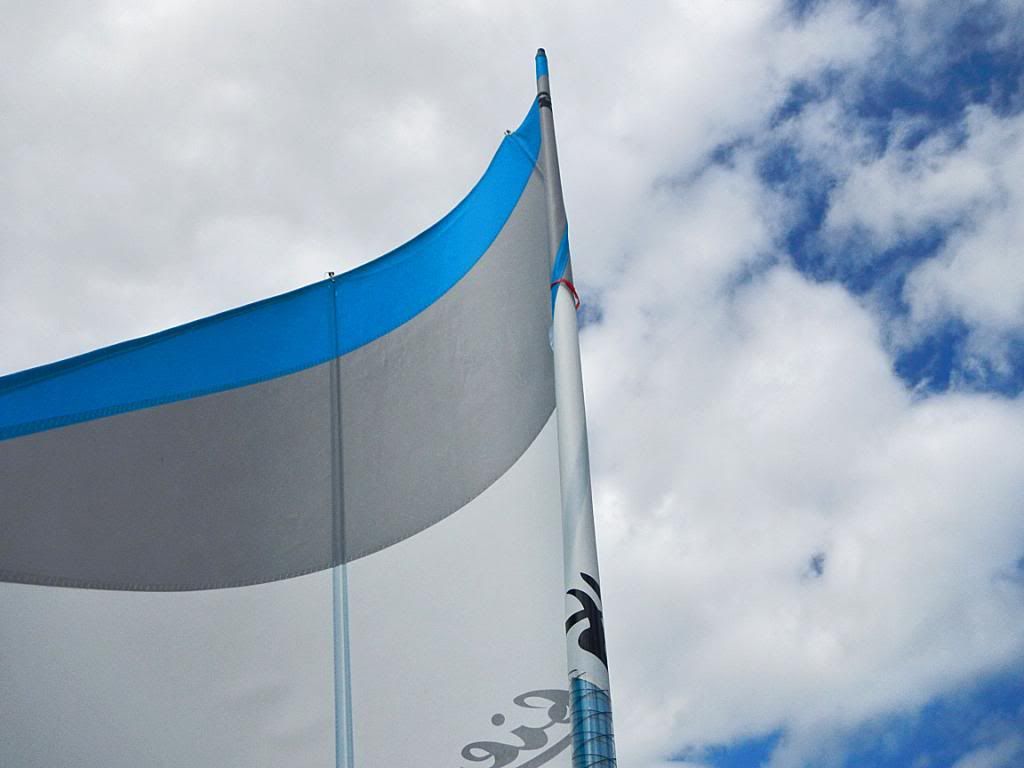 I was still doing 6 mph
And, burying the bow
After a few more miles, I come across a boat that didn't make it. It is 35 miles to the nearest marina.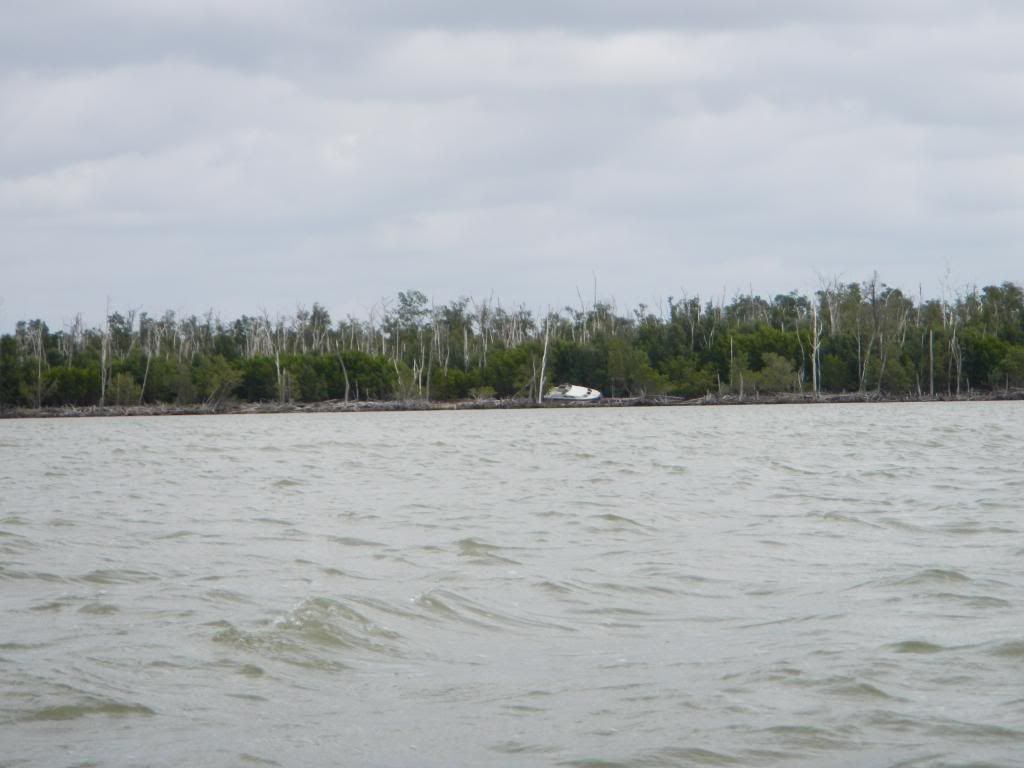 Still a dds
But, as the day wore on, the wind began to drop. It was time to troll for fish using my new haka-mounted RailBlaza rod holder.
This is a Blue Runner—a very strong fighting fish.
A Sea Trout.
I caught a lot of fish on this trip. All were carefully released.
Hog Key at the end of Day 3
Camp on Hog Key—late afternoon
Here is a picture of my mattress inflation system. The yellow bag is full of air. It is the Exped Schnozzel Pump Bag.
The appendage attaches to the Exped air mattress, and then you simply apply pressure to the bag and force the air into the mattress. It takes less than 2 bags of air. They are available from REI.
http://www.rei.com/product/829645/exped-schnozzel-pumpbag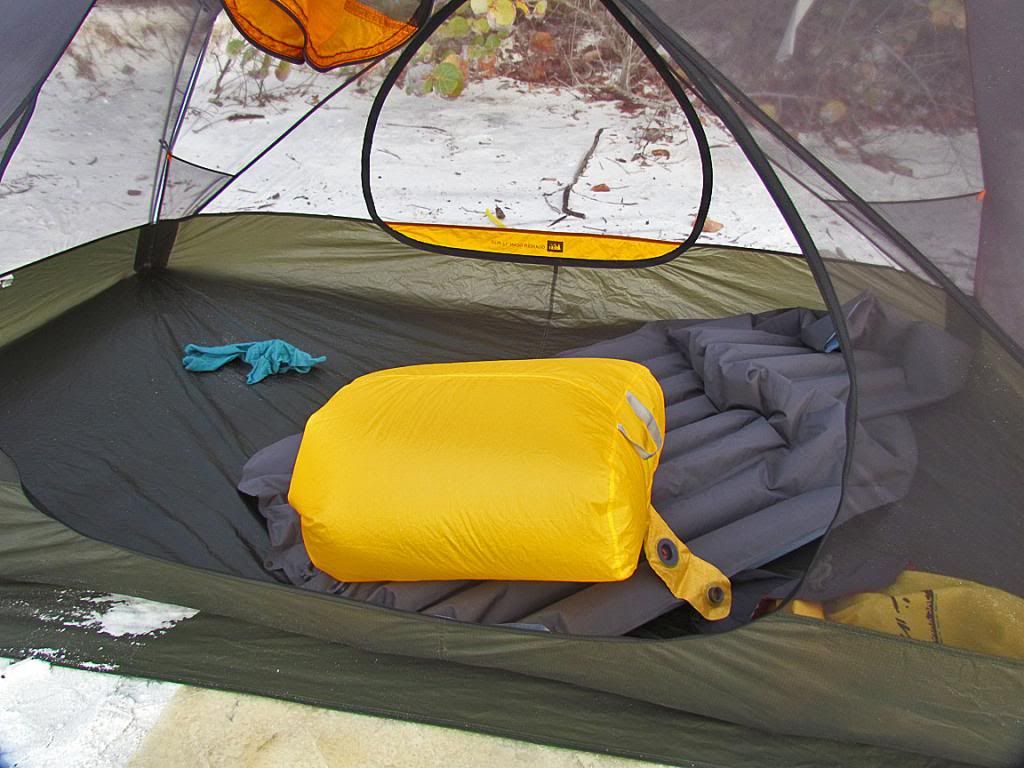 I haven't seen anyone to speak to during the trip. I don't talk to myself, but I am thinking of ways to entertain myself. Here is a self-picture using my haka for the camera base—boy, are these hakas useful.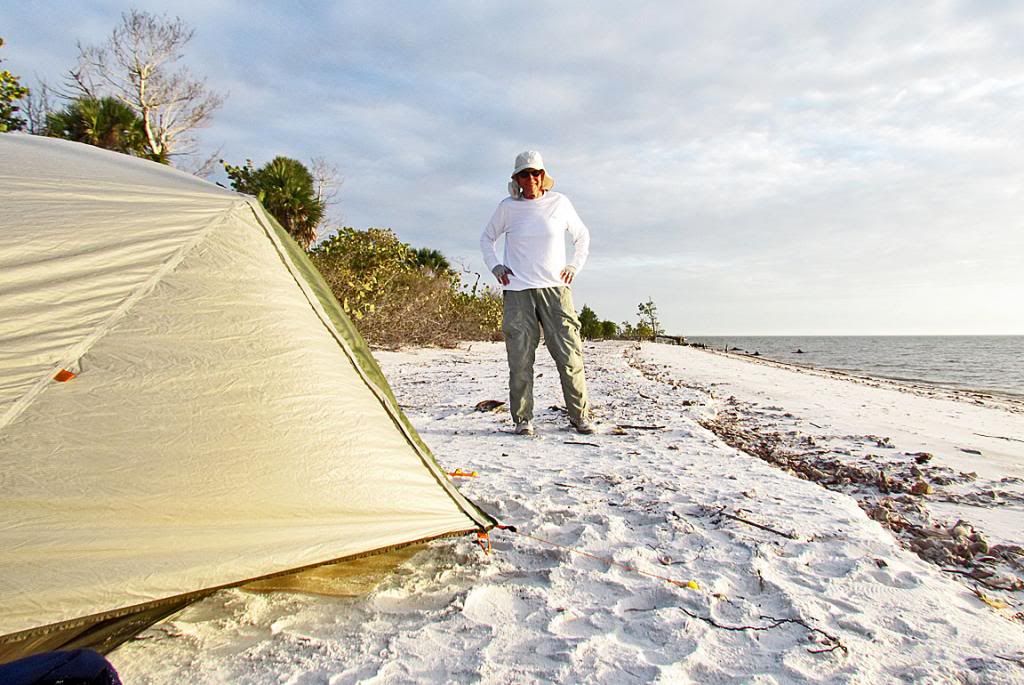 Sunset off Hog Key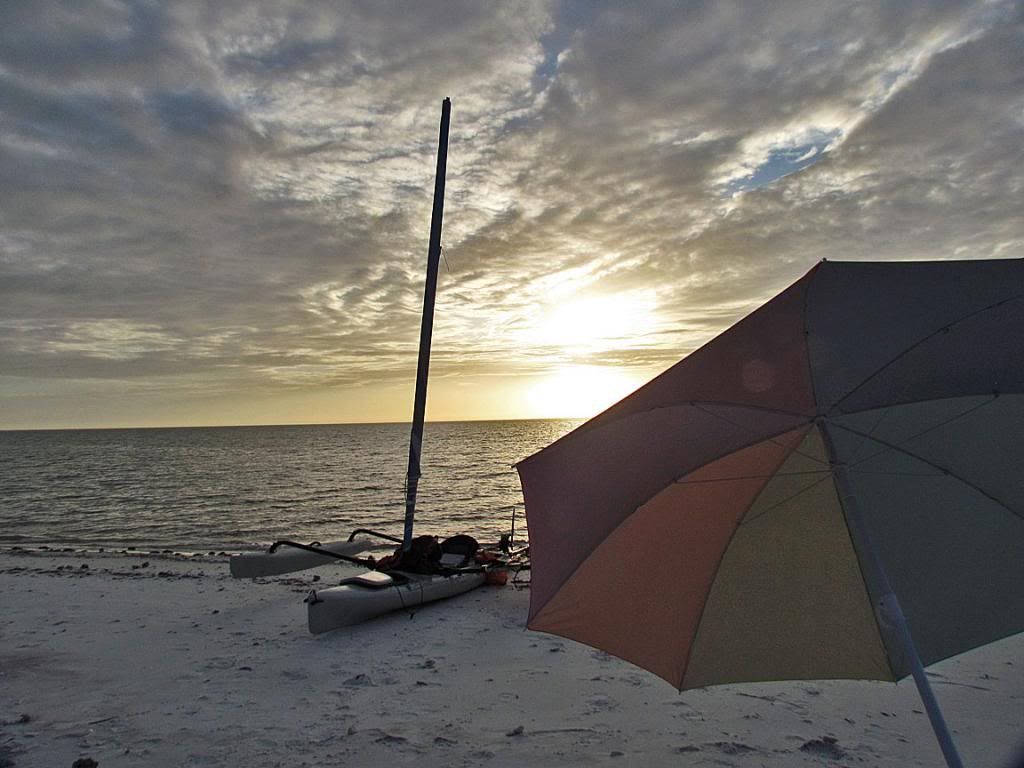 People! Not close enough to talk, but we did wave.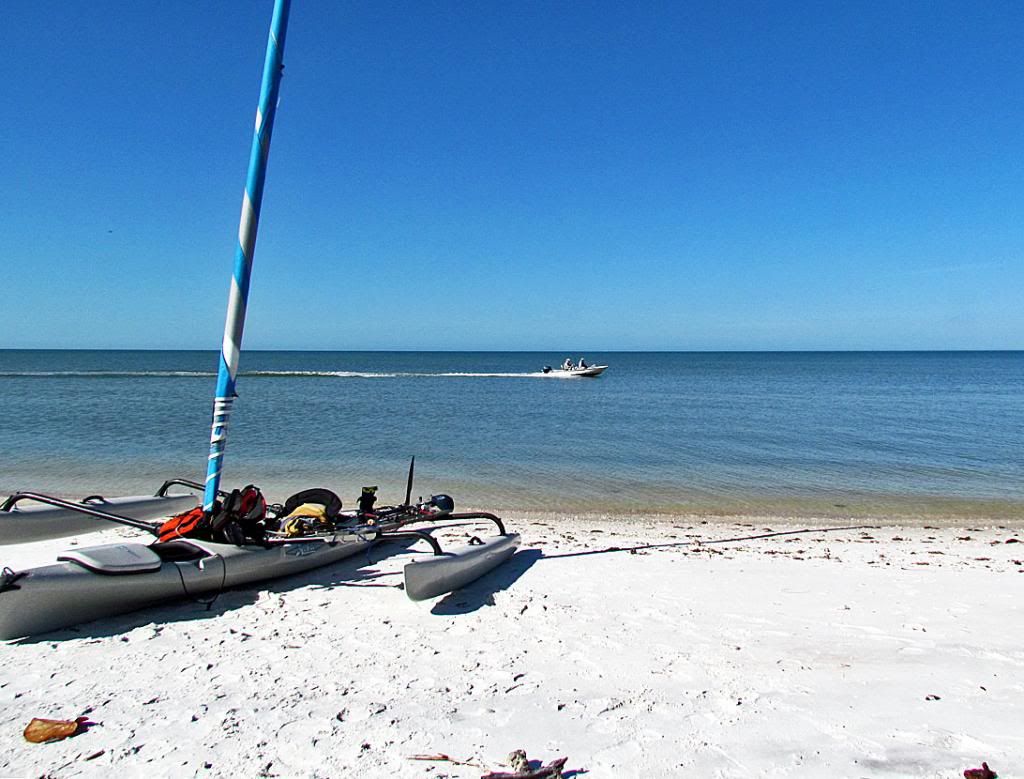 It's Day 4—my day to rest and fish. Fishing turned out great. Here I have a large, 19" trout. First fish of the day.
Another shameless self-portrait. This is what I look like out fishing.
I have to give the weather service a lot of credit for their long-range forecast during this trip. They were spot on every day. After 3 days of strong winds, they had predicted winds of 7 mph today, my fishing day. They hit it right on the nose.
A small Ladyfish
A small Gafftop Sail—A Gafftop has to be the most slimy, most smelly fish in Florida waters.
In addition, be very careful of those spines. A jab from one of those instantly numbs the whole area around the injury.
Biggest trout of the day, #11 of 13, about 22-23"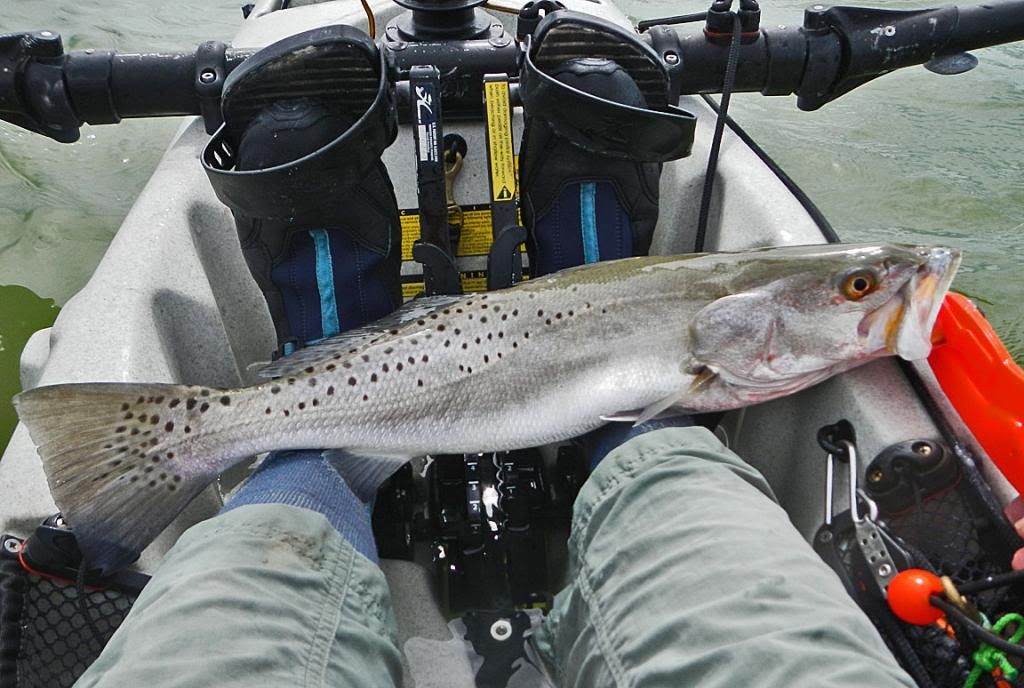 As I returned from fishing, 3 canoeists rounded the corner and camped on the NW side of Hog.
More people! A guide and client fishing skinny waters off the end of my beach.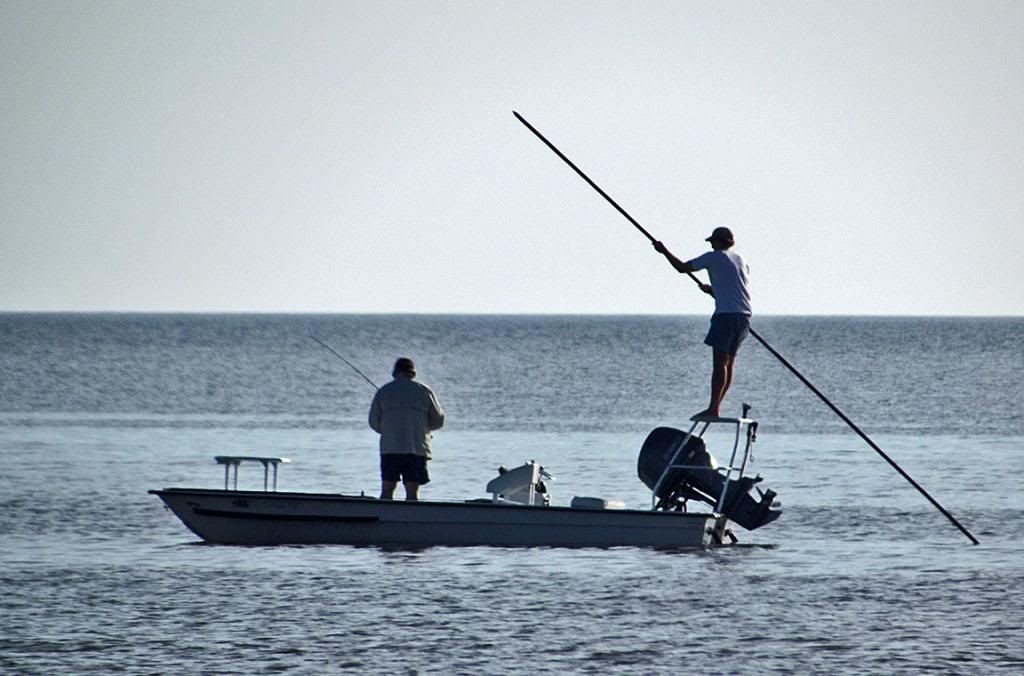 Almost sundown and another visitor
Day 5 and the canoeists are out early and under sail.
I launched about 45 min later but easily passed them. They were too far inland so we didn't have a chance to talk.
Steady, relaxing winds today. How to entertain myself for the 13 mile trip over to Pavilion Key? Put my legs here.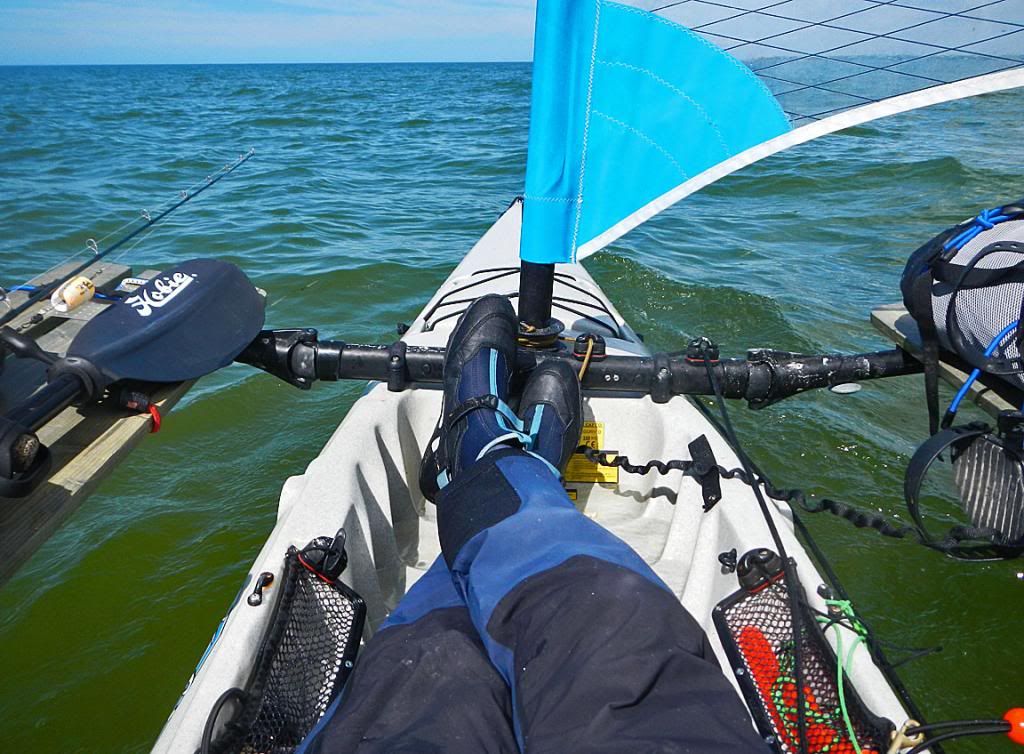 Then, put them like this. Wait, I see a bald eagle landing on that island ahead.
I'm about 2 miles from Pavilion.
The eagles have a nest on this shoreline, but I didn't want to get too close.
Here is a blowup.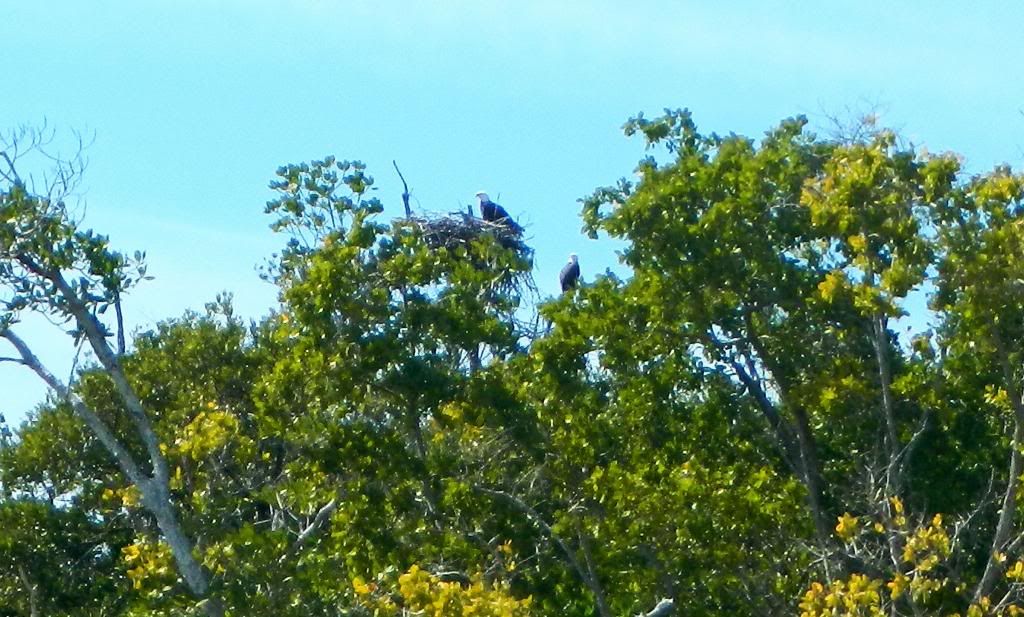 My tent on Pavilion Key with door open. Generally, you can't leave the door open because of bugs, but this late afternoon Pavilion has a strong breeze. Bugs are nil.
By the way, I will close the door and put the fly on before sundown. If I don't do that, I will be drenched by morning from the very, very heavy dew.
Sundown on Pavilion
Morning of the 6th day, and I got a good look at the sailboat anchored off shore.
A similar boat passed off East Cape Sable last year, but this boat is different. There is a couple on board, and it looks to be an idyllic life—cruise the world without a care.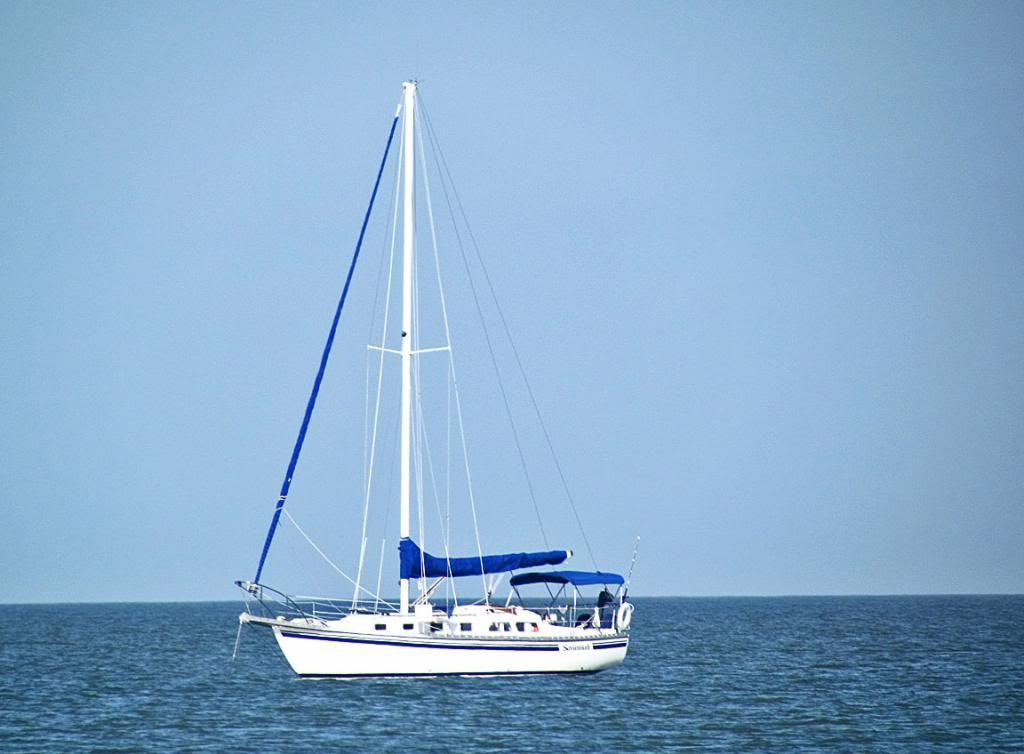 This was scheduled to be a day off, another day to fish. It was not to be.
I woke with a GI problem (aka diarrhea) and decided it would be prudent to bag the fishing day and head in and home. If I hurried, I could make favorable tidal currents through the passes to Chokoloskee. Before I left Pavilion, I got a picture of my Roids seal (that is the name given elsewhere to my
DIY split pipe insulation seal for the front hatch
.) This seal was a 100% success. The front hatch area was absolutely dry during the trip. There was only a quart of water in the stern on each dds of this trip and less on the milder sailing days.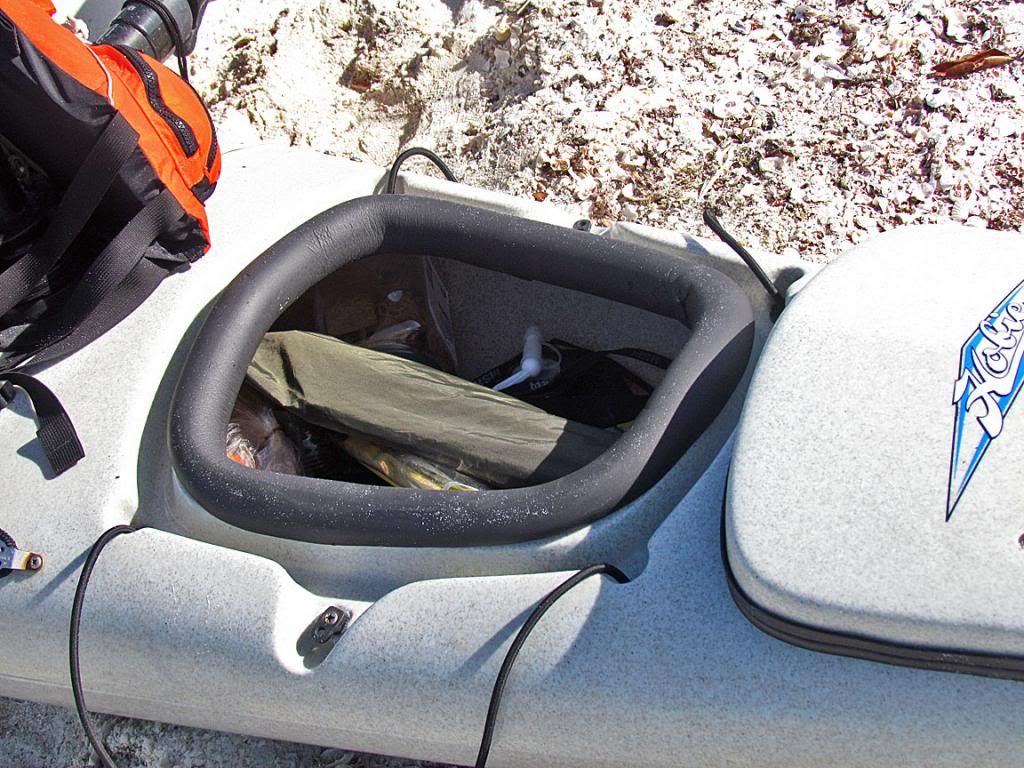 Again, I had steady moderate winds as I made the 9-mile trip to Chokoloskee. This is Rabbit Key.
Chokoloskee!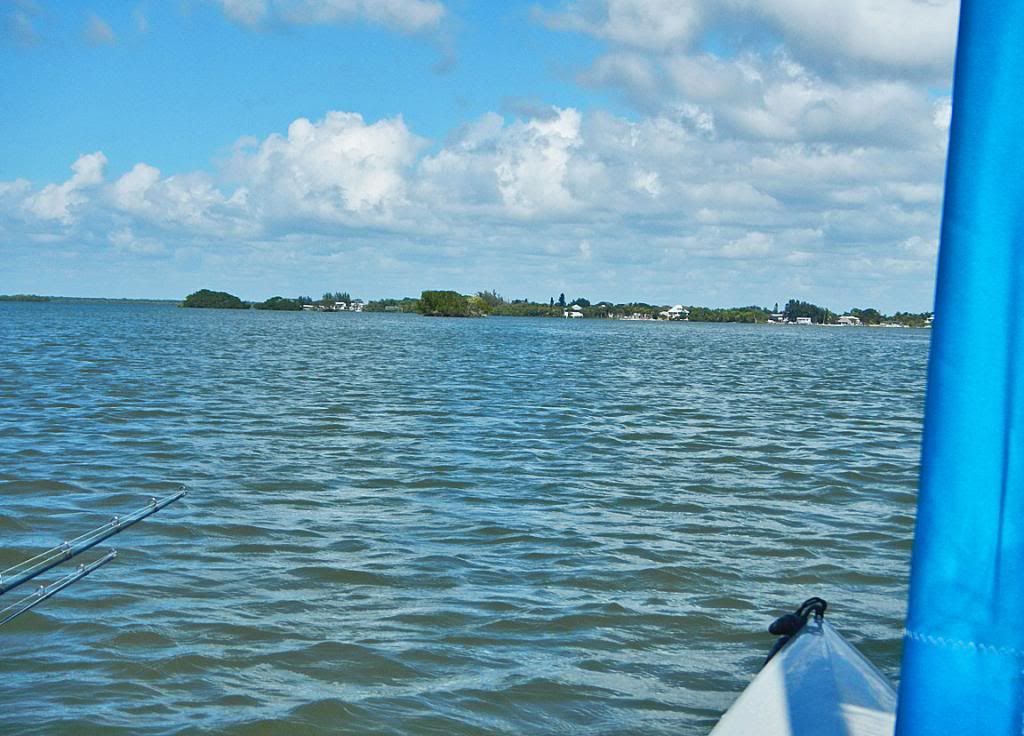 Landing in Chokoloskee
No sooner did I land, when an old friend, Ray Prosser and his granddaughter, came in.
They had just paddled the 9-mile Turner River Trail. When I was still paddling regularly, that trip was also an annual. Ray is one of the strongest paddlers around. His granddaughter must be pretty good too. After not talking face to face to anyone for a week, it was nice to chat with Ray.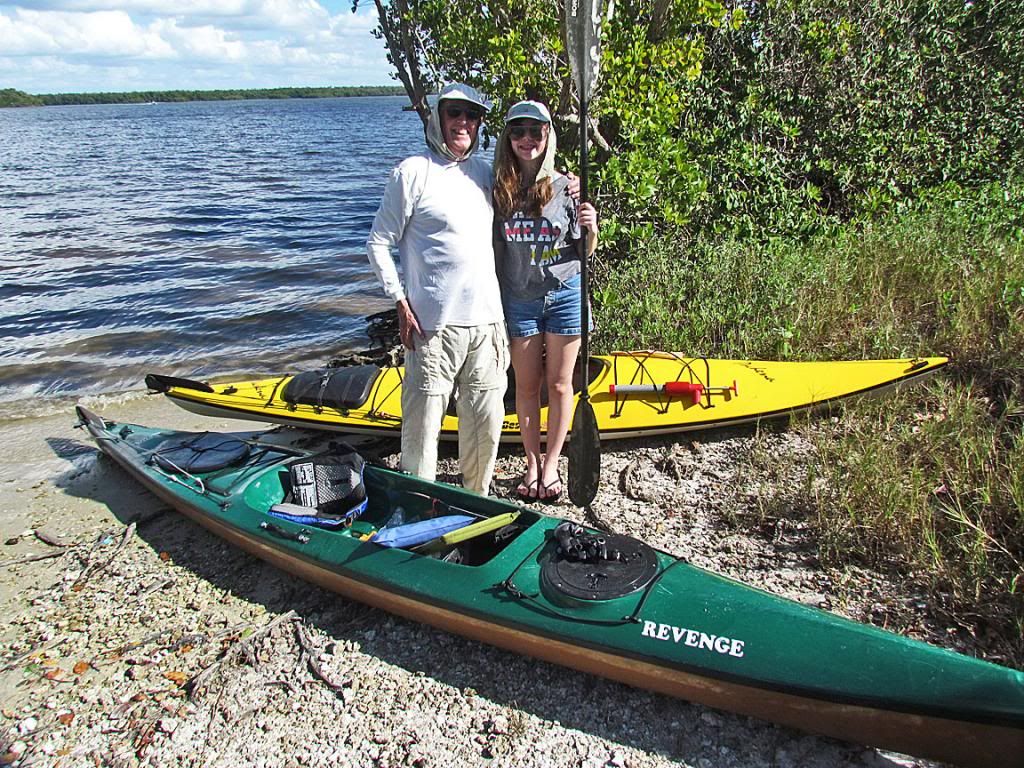 To sum it up: The weather predictions were spot on, so I knew what to expect every day. I never turned on my VHF radio. My boat performed flawlessly. The hakas and Roids seal worked great—2 biggies. My umbrella provided needed shade each day. Everything else I tested was positive, except for me and my little GI problem—my first such problem in 17 of these trips. I hope it's not a sign of aging. Will I do the trip again next year? I'm already looking forward to it.
Keith