Keith:
Good question, We had a shrimp and crab boil last night (it was delicious), and had some left over so I put some into a vacuum storage bag, then put it in a pan with pool water (so I could smell the chlorine if it leaked), then boiled for 10 minutes in a saucepan.
I cut the bag open when done, and all the food was perfectly cooked and tasted as good as it did last night.
I on purpose put clams and crab legs (with sharp points and edges) into the bag to make sure they wouldn't puncture the bag when cooking.
Actually I think the system is designed and marketed for long term freezer storage (the crap lasts for years) so they don't give a hoot about what people use it for camping wise I suspect.
We just happened on it a few years ago, and found it great for preparing camping meals when we are out with our camper for long periods of time. Of course our camper has full stove, oven, fridge, microwave, and a sleep number bed etc (we like to rough it). We just find it easy to prepare a bunch of stuff for a couple weeks in advance, that we just use up as we go. A cooler with some dry ice and packed with all this frozen stuff easily lasts a couple weeks (near the end you need to add regular ice though), since everything is sealed, it doesn't matter if it sits underwater in the cooler (one of the main reasons we do it).
I was hungary so I went ahead and fixed my lunch and took pics ( I would be out sailing today, but I injured my back, and am giving it a rest).
Here I am vacuum sealing the food into the bag (pretty simple and fast)
Here is the food boiling for ten minutes in the pot (I didn't do anything to protect the bag from touching the sides)
Here I am lifting the bag out of the boiling water, the vacuum seal still in tact
Here is the food piping hot on the plate ( I didn't taste or smell any chlorine from the pool water). Even the whole potatoes were hot all the way through.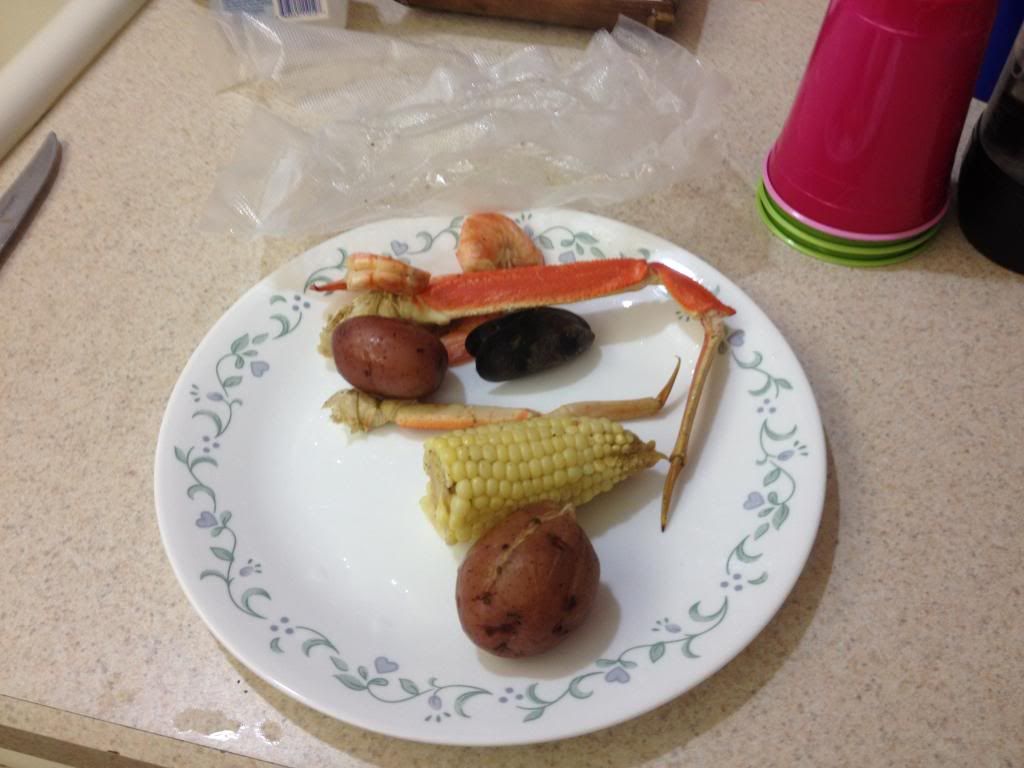 In the directions if you have moist food (like spaghetti), you have to put a paper towel near the sealing edge to protect the moisture from going into the vacuum pump. Once you cut it open you just throw the paper towel obsorber away. We also do that with raw meat (but that's a different purpose (for long term freezer storage). For example I will buy a whole pork loin, then cut a gazzilian pork chops, and freeze the ones we aren't using that day, their good in the freezer raw for a few years, just thaw in the fridge, cut the bag open (a year or two later (because we forget about them)), then cook on the grill (it actually works).
Our shrimp and crab boil was supposed to include lobster, it's too cold for us to go out diving right now and catch our own stuff (what we usually do) and lobster right now is $38 per lb (ouch), so we did without the lobster this time. Our family from up north (my brothers and sisters) still had a great time since there is 100 degrees difference in the temps compared to up north right now.
Our next wave of family from up north is coming in tomorrow.
It appears this system is pretty much the same as what Slaughter has and uses in Australia. I think we got ours at Walmart.
Bob
Edit:
Of course the boil would have been better with our own catch (spiny lobster, and stone crab), but the relatives from up north didn't notice the difference ( LOL)
The catch from our last crab/lobster boil down in Key West (very yummy)