We're Going to Miss You, Terry
Cape Romano, Mar 28-31, 2014
As so often is the case, when friends and relatives get together to remember a friend, it is a joyous occasion. Such was the mood of this trip─an enjoyable trip as we remembered our friend Terry Wilson.
Originally, about 20 people planned to do the trip, but weather and work cut that to about a dozen. It was a very friendly, fun dozen.
We left from Goodland for a relatively easy trip (7 mi) to Cape Romano.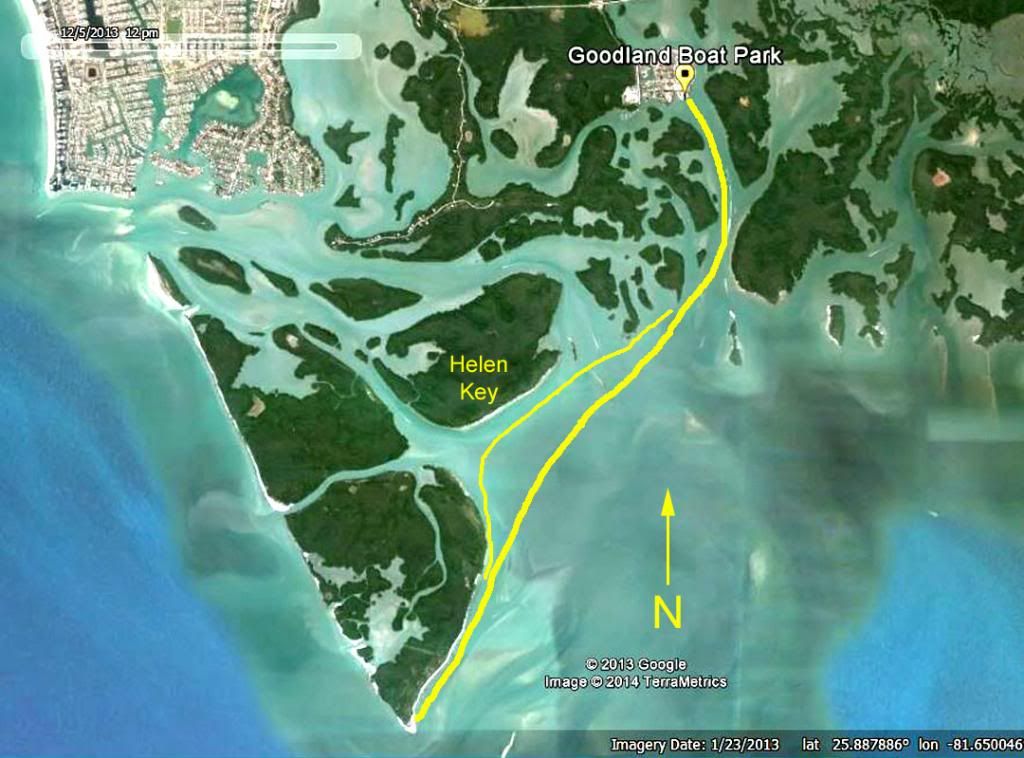 I used my new trailer, and it worked fine hauling our boats the 200 mi round trip.
Here is part of our group: Josh Morgan, Allison Whedon, Pat Owen, Don Haynes, Royd Whedon, and Toby Nipper.
Josh, Royd, and Toby did the WaterTribe Everglades Challenge this year. Unfortunately for Royd, the base mast-step bolt tore out of his Adventure Tandem hull off Chatham River which ended his EC. He was very disappointed, but Hobie is delivering a new hull to him immediately after this trip. He'll be back next year for sure. If you don't know, the Everglades Challenge is a 300 mile, adventure race from Ft Desoto, near St. Petersburg, FL, along the coast, through the Everglades, to Key Largo. It is a small boat race, and must be completed in 8 days--many competitors do it in 5-6 days, and some in as few 3 days or less. Check out the WaterTribe site:
http://watertribe.org/
This is part of our encampment. That is Nancy and Pat.
Toby is enjoying a book. His tent is hidden away in the mangroves behind him.
Here is most of the group having appetizers.
Seated, clockwise, are Toby, Allison, Royd, Don, Steve Sanders, Maria Sanders, Nancy, and Josh. Pat is standing. For appetizers, Don brought a huge platter of Chesapeake Bay blue crab cakes, Josh brought sausage and cheese, Nancy had a couple kinds of crackers, and Maria put out a black bean-veggie dip. There was so much that no one bothered to make any dinner. Missing here are Charlie Fast, who would arrive shortly, and Alex Oancea, who would come in after dark in the best WaterTribe fashion.
Josh built a great fire. Nancy and I were already in our tent, but others were seated around the fire when Alex Oancea paddled up─it was dark. He had left from Everglades City and paddled 22 miles. Alex also did the WaterTribe EC this year. Therefore, this was just a training run for him─for next year's EC.
Josh never spends more than one night on these trips. We saw him off early Saturday morning.
Alex got this picture of Don, Toby, and me discussing how high the tide would come today.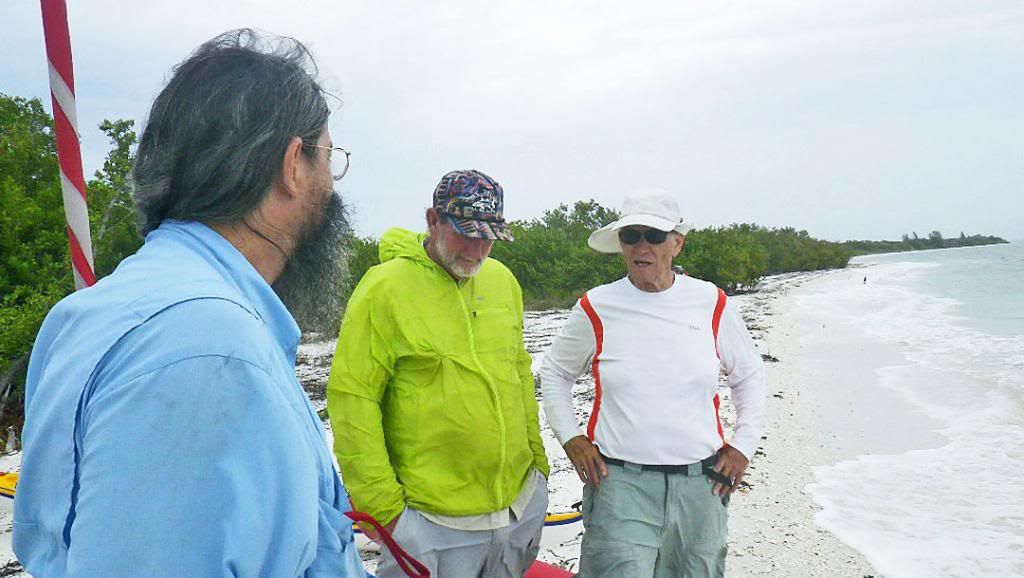 Alex got another picture in a lighter moment.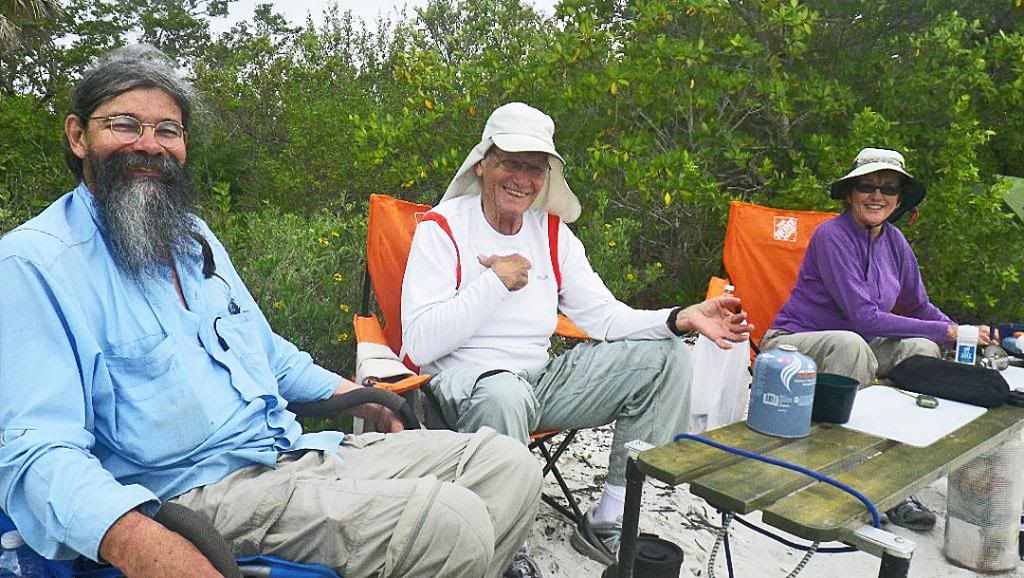 Alex also got a couple great shore shots.
The first is of birds, pilings, and the "dome" house which is melting into the sea.
It was clearly constructed by someone with more money than brains. It was originally on shore in the 1960s (global warming?). It must have been a fun place until the first hurricane came through. A great picture by Alex.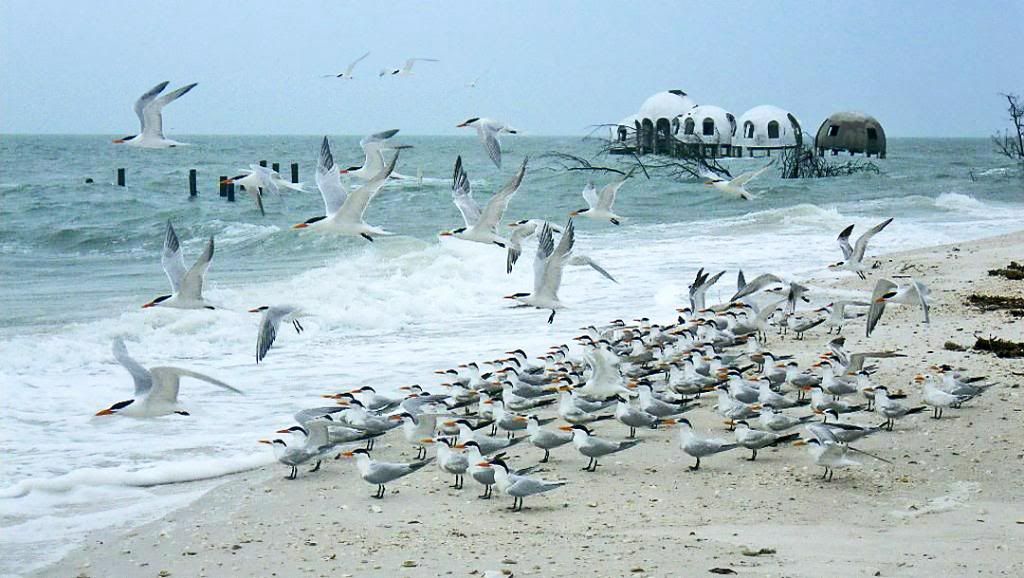 This picture shows it can get quite rough off the tip of Cape Romano. The conditions are a combination of northwesterly winds meeting a variety of opposing currents.
The birds? Royal Terns, I believe.
A number of our group went out to catch fish or try.
Here is a series of pictures showing Alex─a very strong kayaker─taking his first ride on an Adventure Tandem Island.
Maria photographs the event. Note Steve's new spine board hakas. Very nice.
Steve instructs Alex on inserting the fins.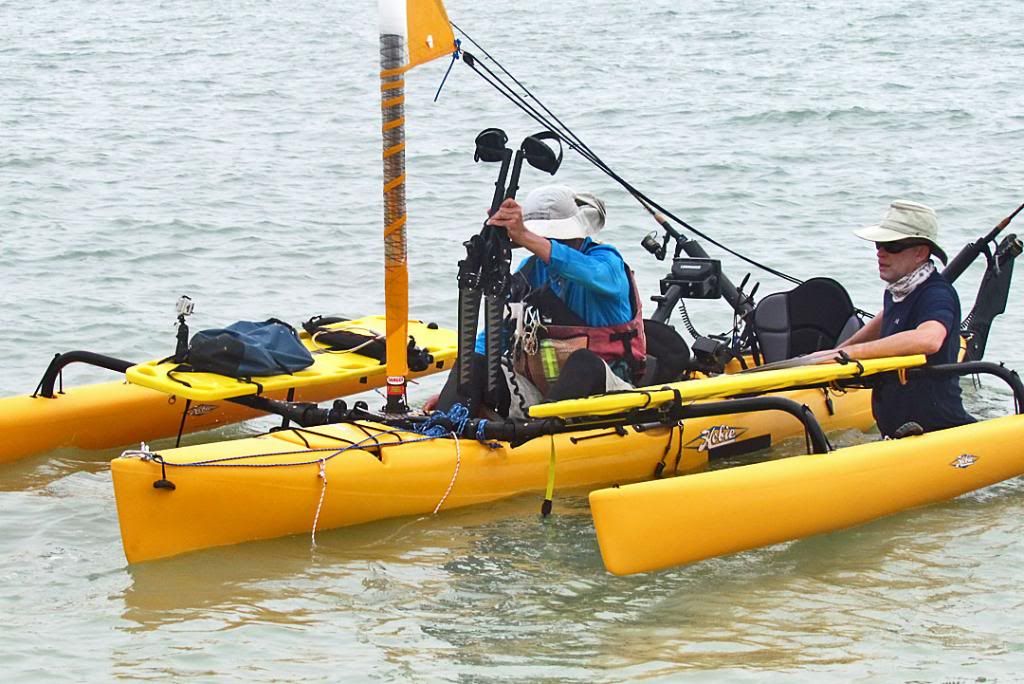 Then, Alex, insert your feet into the pedal straps─so you can pedal hard!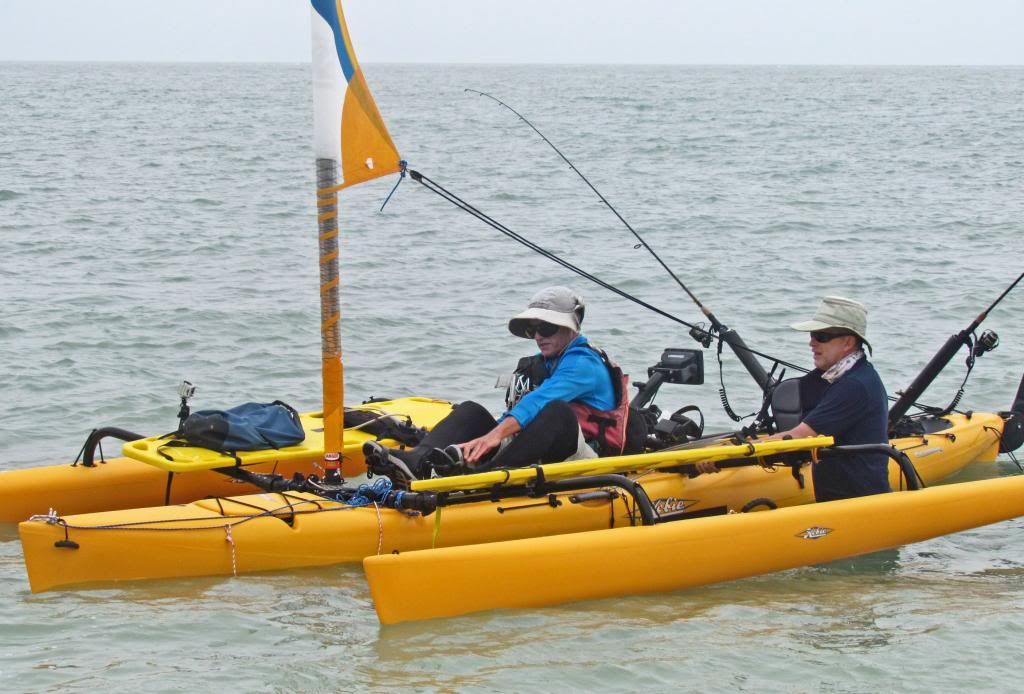 And, we're off....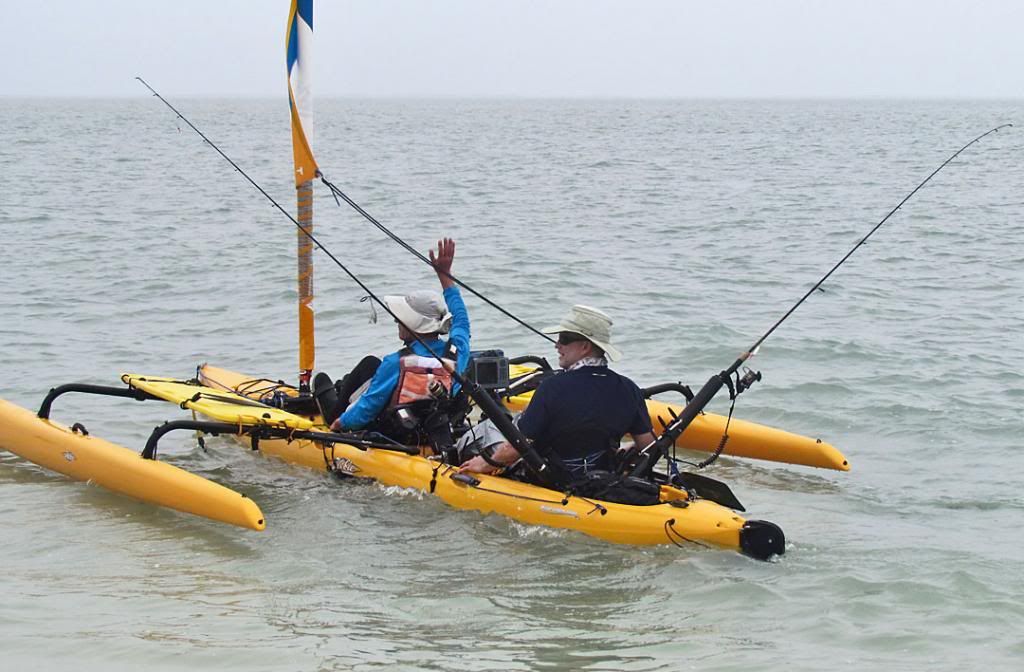 Even Don is going to try his hand at fishing. Don certainly has a most uniquely colored AI. His hull is a beautiful blue.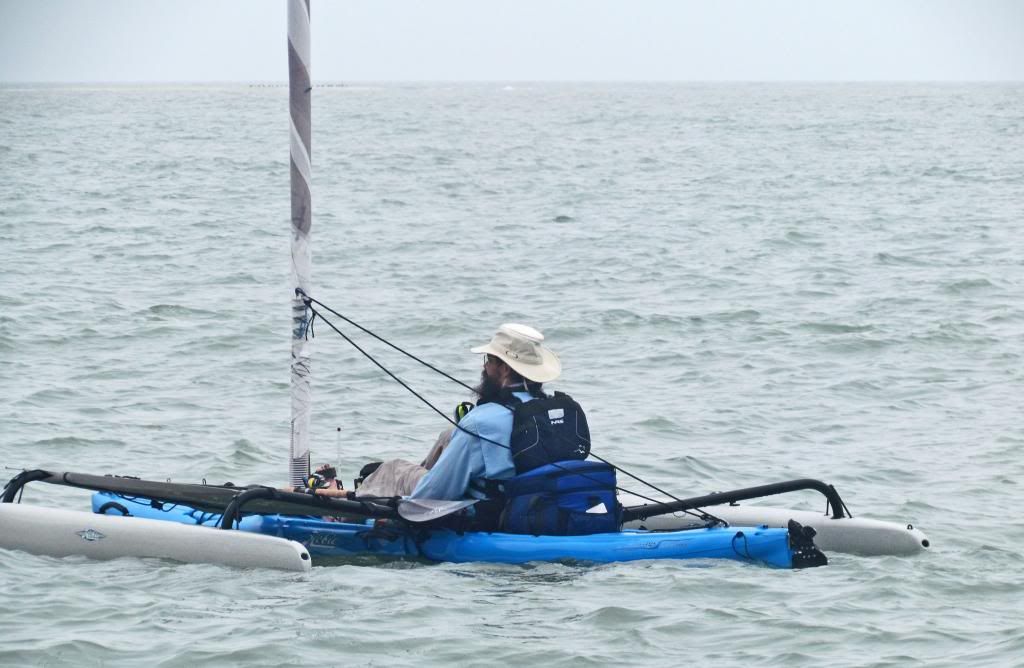 I didn't go out because I know you can catch fish from shore. A 27" redfish (dinner.)
After I cleaned the fish, Nancy sautéed it.
It started to rain about 6 pm Saturday evening, so we took shelter under Steve & Maria's large gazebo. Pat, Maria, Steve, Nancy. Our group of 11 fit. Maria is whipping up some delicious mashed potatoes. The bouquet is for Terry. The rain and stormy weather lasted about 5 hrs.
Nancy serves up the fish.
After dinner, Steve demos his new "old-style" flint lighter. I'm not sure what Maria, et al, are laughing at. It couldn't have been anything I said.
Sunday morning everyone, except Nancy & me, returned to the mainland. Toby is at far left in his Kruger with his small sail up. Charlie Fast is piloting his tandem at far right. The canoe belongs to the Whedons.
Remember, the Whedons will get their new TI hull when they get home. They will be travelling in style again.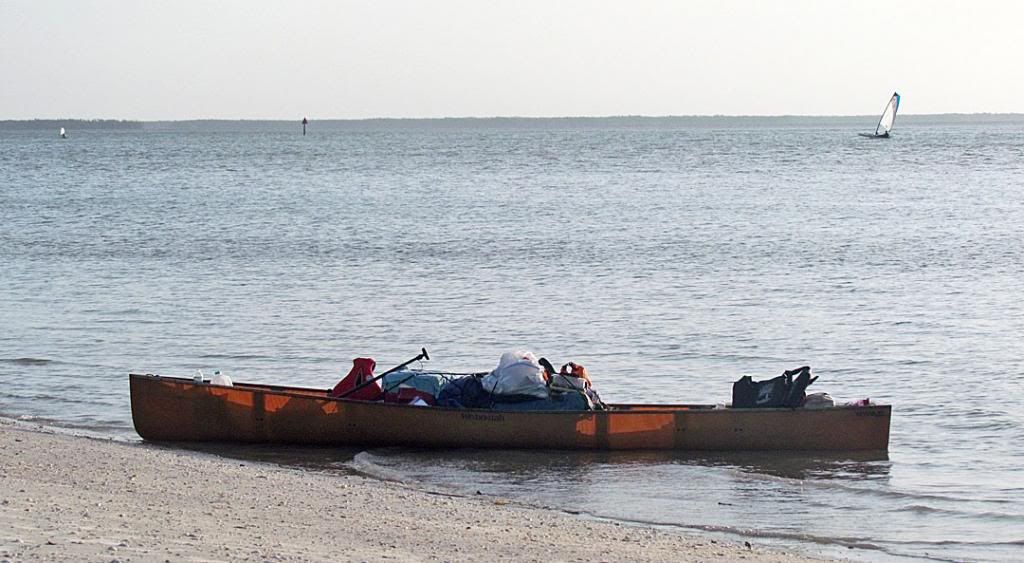 Charlie Fast came in late Saturday and left early Sunday. I didn't get any pictures of him.
I've zoomed in on him here. Charlie is tall─about 6' 7". The TI fits him perfectly.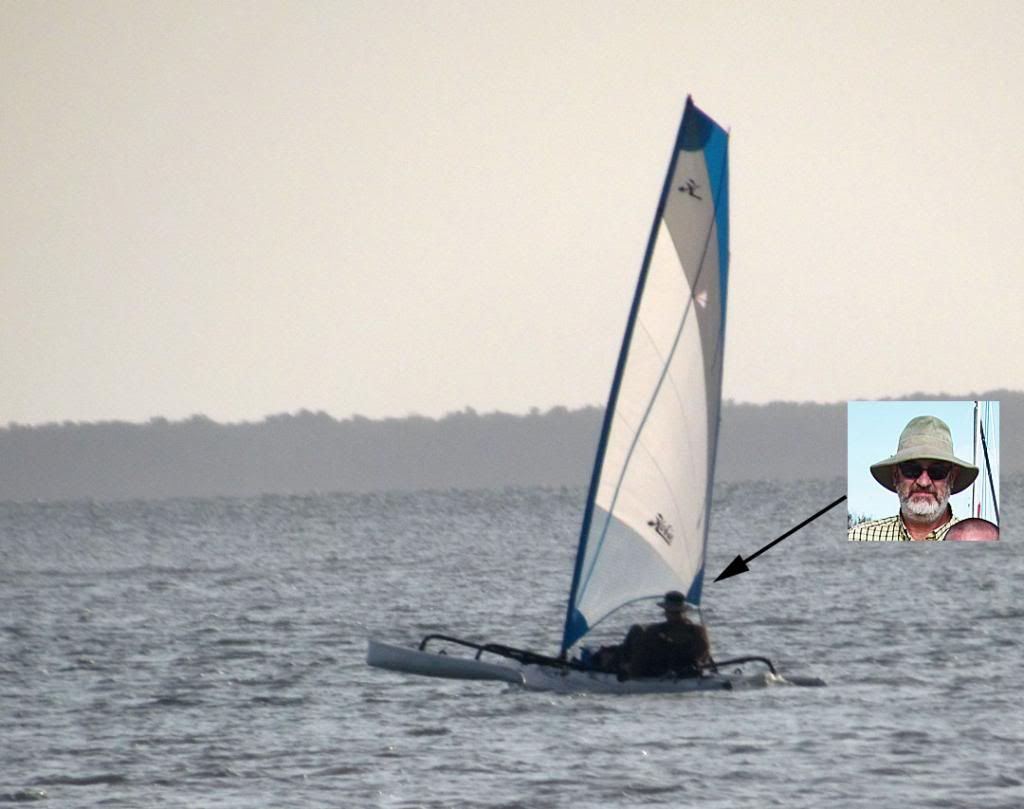 Allison & Royd head back.
Pat demonstrates excellent "forward stroke" technique.
And, Don....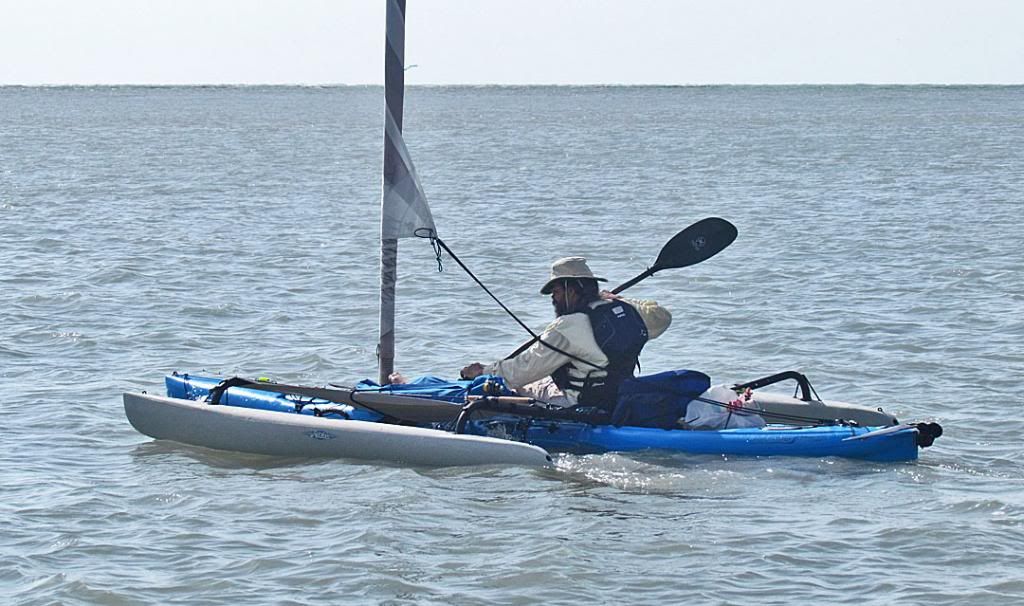 Finally, Steve and Maria head off.
It was pretty quiet Monday morning, only a couple blue herons to keep us company.
Of course, our thoughts turned to Terry. Here are a few pictures.
This one was when Terry pedaled/paddled out here to Cape Romano in Nov, 2012.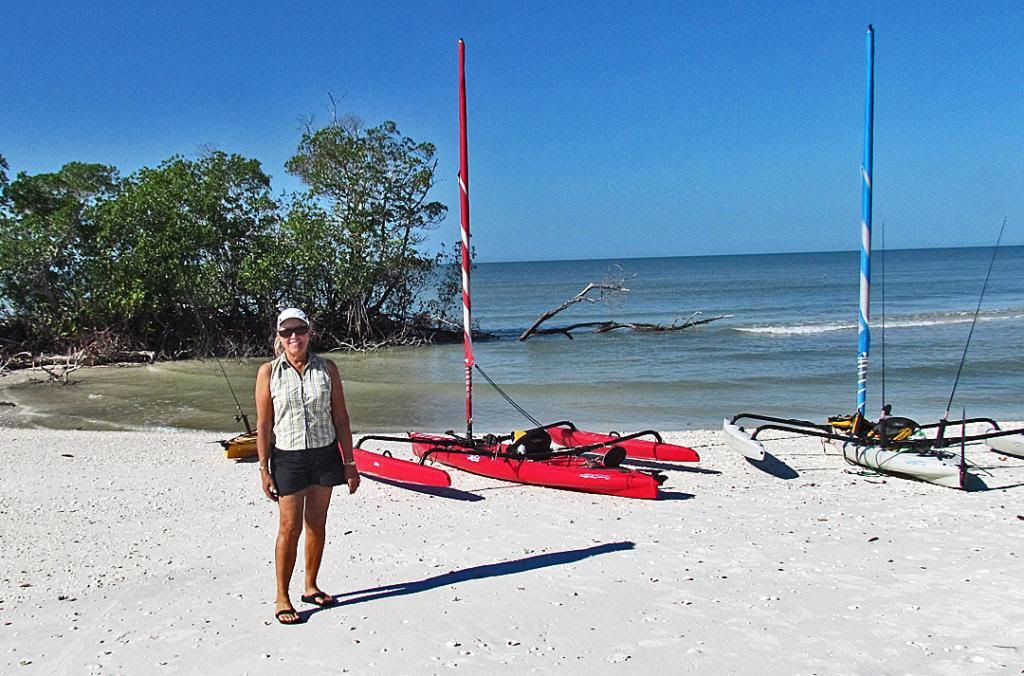 Here she is relaxing on the rugged western shoreline of Cape Romano.
Arriving back at Goodland─it was during this trip Terry began to think about getting an Adventure Island.
Terry is with Josh and me at the start of the WaterTribe 2012 Everglades Challenge on Ft Desoto East Beach.
Before Nancy & I left Cape Romano, we made a little memorial to Terry.
Everyone else took a flower to lay on the water as they returned to Goodland.
Terry loved to toast the sunset. It is low tide off Pavilion Key Dec 6, 2013, and those are shore birds on a flat.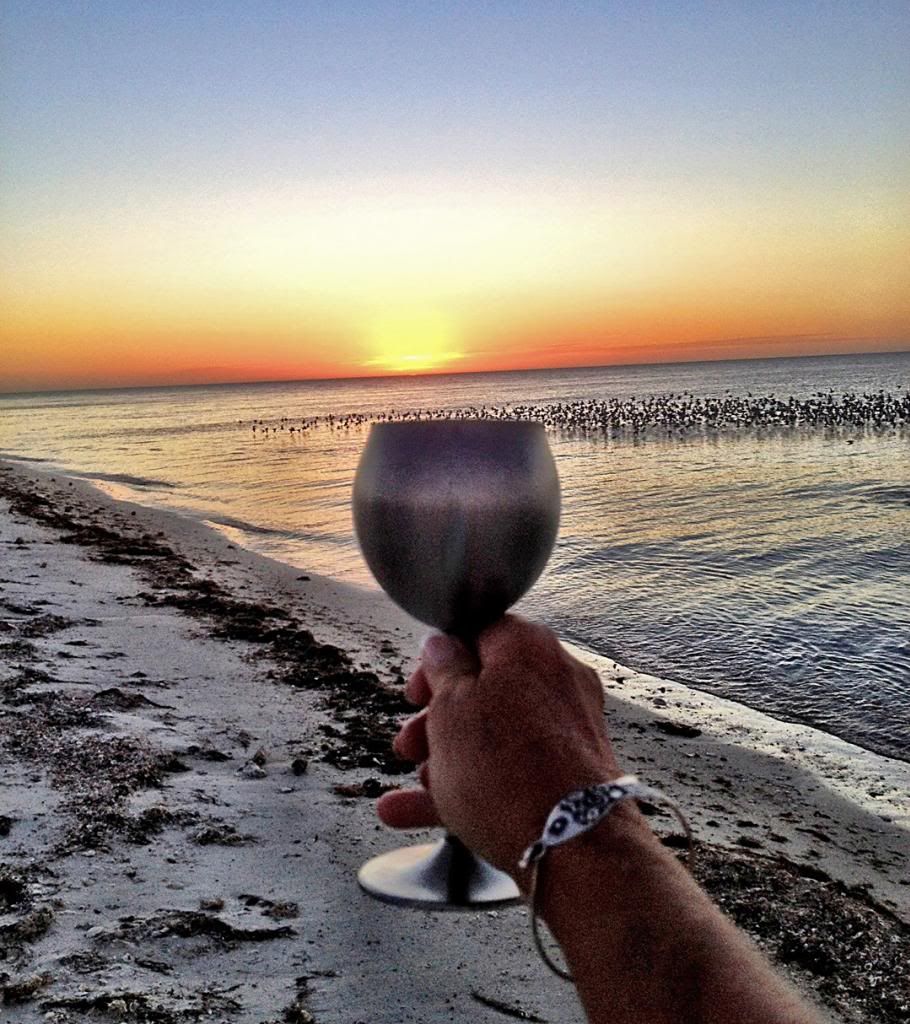 We'll miss you, Terry.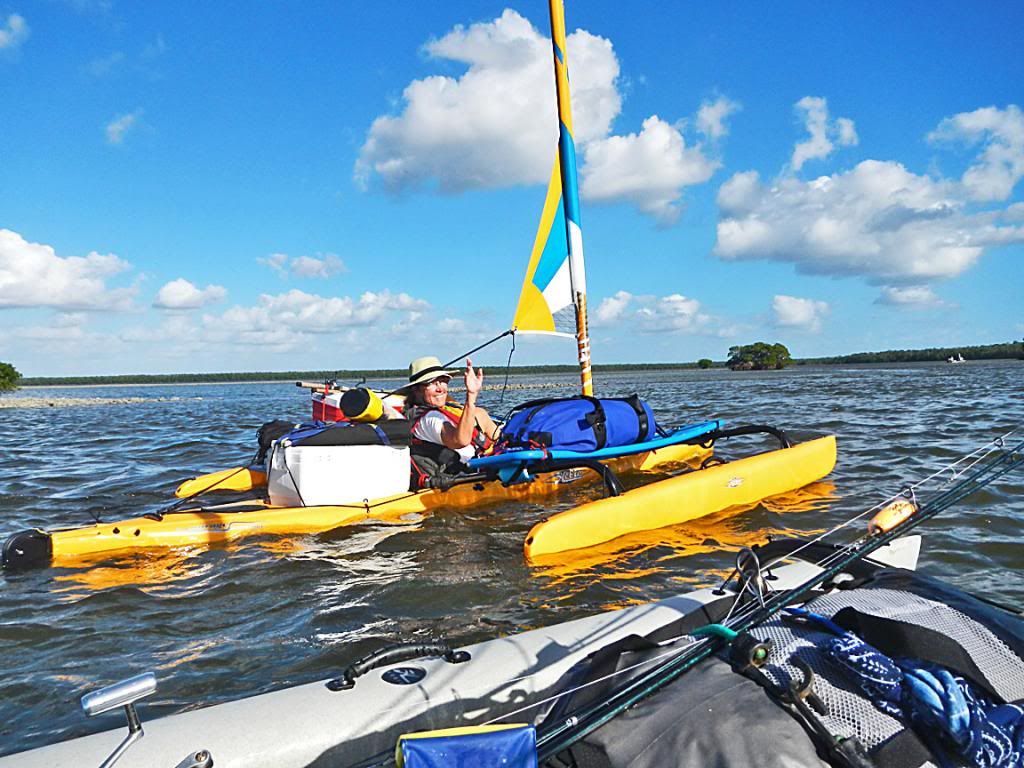 Keith and Nancy