Thanksgiving Weekend on East Cape Sable, 2008
Thanksgiving weekend is the kickoff for the camping season in Everglades National Park.
Six kayakers and I (in my AI) left Flamingo about 10 am, Friday, Nov 28. We were headed for East Cape Sable; we knew it would not be crowded. Middle Cape Sable is a traditional fishing-guide-gathering on Thanksgiving weekend. According to the rangers, there were about 30 people there. We know there were 9 powerboats, because they all left in unison after dark on Saturday—very strange. We suspect they heard there was going to be bad weather Sunday. According to the rangers, 2 fishing boats were lost the week before at Middle Cape due to heavy winds. The winds washed the insufficiently anchored boats onto the beach, and waves then filled them with sand. The weight of the sand literally exploded their hulls. Apparently, the Middle Cape folks did not want that to happen again. That was ok, since there were no more bright campfires and lights on MC. For that matter, we were the only ones around on Sunday. There were some other campers not too far from us when we arrived at ECS on Fri, including a couple who we have met several times over the years. But, they were all gone by Sunday. Frankly, I didn't mind. ECS is like the end of the earth when you are there by yourself--that is the way it should be.
I straight-lined it to ECS after I reached the main channel south of Flamingo. Several kayakers got stuck on the mud flats before realizing they had to head out via the channel. After Curry Key, some chose to stay close to the shoreline which made their trip a bit longer.
Google Earth image of the SW corner of mainland Florida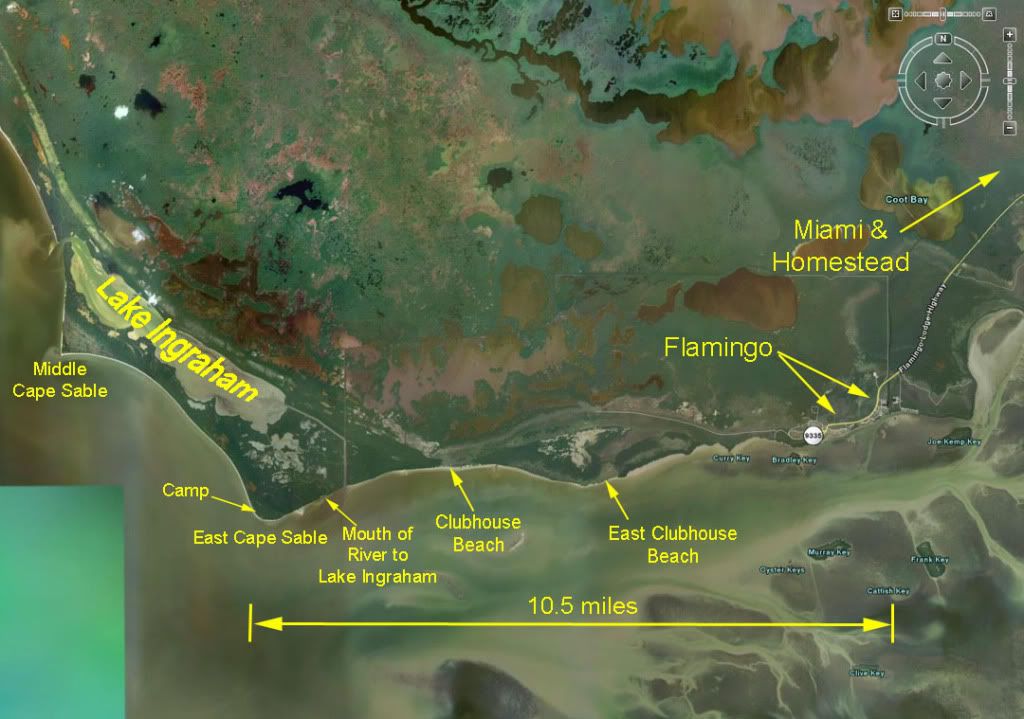 The Flamingo marina exit to Florida Bay.
Serious mud flats immediately in front of Flamingo
(dark areas in the Google image above). A variety of birds inhabit these flats at low tide. This group appears to be mostly blue herons.
A flock of ibis (Curlews, Chokoloskee Chicken)
captured in this shot by Lou Greenwell when he passed by the same spot 20 minutes before me.
Ibis
(Copyright Ginger Allen)
Some white pelicans were to the west.
White pelicans are migratory and recently arrived in the area to spend the winter. They are large birds with a wingspan of 9' and weighing about 22#.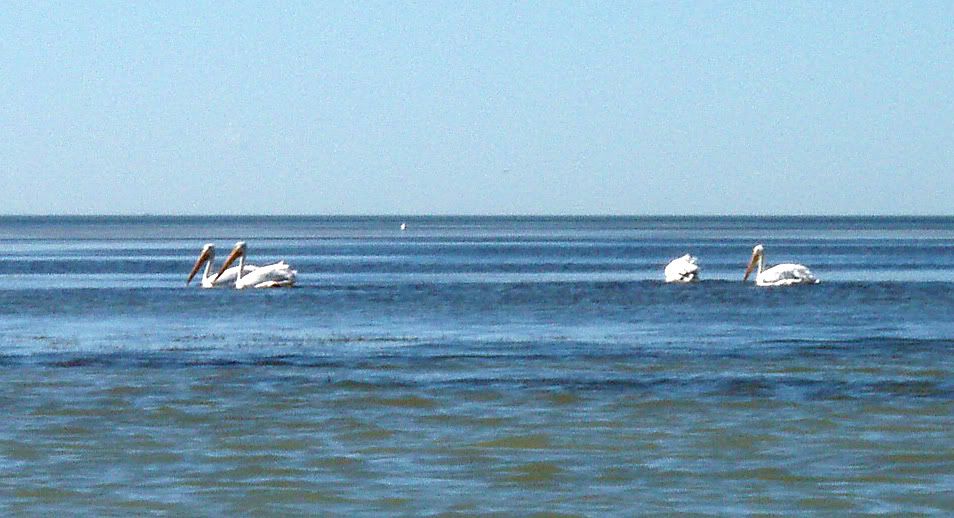 A pod of about 12 dolphins passed in front of me.
Kayaker lunch break.
Lou took this picture when the kayakers took a lunch break at the far tip of East Clubhouse Beach. The winds were light, and I was only averaging about 2.5 mph on a downwind reach. I came abreast of the kayakers during their break here. That is Erika hanging out amongst the trees.
Arriving at East Cape Sable
Despite the kayakers taking a break and doing at least as many miles as I did, they still reached ECS before me. Middle Cape can be seen on the horizon at far left.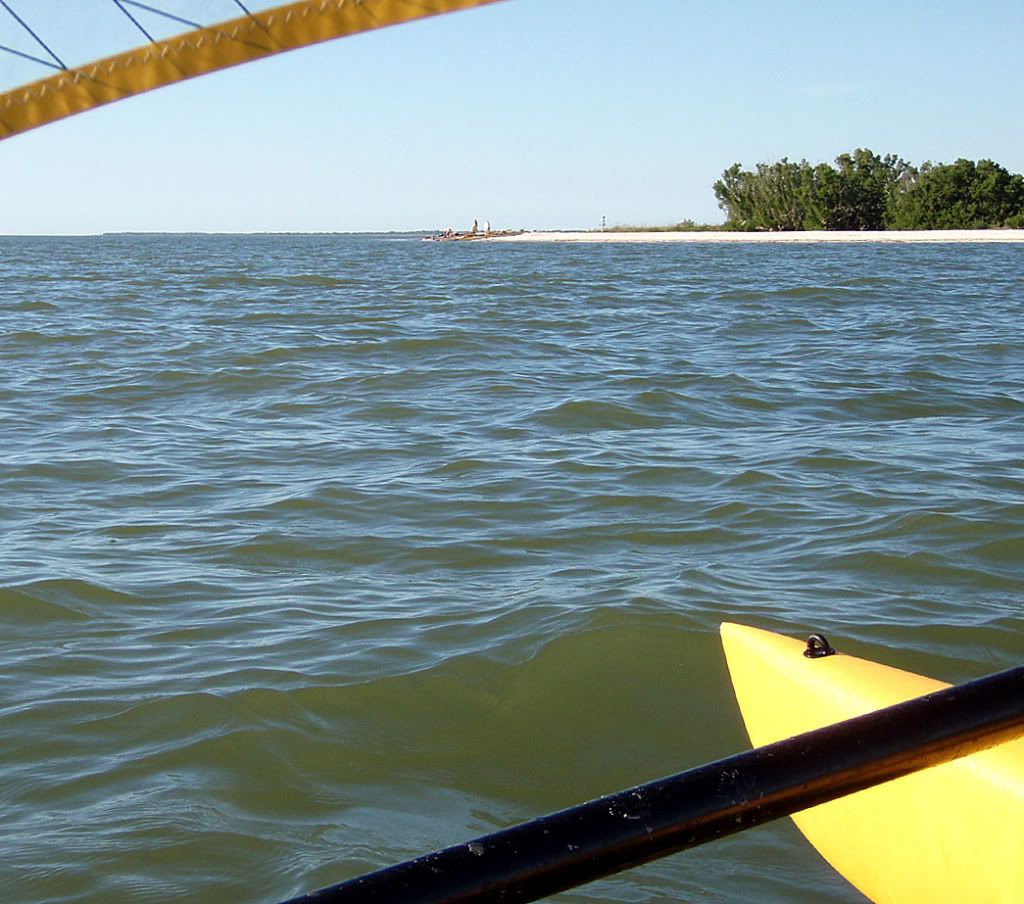 My wife, Nancy, is directing me in.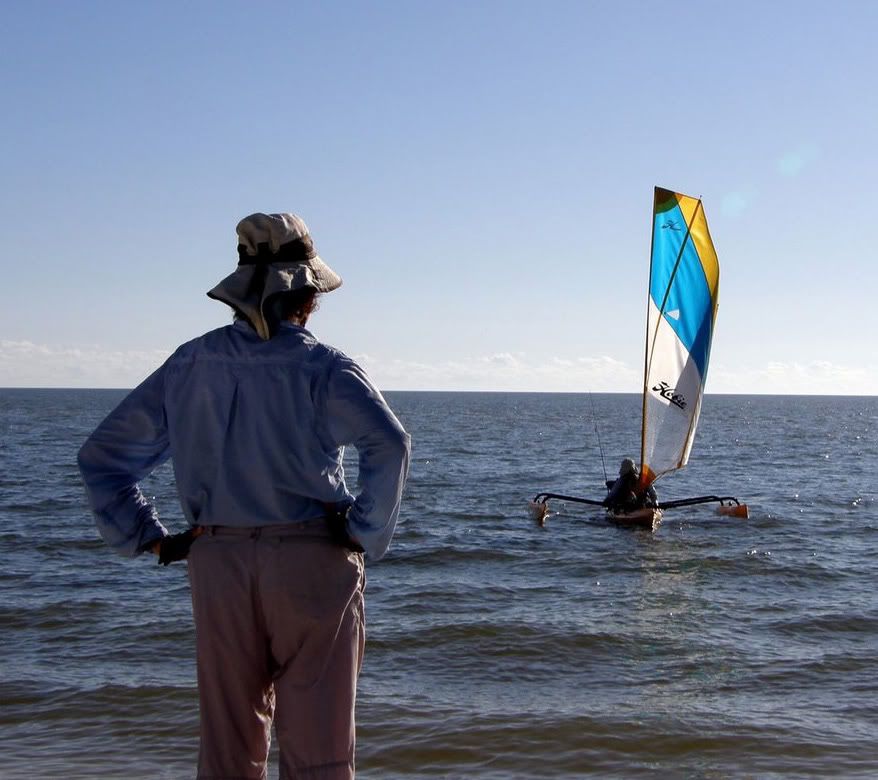 Unpacking and setting up camp.
Time to relax.
Erika Fitzsimmons enjoying an ECS sunset.
Middle Cape is 4 mi distant on the horizon.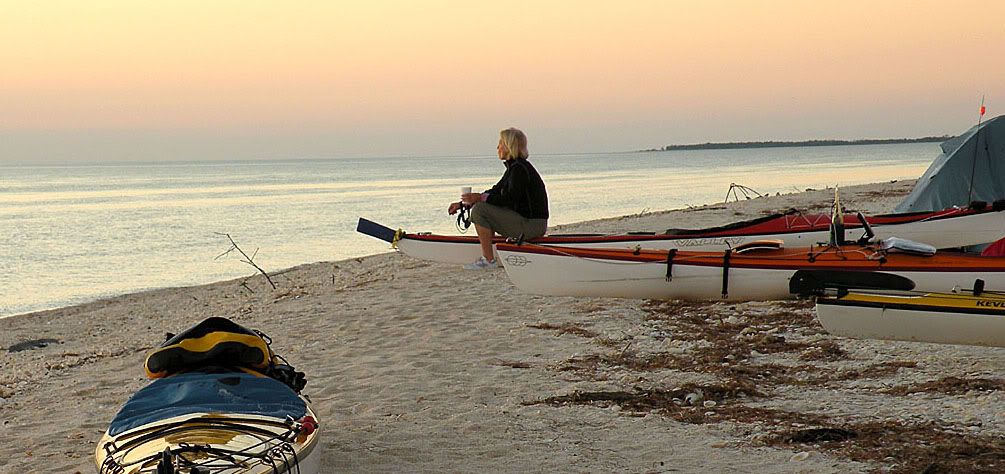 Semipalmated Plovers
—thanks to my birder friend, Roxanne Featherly, for that ID.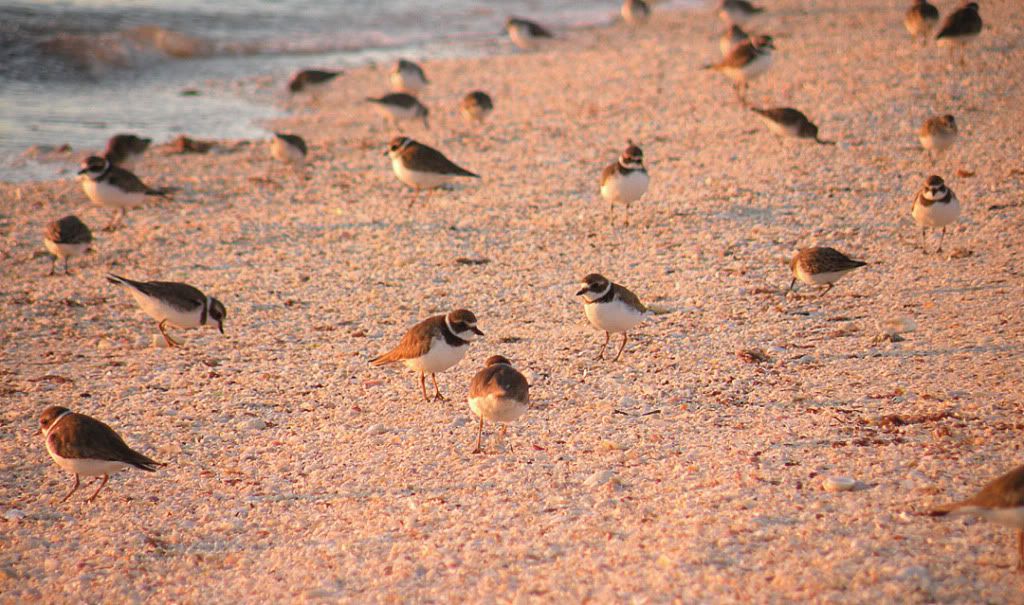 Sunset, Friday, Nov 28
Hey, is this the French Riviera?
The wind was predicted to be 10 mph today (Saturday), but did not materialize. The tide in front of our camp would be significantly higher during the night.
With the nice weather not expected to hold through tomorrow,
the kayakers went on a sight-seeing trip to the real backcountry
of the Everglades. This is the image and route I suggested for them. It can get extremely shallow in these areas, so you must be there on a rising tide. As mentioned earlier on this thread, you do not want to want the water to drain out from under your boat. You can see for yourself at:
http://www.hobiecat.com/community/viewtopic.php?t=7276&start=45
Scroll down until you see our previous trip to ECS last March, then look for the pictures of the mud flats.
Google Earth image of the ECS Loop.
Nancy Eichert rescues a young red-shouldered hawk.
This land bird was found floating in the saltwater during the backcountry loop trip. As it tried to climb on Nancy's kayak, she helped it with her paddle.
The raptor's wing seemed to be damaged,
but once on land, it managed to fly away after it rested a bit.
Sick vulture.
Finding a land bird floating in saltwater was a first for us. So, it was a bit of a surprise that I found a vulture floating 100 ft in front of our campsite. The hapless bird looked very ill, and I made no effort to rescue it.
Sunday weather was predicted to be nasty,
and the forecast proved correct. During the night, the tide came within a few inches of flooding us.
Tide sticks and sandy feet.
At 1 am Sunday morning Beverly Richardson, visiting from Alaska, was not nearly so relaxed about the rising tide as the locals—specifically, Lou and myself. The winds were whipping the waves higher and higher on the beach. She put in a stick so she could measure the water's advance during the night. This morning it was raining lightly. Lou is in his tent, but exposing his feet so they can be washed off-- clever man.
Brian Singer and Beverly discuss the weather.
Or, perhaps Beverly was telling Brian her interesting story. She arrived from Alaska a few days before this trip to visit her Mother. Running an errand to the drug store, she sees a guy and says, "You look just like Frank Murkowski." (Sarah Palin had defeated Frank Murkowski for the AK governorship.) He responded, "I am Frank Murkowski." Hey, is it a small world? Ex-governor Murkowski was in S FL visiting his daughter.
Ruddy Turnstones on the left, Sanderlings on the right.
Thanks again to Roxanne for the ID.
ECS weather vanes.
(Royal Terns per Roxanne.)
A lone sentry stands guard against the advancing waves Sunday morning.
In late March, this is the mating beach for endangered American Crocodiles.
With the strong onshore winds, we were forced to take shelter behind the first row of mangroves.
Normally we never venture back here because of mosquitoes and noseeums. Here the wind was still sufficiently strong that we were not bothered by the bugs. From the left: Lou, Beverly, Erika, Brian, Nancy, the author (Nancy Eichert is elsewhere.) BTW, this trip was a rare one in which the women (4) outnumbered the men (3).
Today, Sunday, we are sheltered behind the mangroves, but
at another time this driftwood was piled high by strong waves
(opposite direction of today's waves.) I sometimes wonder what it would be like to be out here at such times—not fun, I'm sure.
The view from our sheltered area onto the beach.
A creature found in our sheltered area (a raccoon?).
Day 4, Monday morning Brian makes preparations to leave ECS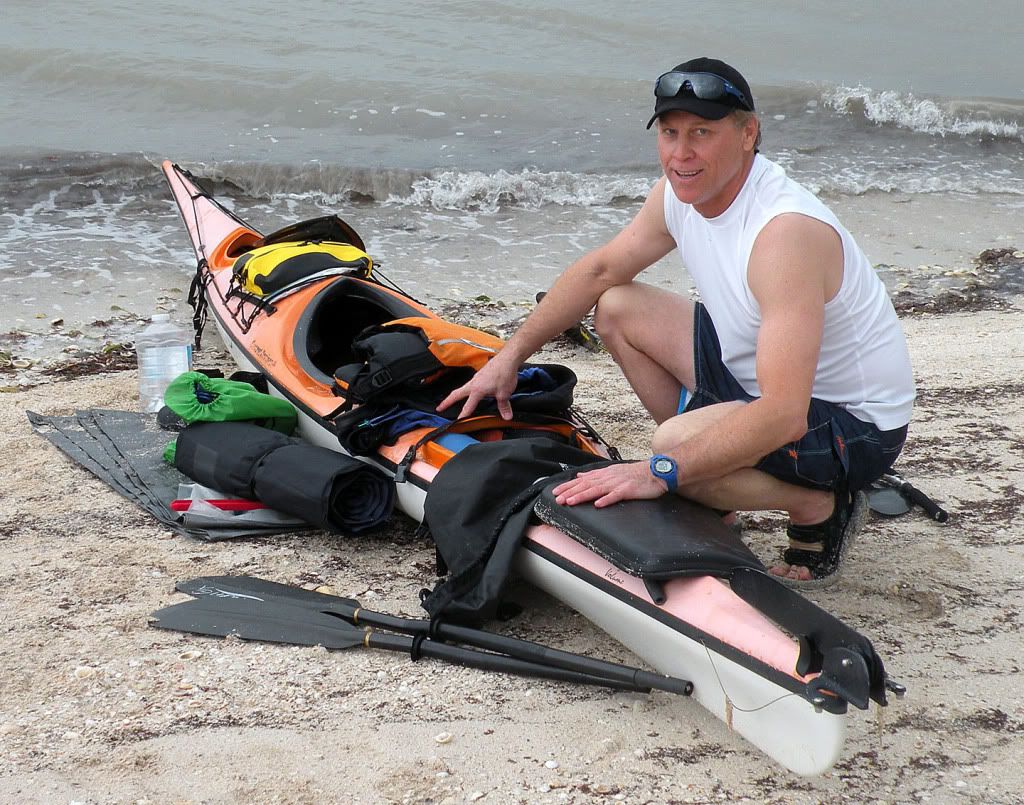 More preparations.
Noseeums were not bad, but Lou has his head net on as he loads the front of his boat. Nancy rises from packing her boat. My Adventure is just behind Nancy and in the early stages of preparation.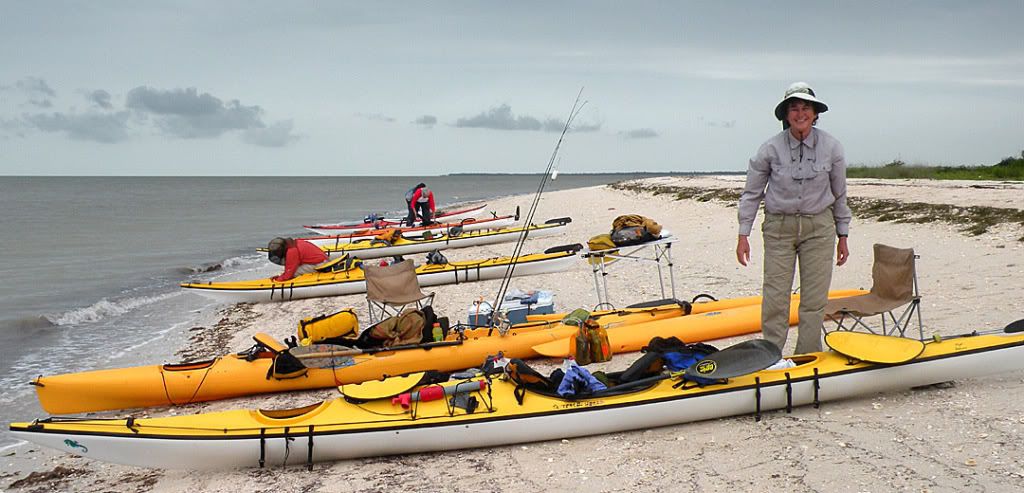 Lou, the last kayaker, departs. The AI is ready to launch.
Back at the Flamingo Marina, Beverly and Nancy enjoy the moment.
I had a nice beam reach on the return with winds about 15 mph. I made the trip in a little over 2 hours, averaging about 5.4 mph. The kayakers began arriving about an hour later.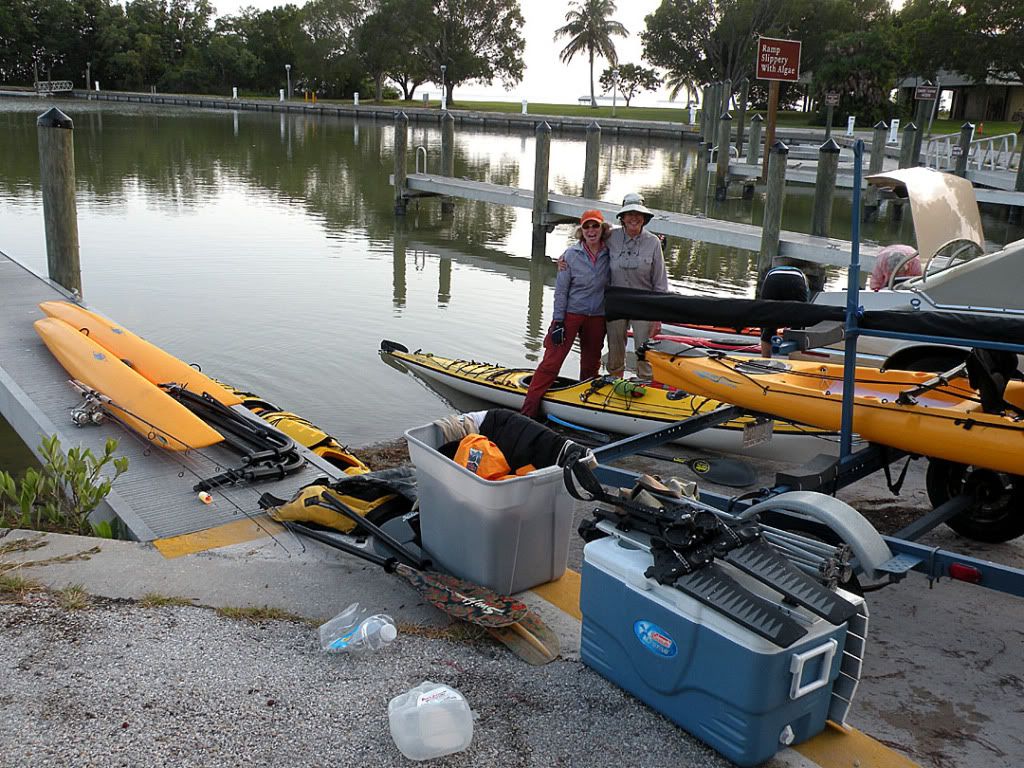 Trip summary:
Delightful! Good friends, good food and drink. Stormy weather Saturday night and Sunday, but otherwise very pleasant. Bad weather at ECS always means a walk on the desolate, but beautiful half-moon bay. Fishing was not good, again! I can't blame the weather Saturday; it was perfect. There were tarpon around in the mornings. Next year,
I promise
to get out
before daybreak
for some serious tarpon action.
AI Water leakage:
With only light wave action, I was pleased to get very little water in my boat, either coming or going. I was also careful to clean my "twist-n-seal" covers before launch. I am convinced this is where the majority of water gets into my boat. My front hatch seal has broken down after only one year. That is a bit disappointing,
but it can be fixed better than new.
Keith