And a long report too!
I had previously posted about getting caught in a wind shear line, breaking off a Sidekick ama, and huli twice.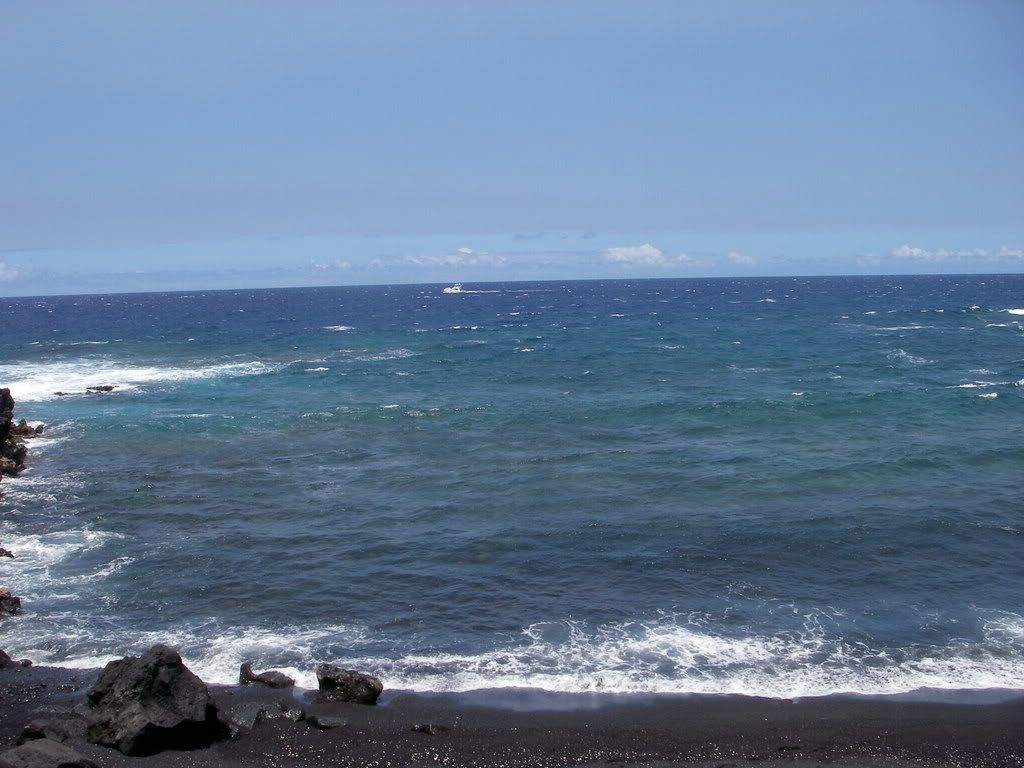 So I was interested in the AI response in not so bad, but similar conditions. Give the yak a wring out but not endanger myself. I also wanted to fish.
South Point is a great fishing area, but can be very dangerous. The launch point is east of South Point about a mile. It's also the start for Green Sands beach a popular spot to walk in a couple of miles or 4 wheel for locals and visitors.
South Point itself points due south so once your there you can hide behind the cliff. Underwater it extends out due south so to the east it's shallow, west quickly drops off to 600 fathoms + even within a hundred yds or so of the cliff. Not too comfy because the wind whips over the adjoining plane and dives down over the cliffs at you. Actually helps create an upwhelling as described by Ross in Fisherman's Ocean. See page 108.
Here's what the lady looks like when she lays down. Yes those are wind machines in the background.
The winds blow out of the east or slightly SE. Got more than I bargined for with 18 knot winds, gusts to 22 (reported weather anenometer) windwaves 6-8 feet, and current combo.
Prior to launching as glad to see some local fishing boats had also launched.
So I started out slow. Reefed in pretty good.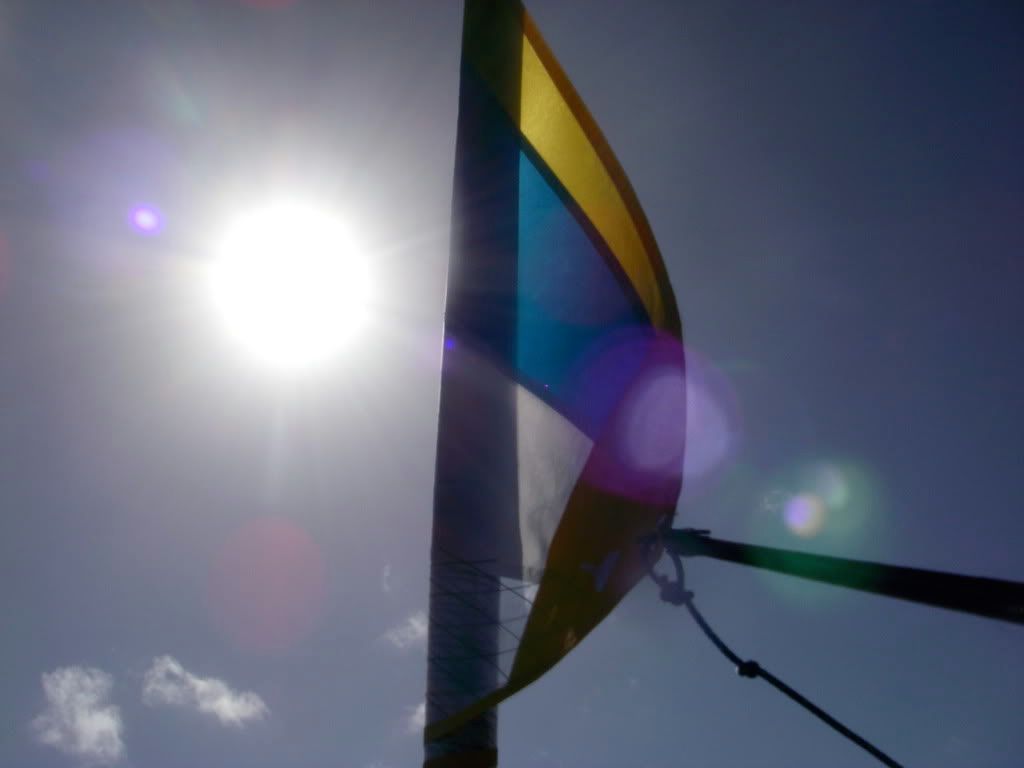 The above was enough to get me over the ~ 1 mile to the SP light in half a nanosecond. Also enough to get my first strike on an ono lure sans any bait. (I have the torn skirt to prove it). Although I had tried tacking sucessfully into the wind, before making this run, I had a troubled stomach thinking about the return.
Once around the light I switched to a bait (o'pelu) and ran along the cliffs. My heart wasn't in it as I knew the wind had come up to 150 knots or so, or at least my brain was trying to tell me it's going to be a long way back. So I went within 20 feet of the cliffs, furled up 100% and had lunch. Fuel for the return. I would need it.
I started back with the sail furled down over the lower batten.
Was pedaling along as best I could. Rounded the point into the teeth of the gale, and kicking myself for still having my bait out. Last thing I need then was to hook up. Which of course happened as I crossed over the drop off line.. Furled 00% struck fish. The threw my new Hobie drift chute over which helped somewhat to slow my drift away from the launch site which was now 100 miles away. Well add another half mile anyway. (My mental state was going to hell). The fish realizing I was in dire straights, and taking advantage of some slack I had inadvertently provided while wrestling with the drift chute hook up, freed himself.
I reeled in, and let the sail out to the level pictured above.
Tha amount was fine for tearing downwind. didn't do much tacking into it.
On the zig I made up ground very slightly. On the zag lucky to brekeven.
%$#@ Ok let the sail out to the first batten.
Moved pretty good on the zig.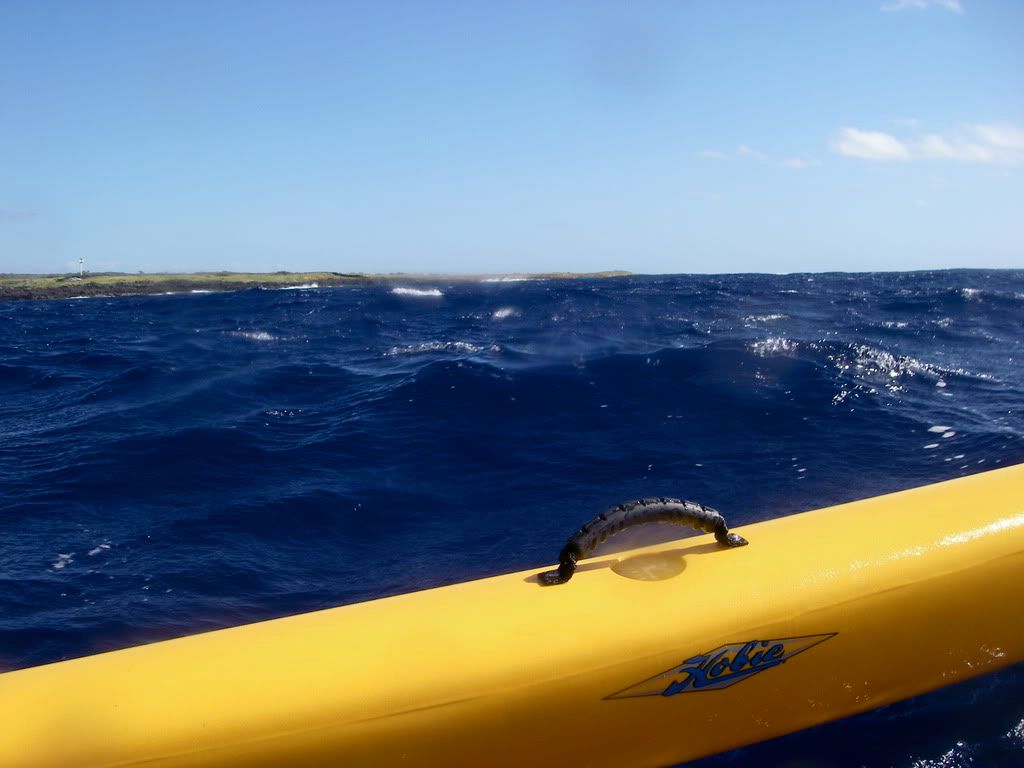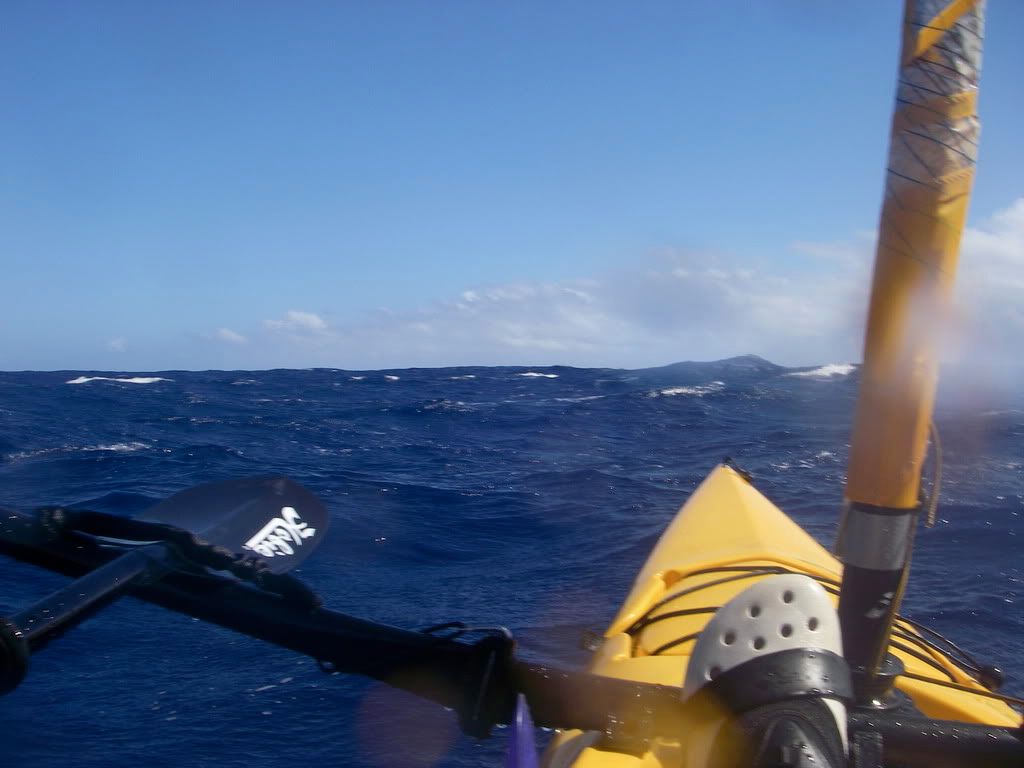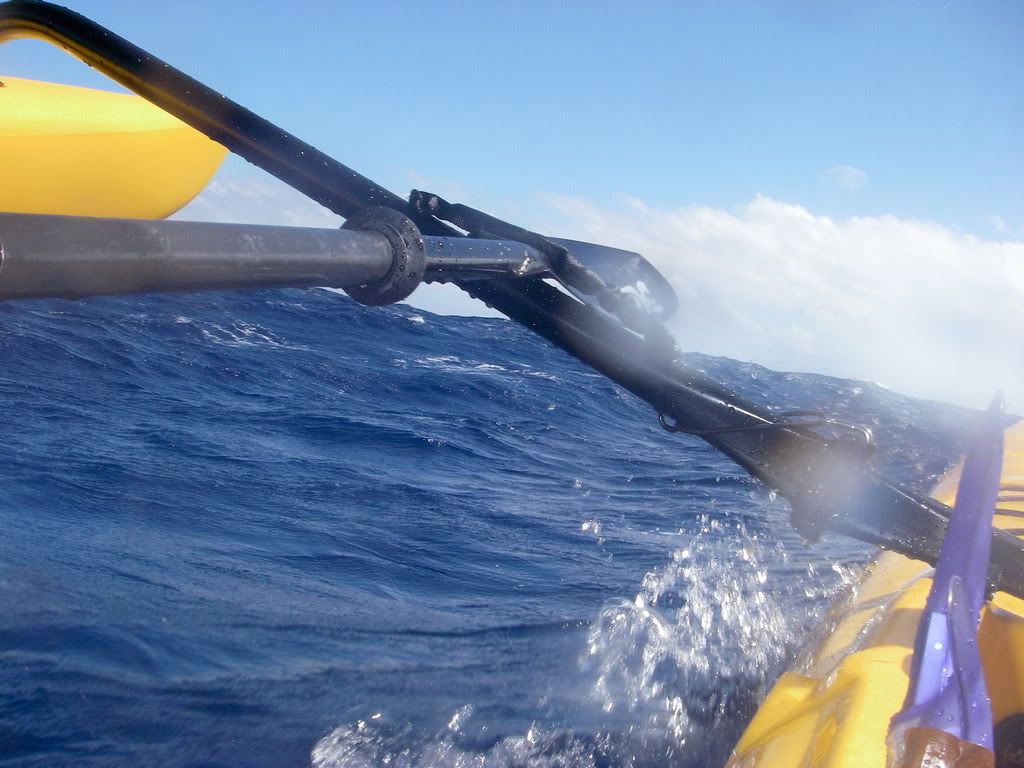 The zag at sometimes I broke even if I cheated pointing higher than I should and pedaled like mad.
So I made slow progress back. Unfortunately the zig was taking me offshore! Now I was almost two miles out.
I ended up taking shorter tacks . I was slowly gaining ground and had cut down the rate I was headed for the Marquessas.
I did not have a spray shield. Fortunately based on Bob's Maui friends complaining about cold Hawaiian waters I had some NRS splash gear, so hypothermia wasn't a problem (yes it happens here under certain conditions). But my glasses were being bombarded under the bill of my hat (secured by chin strap).
I'm pretty good at picking up two points higher up on the landscape to see if I'm making progress. and getting even further off shore couldn't see the shore line anyway.
Having to pedal like hell on the tacks, and the zags I was getting to be one pooped puppy.
I found I could really hold the zigs so started to head inside a bit. Where was the takout? Where was my truck?
After another hour (going on four since I started back) I saw a couple of hikers. Gotta be coming from Green sands I thought. Where is the takeout?
Another twenty minutes and I take off my dark glasses which I could barely see through anyway, and look around a bit closer. Hell Green Sands is over there! I'd spent the last hour overshooting!!:oops:
This time two nano seconds to run back to the takeout.
Couple guys helped me get the yak off the ramp. Thanks vistors, whoever you are.
Trip proved a couple of things.
I wouldn't go out in this stuff to fish.
Maybe sport for sailing IF you have some companions like Kayaking Bob.
The boat can help you survive getting caught out, but you better be sure you can catch the right tack. IE: start your trip in the right direction, know where the dangerous winds can come from.
See my comments on rudder elsewhere.
Yes I did have a GPS, but was too busy to think about it.