Has your Hobie been drinking too much water lately? Getting a gallon or more after a hard sail? An easy sail?
Here's an easy/useful approach to checking your hull and all its fittings for signs of water penetration. It clearly showed the weak points in my particular AI hull, and I think the results are typical of all Adventures and Tandems.
Start by putting the hull up on sawhorses (keel down). Locate the smallest vacuum you can find, provided it can still be used in reverse mode to blow air. (Leaf blowers are not recommended!)
A low pressure/high volume model works best, such as the ones designed to blow up air mattresses, kites, etc.
Or a battery operated one like I use for all my wilderness camping gear.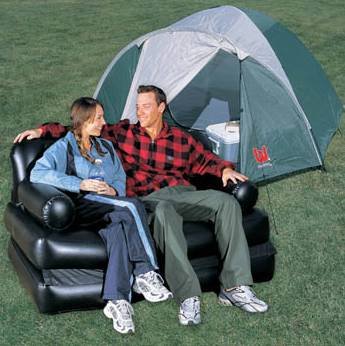 This time, I used a small handheld "shark" vacuum and collected the exhaust output into a flex hose with a tapered reducer:
This fits snugly into the AI's side drain.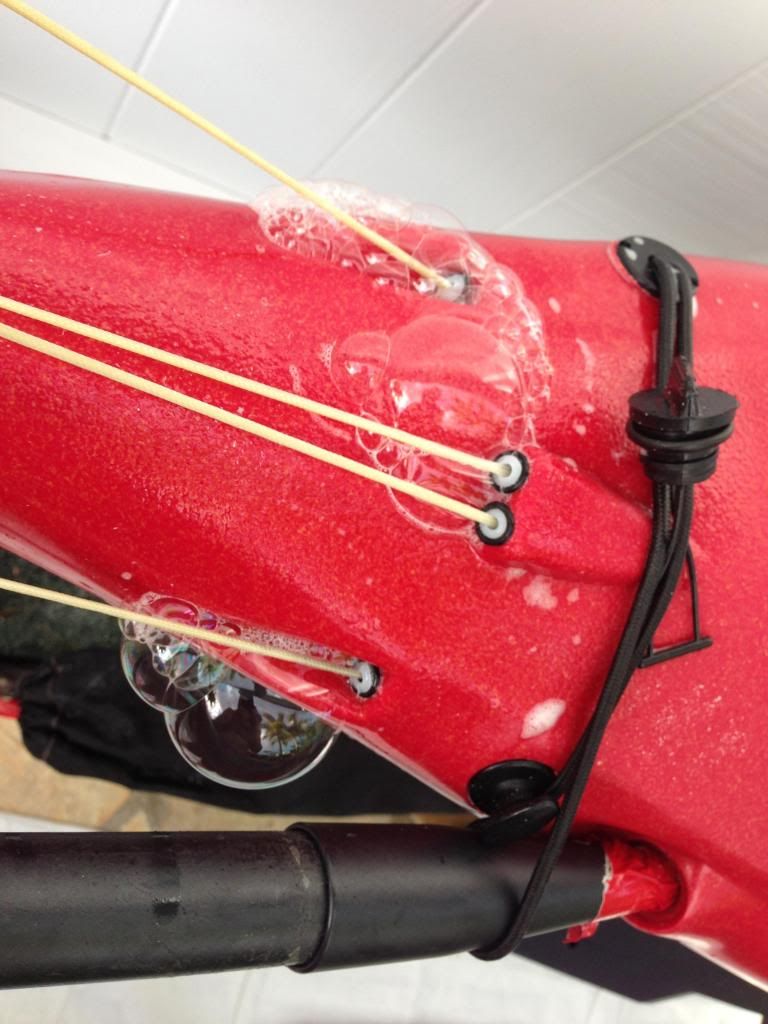 Whatever you use, you'll need it to fit into the bung hole on your particular ride. The TI as I recall has only a redunculously tiny drain in the keel...
Whereas, the AI has both small bottom and larger side ports.
Our friend Batman recommends an adapted crevice tool to feed the drain port. He even uses a footswitch to operate his shop vac, cuz "it's more efficient" (and it gives him the illusion of being "in control").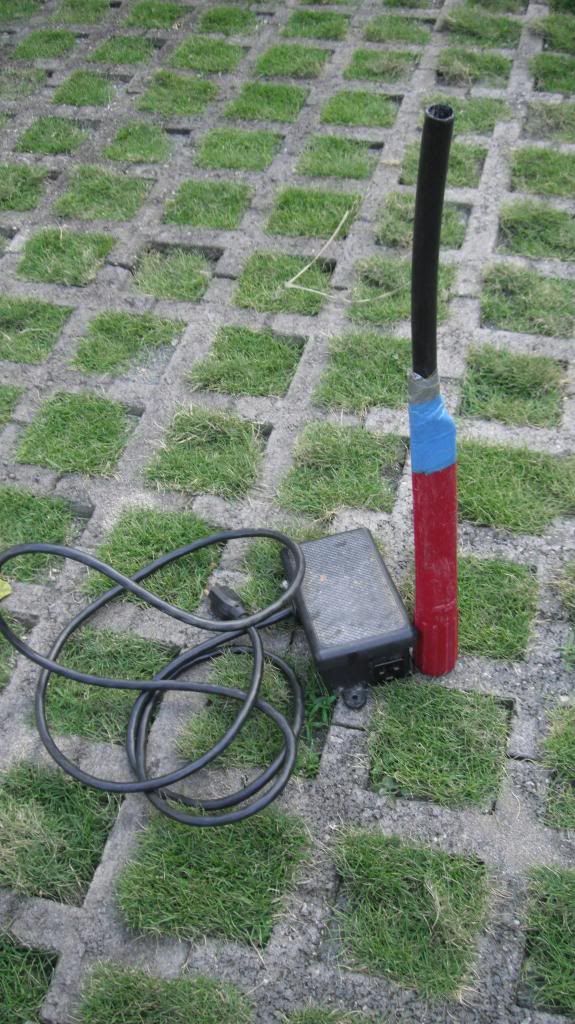 (Yes, you can check the Amas for leaks too. But keep the pressure LOW, or use a perforated hose or tubing).
Begin by closing all the hatches. Fill a spray bottle with warm water and a couple shots of dishwashing liquid. Shake it well and start applying the soapy water to the hull and fittings. Slowly work from one end of her to the other. Don't be shy. She likes it that way...
I started at the stern and forced some soap into rudder line tubes. I got immediate results.
There was definitely water penetrating from my rear lines, possibly quite a bit as the water rushes by there all day, building pressure and looking for a place to go.
On to the rear hatch... I let the soapy liquid build up around the hatches. They were cleaned first for this test, with no sand or lube present. RESULTS: Both were perfectly airtight.
The foam you see here is from mixing, not from any leaks. Those tend to produce larger bubbles that build on each other or blow liquid away from the crevice…
I cracked the round hatches open and filled them with soap and resealed them. They did not leak at all! Not the hatch O-rings nor the flanges that hold them in place. Nice to know. (If you do find a problem, your first hint of it might be unusual sounds. You can locate some serious leaks by a hissing or whistling sound).
Moving along, I checked all the scuppers, seat attachments, blocks, cleats, Aka mounts, padeye fittings, side handles, tiller etc. All were fine.
I spent extra time inspecting the Mirage drive well and its clamps. No problems there, (exhale).
(You can install the Mdrives and have someone pedal them if you want, but without the drives loaded with water pressure, I'm not sure you'll find any lurking cracks. But try rocking them, at least).
The bow hatch, however, was a hole different matter!
The seal there could best be described as pathetic.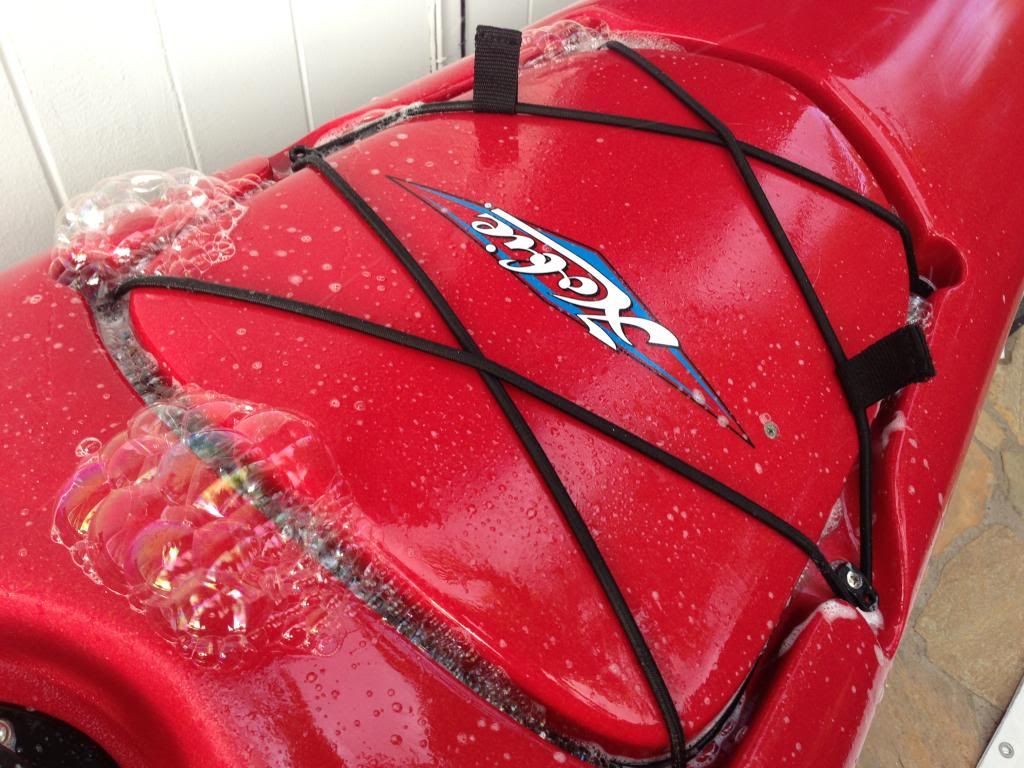 I noted that a large volume of air was escaping there from multiple points between the hatch seals, (and even from around the hard plastic moldings that attach the upper and lower seals to the kayak).
Some of the worst areas are obvious in these pictures.
I am most concerned now about the lower side wells where water is supposed to drain away from the hatch, but the sucking seems to be greatest.
Here's a short video showing the areas of concern:
CONCLUSIONS
Most of all the front hatch seal of my 2011 hull was VERY leaky. I suspect it's the source of most of my 1-3 gallons of hull water after a juicy sail, and it's going to require attention. I'm already exploring a couple of the crafty ideas discussed in recent threads by the brain trust here at our forum.
In comparison, the round 8" hatches were VERY impressive. I will never again worry about this area being constantly underwater as I sail.
So my hull is probably leaking 75% from the bow hatch and 25% from the rudder lines and other sundry points. (A few good sails with some dry towels at each end can help test this conclusion).
You can keep all this in mind for reference as you conduct your own tests, on and off the water.
Cheers! Or as we like to say here, "Suck um up, Brah!"
NOHUHU