Here's a homemade rod extension I made up to keep two lines a bit more separated. It's based on Sifisto's rig on KFS, but doesn't face fwd, just 90 degrees out. And 45 degrees from the vertical. Thanks to Mike for coaching me through this.
I promised Al Stillman I would post some pics when I had tested it.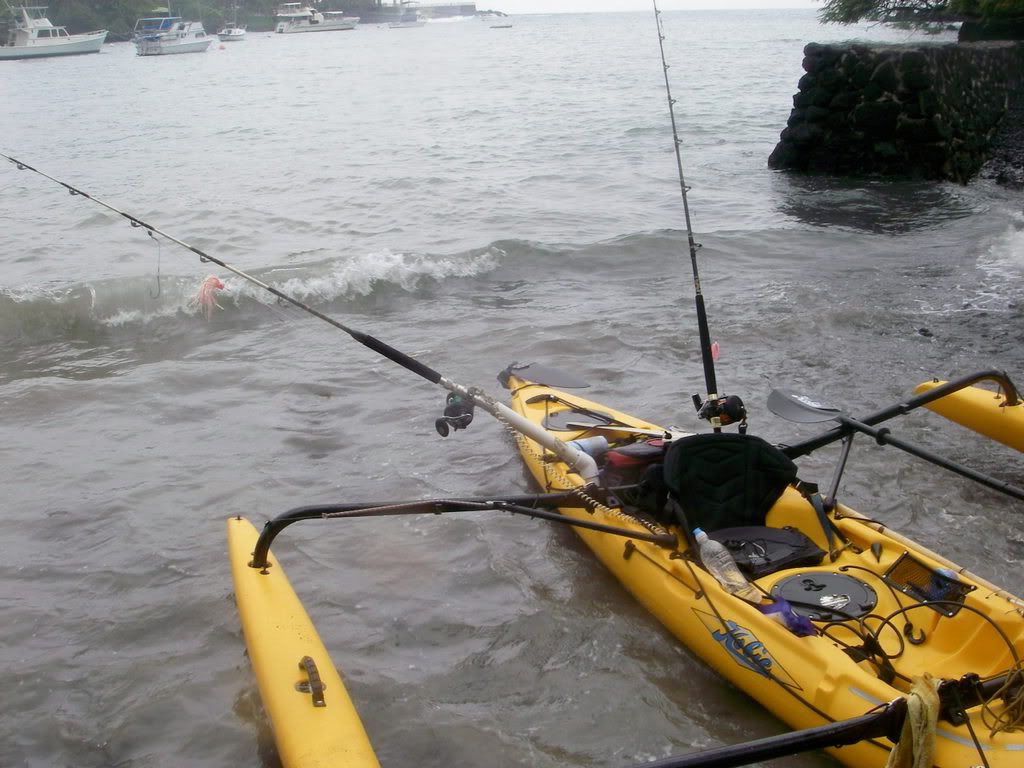 Here's a shot of the extension with it's pin to keep it from rotating. You drill a hole through the wall of the molded holder, and the pin keeps the holder from rotating.
Note to fit, the wall of the PVC tube had to be ground down.
You will note that unlike Mike's rig there is only one tube.
Why?
I really don't think this rig would take a big pelagic hit. I'm using it for a bait trolling while trolling my main line, 50lb test, in the port holder. The bait line is only 15lb test with my max drag set at ~5lbs. so for small stuff the rig should work.
Of course you can never tell with PVC. Look what an ulua did to the fighting cup holder (3" pipe end cap)I had mounted on the center hatch. Tore the bottom right off!!!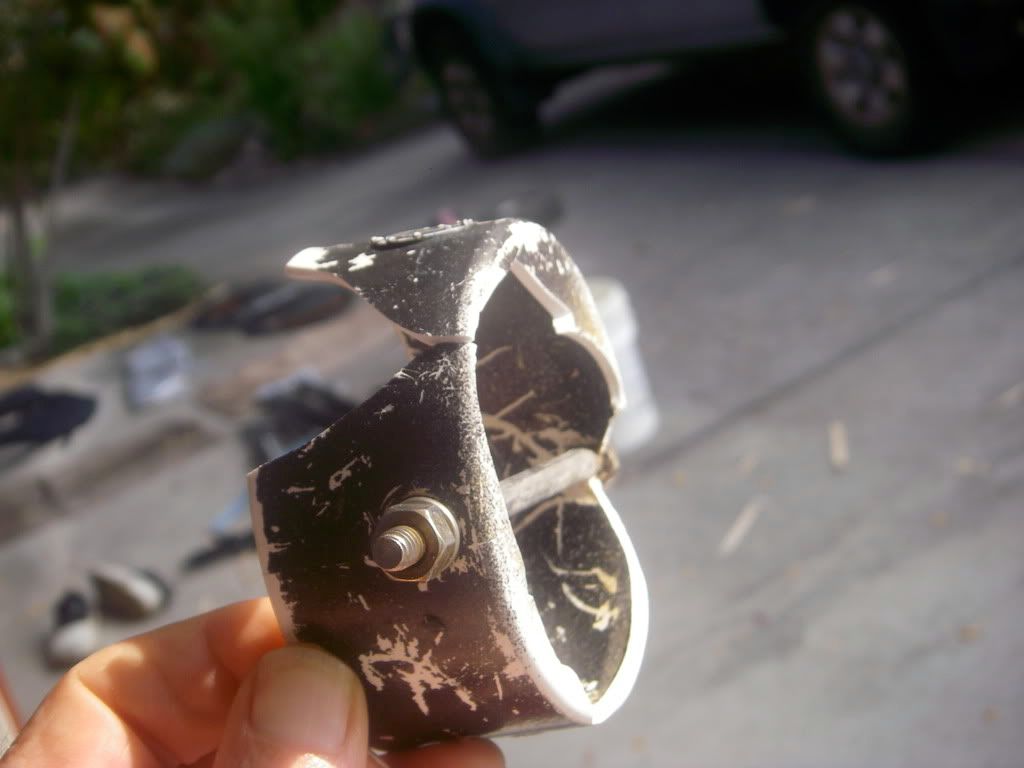 Note over here, you can encounter "bait" in the form of aku (skipjack tuna) at any time while trolling for mahi, ono, etc. So having your bait rig out there on a shorter line works pretty good. Only one tangle so far.
Some other problems.
It's hard to line the pin up. An adaptation of this in future Hobie hulls should have some sort of ridges so when sliding any extension in everything lines up.
The 45 degrees keeps the rod out of the way from the mainsheet. Yet if I did not have the AI ama I really would not want to use it, with that weight out there, plus fish strike > You could huli even with a small one.
I really wanted a 30 degree off the vertical, but my irrigation pipe salesman says they only make 45.
It was a stretch to grab the rod with the extension pointing straight abeam. But facing aft in the horizontal plane at 45 (135 from bow) I would have had a harder time (Mike's rig doesn't have this problem. He put bends in there to have it face fwd).
I'd rather not have to use such extensions. I'd rather see their function build into the molded holders. For example I believe facing aft 135 from the bow is where Hobie's molded holders should face. (Several competitors do this now.)And 30 degrees off the vertical. Enough to keep the main sheet from sometimes knocking your rod out of it's holder.
They should also be moved fwd so you don't have to reach that far back. The rear drinking cup space screams for this solution.
Beef the built ins up. My max drag on the 50lb test is set at 15. Some guys will be using 80lbs and up on the AI. Could have drag set as high as 30lbs or better. What's a bill fish/ahi that hits that going to do to the hull?
Finally, Hobie might look at the Melton Swivler. Come up with some way of adding one to the molded rod holders. There are some occasions when you just have to leave the rod in there and the Swivler will keep the rod tip facing the right way while you furl the sail, get ready for the fight, etc.
http://www.meltontackle.com/catalog/pro ... t_id=13193