Brady & others who might be reading this tread,
One more lesson on important uses of your gps.
This is a National Geographic TOPO! map image of the Flamingo area in the Everglades.
It is zoom level 5—the highest.
The next image is a NG TOPO! map at
zoom level 4
showing Flamingo to East Cape Sable. It has a
route
displayed. This route would be uploaded to your gps for use during a trip to ECS. As a kayaker, I loved routes because following a route would get you to your destination (ECS in this case) by the shortest path. As a sailor, you are largely at the whim of the winds. In my hypothetical example, the winds are out of the SW. So, closely following the route to ECS will be difficult. You are forced to tack off the wind. I have shown your likely "actual track" in reaching ECS.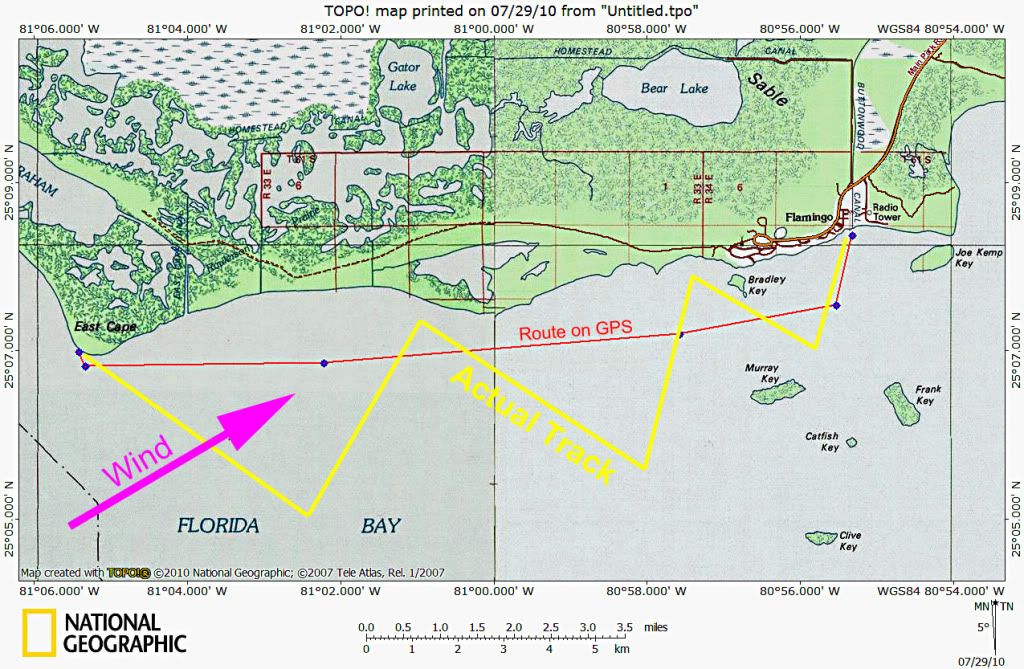 Now the following map shows your likely track and the use of
GOTO
. You could have used the route, if the winds had been from the SE—then you could have run on a broad reach and stuck closely to the route. But, with the winds in the SW, the route is pretty useless. Your actual track deviates greatly from the route. In this case, using a GOTO is better. Use the single waypoint, X, and select GOTO on your gps. Now, on the gps display, you always have a direct line connecting your position with that wpt. Your gps will give you the instantaneous bearing directly to the wpt and the miles (km) distant. No matter where you are the GOTO makes it appear that all you need do is follow the straight line to your destination. Of course, you can't follow that bearing because of the wind, still, when you look at the display (which should have "bearing" and "heading" data windows,) it tells you what bearing you should be on to go directly to your destination. Finally, the last tack you make takes you on the bearing the GOTO says to follow, and you sail into your destination. For sailors, the GOTO is great.
Hope that makes sense—if not, again, just go out and try these thing. After you have made and followed a route in your neighborhood, use a GOTO w/ your home as destination. You will see that the GOTO wants to direct you through people's yards, through buildings, etc. It will always be a straight line to your home.
Keith