How do you fit a wind indicator to a mast that rotates?
Well here is one solution that has worked on the several outings I remembered to plug it in.
I purchased one of those plastic coupling fittings commonly used on life jackets.
Also a dingy wind indicator for about $20AU. Yes we are a land of innovators in Australia.
I cut off the mounting rod leaving the curve in place, cut away the coupling then filled with plastibond. I think that's a brand name but I guess anything that will fill the gap and go hard will do. Ended up with as below.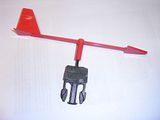 Next I heated a strip of plastic and bent it to a shape to fit under the sail strap on top of the mast and in the notch on top of the mast. The strip was about 12mm wide and about 1.5mm thick. You can see the edge of the plastic, under the webbing in the following photos. I then put two metal threads through the femal coupling and plastic strip with dome nuts and locktite as below.
Then all I have to remember to do is plug in as below. At least I don't have to take down a fully stayed mast with spreaders, like in my last yacht, when I forget on the TI.
_________________
Cheers, Brian in South Australia
Tandem Island -