Hi abonnin,

Whether you have lee helm or weather helm will be greatly affected not only by the factors you mentioned, but also by fore/aft weight distribution. As Matt Miller has previously stated, the position of the mast was primarily influenced by the location of the forward seat. The drag caused by the armas will also affect the feel on the helm. (much like a sidecar on a motorbike). As you can't adjust the rake of the mast, all you really can do is adjust your weight distribution to minimise any lee/weather helm.

We have to remember that the TI is a hybrid sailing kayak, not a pure sailing vessel, so it may not exhibit all the characteristics of a 'proper' sailing vessel. For what it was designed to do, it does the job extremely well.

When sailing by myself or with my children, I always wear a harness (simple crossover webbing with a clip). Attached to a Jack stay that runs between the two aka braces, I can move all over the boat unencumbered, but should I fall over, I am always attached to the boat.

Now, I am also interested in crossing over the steering lines so that the helm is 'traditional'. Can you let me know how you modified yours? Also any pictures?

Kind regards,

Rob.
_________________
Rob,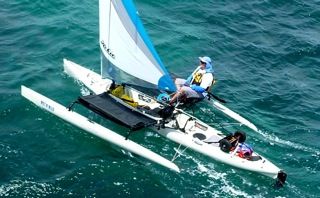 2011 Hobie TI