Well the adventure begins with my five day old TI! First thing was to devise a neat method of attaching a wind indicator to the masthead. I bought a "Connector" piece of PVC pipe which was a nice push fit over the small diameter top of the mast (about 30mm across). I fixed this with a couple of self-tappers.
To ensure the indicator can be easily removed for transport i got some clear plastic tubing which was a firm push fit for the indicator upright. The bottom half of the tubing was filled with doweling, and then two bolts secured the tubing inside the pvc pipe. Hopefully the photos explain it easier. I will fit a thin safety wire through the base of the indicator for extreme weather
A local sailmaker made me a set of spray skirts to Kayaking Bob's specs (not yet fitted), but while I was there, I provided an Aldi $3.99 hi-vis safety vest, and he made up a safety sock for the TI rudder, for the princely sum of $11 odd! Cheap insurance I reckon.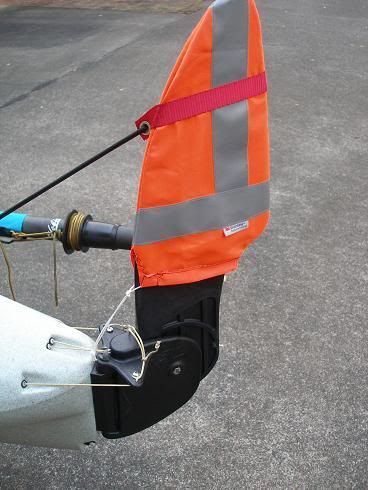 _________________
Tony Stott
2012 Tandem Island "SIC EM"