proyak wrote:
tonystott wrote:
*Halyard on mast to enable sending up all-round light for night navigation
*Back-up external steering linkages
*Secondary emergency rudder (uses scupper tube)

Tony, like you I go offshore so I'm interested to learn more about these 3 mods.
Thanks,
Richard
Fitting a Halyard.
*I fitted a pvc pipe joiner on the masthead. Get one which is a slip-fit over the top of the sail.
*Secure it with a couple of self-tappers
*Cut a vertical slot in it.
*Buy a pair of small dinghy pulleys; tie a loop of strong 2mm or so line, and slip the knot inside the slot.
*This secures the top pulley.
*At the bottom, drill two holes in the top of the furling drum
*Loop some small bungee (3mm?) through the bottom pulley.
*Connect the two pulleys with a loop of 3mm cord.
*Tie two knots in the loop, slightly further apart from the keyhole slots you make in the light's mounting pvc pipe (see picture).
*Adjust bungee and halyard length to ensure the light doesn't flop around when you raise it.
*The halyard joining knot will prevent the light from moving too high up the mast as it won't pass through the small pulley. At that point, the light will just clear the top of the mast (ensuring 360 degree visibility), and there is enough scattered light to illuminate the masthead wind indicator.
The vertical slot was cut into the pvc joiner at the masthead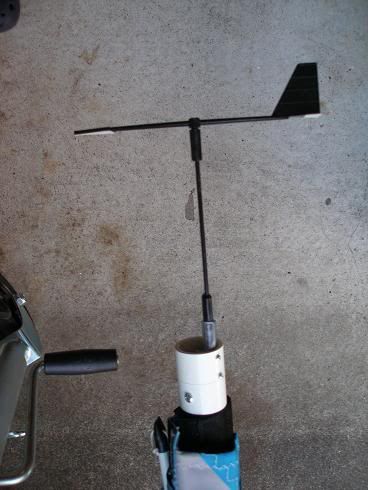 Here are the small pulleys, and the keyhole slots in the light's supporting pole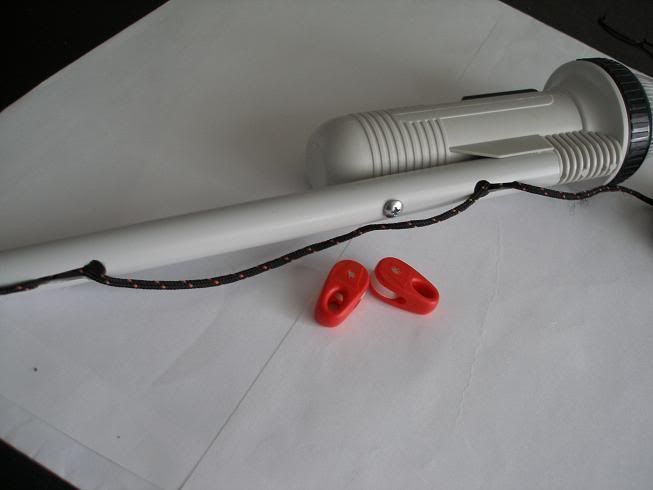 Back up external linkages. Since the photo, I have fitted stronger "arms". The port line has two to one purchase, while the starboard one has a strong bungee. So in operation I tension the starboard one to suit the weather conditions, and steeer by pulling on the port one. I can cleat both if required.
The emergency rudder (since painted white to save my eyes!).
In order to avoid any possible damage to the scupper, a piece of glassfibre painter pole has a vertical slot cut in it so it is a press fit in the scupper, and effectively becomes the bearing for the emergency rudder. This "bearing" has a piece of marine ply epoxied to it so it can't drop out of the scupper. The rudder post is inserted from below, and a plate is pinned through it to stop it also dropping. Then the tiller is attached at an angle at the top of the post, so a person sitting in the back seat can steer the TI. Note that this does not fit an AI, due to the rear crossbar being too close to the scuppers.
On reflection, I suspect that the breakage of my rudder lines was the result of a line being assembled incorrectly before delivery, and I doubt that external linkages are required if you have got through a few trip without failure.