Welcome aboard Oatsey! I know the feeling, and it is still there even after three months of sailing! I suspect that I am the most prolific TI user here, averaging three outings every week since launch (goodness knows what summer will be like!)
From you description, it sounds like you have gone along the same lines as I have in terms of fit-out, other than your use of a cart. I chose to just rely on a trailer with winch to minimise manhandling what is a pretty hefty vessel for this old age pensioner.
I can imagine easy (and exciting) trips between Rotto and the mainland, and your grin matching mine.
One simple mod I would recommend highly is a masthead wind indicator, cheap, yet really enhancing sailing enjoyment. Here are some details I put together for someone else on thew Hobie Oz forum.
The standard masthead has a slot for the loop attached to the sail to locate in, with tension on the sail handled by the downhaul at the furling drum.
As I didn't want to disturb that arrangement. I went to Bunnings and bought a pvc pipe connector with the approximate inside diameter to slip over that loop, and attached it with a couple of self-tappers.
I bought a wind indicator from Whitworths (Windward dinghy wind indicator, part number 93914 price $25), and removed the secondary arms (not relevant on a rotating mast).
I had about 6cms of some spare clear plastic tubing which is a push-fit for the base of the indicator, and shoved some dowling up from the bottom to avoid the mounting nuts and bolts crushing the tubing when tightened.
So I drilled a couple of more screws through the top half of the pvc connector and the plastic tubing (with dowling reinforcement). So I now had the clear tubing locked to the top of the pvc connector, which in turn was screwed to the masthead.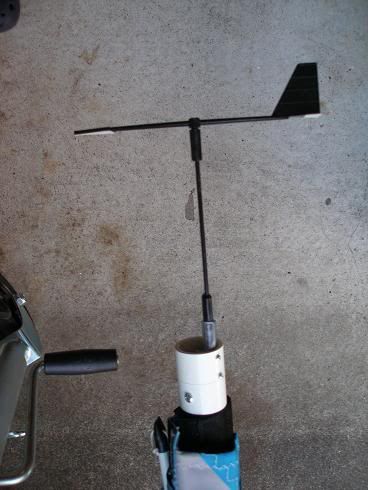 Now, all I do just before lifting the mast into the vertical, is push the base of the indicator into the clear tubing. Easy-peasy!
I find the wind indicator absolutely indispensible for sailing efficiently, picking up windshifts, and speeding up lining up the new tacking angle, which can be really important when going to windward amongst the myriad of oyster leases in my local lake. If you are sailing in open waters it might not be so critical, but either way, it is such a cheap mod, and it adds to the enjoyment of sailing!
_________________
Tony Stott
2012 Tandem Island "SIC EM"