On our recent AI extended camping trip
http://www.hobiecat.com/community/viewtopic.php?f=70&t=7276&start=90
(scroll down until you see the title "Flamingo to Chokoloskee, Jan 13-18, 2010")
we had a couple days of strong tailwinds.
During those days, each of us experienced numerous instances where our AI bow dove below a wave and stayed submerged for several seconds. This was not a new observation.
In my write-up of our trip, I pointed out that the AI hull had a typical "diver" design. The picture and my comments explain.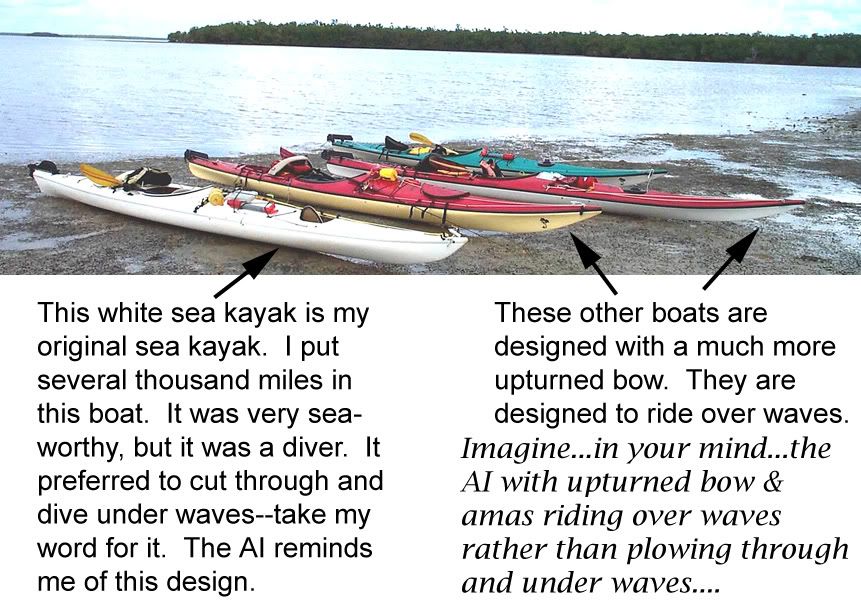 Aloha Dan pointed out that the AI hull is designed similar to the Epic touring kayak. I've owned an Epic and agree. My Epic reminded me of my original white sea kayak above.
My Epic Endurance
My surf ski

My Adventure

Yes, the Adventure hull looks middle aged and pot-bellied, but it bears some resemblance to an Epic.
What these 3 boats do have in common is little rocker.
"Rocker" is the tendency to turn upward at both ends of the kayak. Boats with little rocker tend to run a straight course and be less maneuverable. Little rocker also increases a boat's waterline, which is a feature related to increasing the inherent speed of a boat. Now, the Adventure hull is never going to be a kayak speed demon, but perhaps this is the impression that the Hobie designers hoped to convey.
Here is a heavily rockered British sea kayak.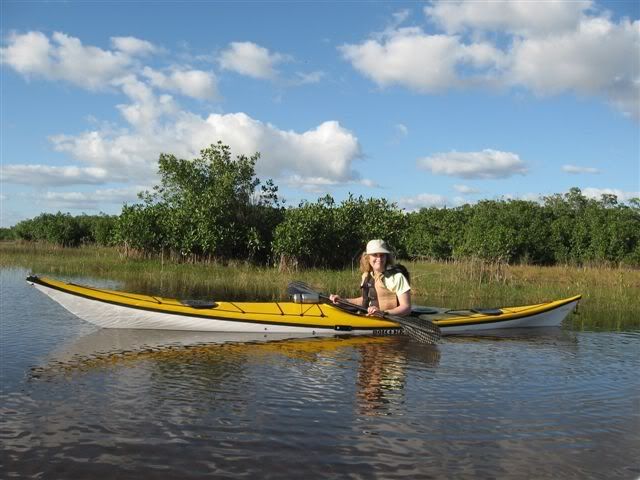 Kayaks with little or no rocker also have a tendency to cut through waves and dive below waves.
To discourage this tendency, most surf skis build a large volume into the bow. Some designers even build a "wave deflector" into their boat's bow to prevent diving.
Matcoburn was able to retro-fit his boat with an add-on wave-deflector in an effort to reduce diving by the Adventure Island. Shufoy posted a video of his add-on wave-deflector.
Outrigger canoes (OC1s) solve this problem by having an extremely rockered outrigger.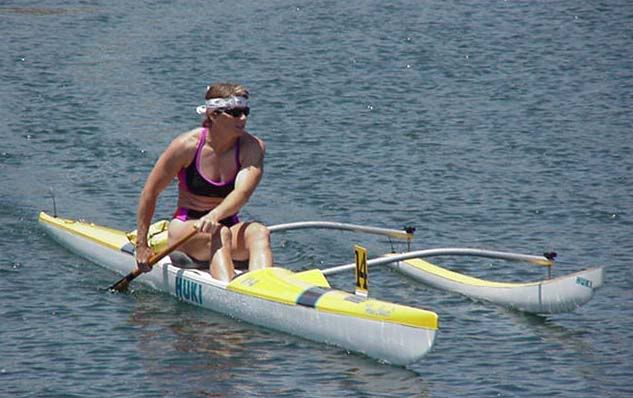 Kayaking Bob's spray shields have also been suggested to reduce the diving tendency of the AI.
With all these options, surprisingly, Hobie, through this forum, has made no comment on any actions they are taking to reduce or eliminate the diving tendency of the Adventure Island.
Matt, could you give AI users any insight into Hobie's ideas/intentions regarding this problem?