M\y Drift HD cam has a spare battery, so theoretically it can be on standby for over 15 hours before I am out of battery. My Aiptek and my el cheapo eBay HD cams have internal batteries only, so I needed a different solution, and I have devised a way to recharge them as well as my Lowrance LHR-80 while in the field.
For the cams
.
These are typically charged from a USB cable, so I wired in a Dimension Engineering switchable voltage regulator (set at 5 volts) (
http://www.dimensionengineering.com/products/de-swadj
) between the plug from the USB cable, and a Deans connector, which connects to one of my 2,200mAh 12v Lithium polymer (hobby) batteries. (The Deans connectors just happen to be what I have on all my batteries)
For the LHR-80
The standard charger accepts 12v, so I added a plug to a Deans connector,, which connects to a 2,200mAh 12v Lithium polymer (hobby) battery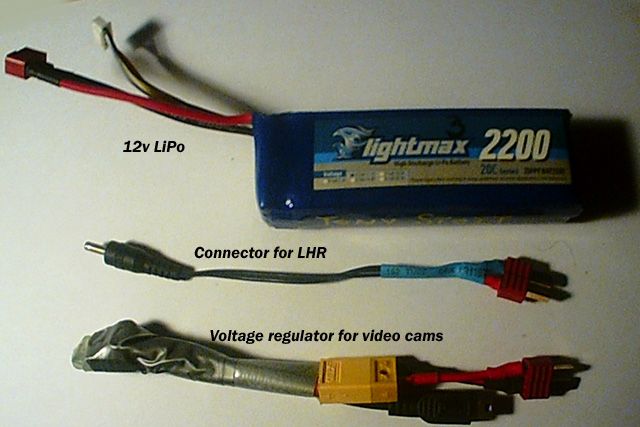 As I have a couple of the 12v LiPo batteries, I anticipate that I would be able to be away from external power sources for at least three days without even trying to conserve battery capacity (I also bought 3 extra lithium batteries for my Android phone, so I can last even longer before running out of juice for the phone, even if I am using the Navionics chart app)
Of course you could also just add a fly lead of your big-ass dry cell 12v battery you use to power your Fish-finder etc, but my alternative is independent, and only needs a small waterproof container, and can be used while sitting round the campfire
_________________
Tony Stott
2012 Tandem Island "SIC EM"