Keith:
You have to realize even my seemingly big list of failures over the last 4 years you have to realize I am out on the water every single weekend all year round, and my typical outing is at least 15 miles, sometimes if I can get away with it I'll go out more if I can. Heck when we are at our Key West place I will go out every day if I can.
Last Saturday I went out with the Hobie Island club, I had to make a minor repair before going out so I had them leave without me (my jib halyard shredded when trying to hoist the jib (it was just worn out, and being paracord, once the outer skin is gone (where it snaps into the cleat) you have to replace it ( a bad rope choice)). They were about 45 minutes ahead of me the plan was to follow Long Boat key along the west shore line. I took off going north following the shore looking for them, I ended up missing them completely (they followed the east shore instead 3 miles east of where I thought they were supposed to go) and ended up at Jew Fish key (about 10 miles north of launch). There I turned around and came back where I found them about halfway back where we all anchored and had a nice lunch in the shallows. While with the group I had my motors tilted up and just sailed with them (@ 3-4 mph) until I ran aground in some shallows and they all got way ahead of me ( I had to walk out of the shallows (it was low tide). So I fired up my motors to catch up (again) when the wind completely died, they were all sitting in irons and pedaling about 3-4 miles north of the launch (doing maybe 2mph), so I decided to just pull ahead and go down to big pass (about 7 miles south of us at that point) and sail down there a bit while I was waiting (looking for good wind), then come back before they got back to the launch. All told I did 26 miles, and all of us had a nice outing ( I used a bucks worth of fuel total for the day).
The weekend before I went up to Anna Maria island to scope out dive sites offshore, that trip was over 30 miles.
Here is my way point track up there: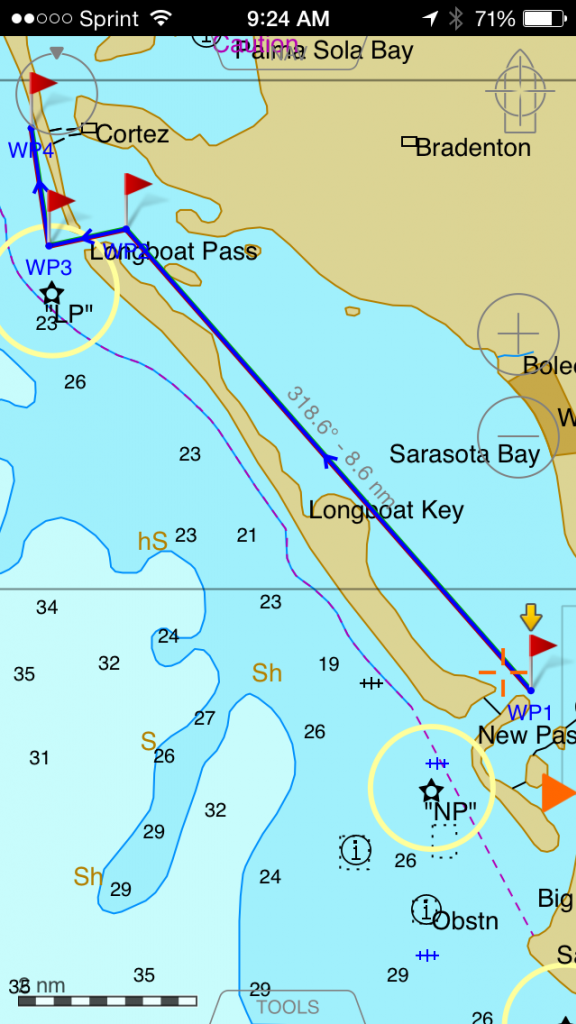 There are too many shallow areas on the west side of the bay at low tide so I usually go up the east side (safer), BTW that's where I went aground last weekend on the west shore at low tide and had to walk out.
All in all I'm pretty sure I have over 6,000 sailing miles on my TI's with I suspect over 3000 miles on this 2012 TI. I used to worry about my TI's once the warranty ran out so I would replace them regularly, but I don't worry too much about that anymore, the boats are uber reliable in my opinion.
Now divide all those miles into the above failures and you have a pretty darn reliable boat. What truly amazes me is my mirage drives, I pedal 95% of the time and have never had a mirage drive failure, that's spread out over 8 hobie mirage boats since 2007.
BTW my exercise size program is to pedal my TI at least 15 miles every week, but there is no rule written that I have to go 2-3 mph, ( the reason I invented all the crap on my boat), some would call it cheating, I call it resourceful thinking. I normally get my 15 miles done in about 1.5 to 2 hrs (with my first stock TI that was 5-7 hrs on the water, obviously I set my initial goal a little too high ( LOL)). OK OK I'm a cheater...... These were the conditions I was allowed to buy my first TI initially, to be used in my exercise program (shortly after my heart attack), I've held faithful to that, pedaling my boat at least 15 miles per week for almost 4 1/2 yrs now (most weeks I double or triple that distance), and am actually in pretty good shape now, and have done quite a few 50-60 milers (definitely not at 2-3 mph). Everybody has to have a hobbie I guess. And given the number of exercise machines out there not being used, I feel I've done pretty well, plus have a good time doing it, seeing the outdoors (a great hobby).
Bob