fsukurt :
I highly recommend the Fortress guardian 4 lb aluminum anchor, it's available at West marine (where I bought mine) (
http://www.westmarine.com/webapp/wcs/st ... cid=sc_msn
) it about 79 bucks or so. We live in Florida (where it's mostly sand bottom around Sarasota, and Key west. We do a lot of Scuba diving and had our boat drift off on us with the Hobie claw anchor (we actually had two set at the time). Since starting to use this Guardian we have not had any problems, I keep 150 ft of 3/8 anchor line on board at all times.
Here is a pic of my setup: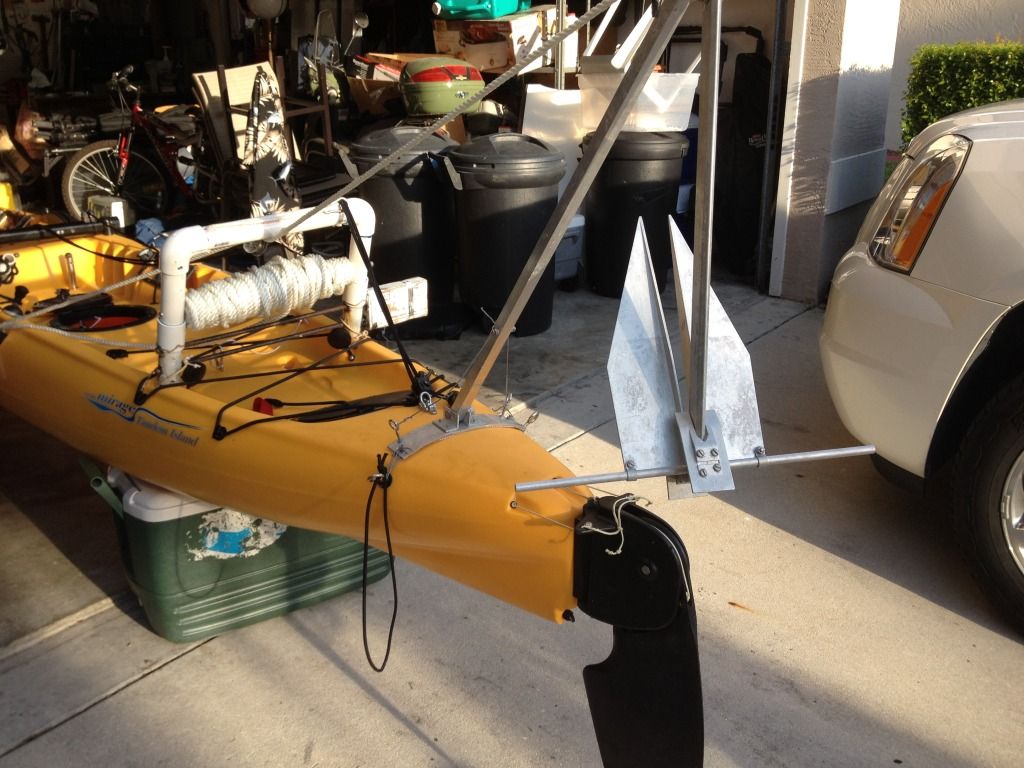 The anchor stays mounted on the boat at all times (even on the trailer). The swivel mount parks the anchor above the back of the boat out of the way. The anchor automatically launches just by releasing the rope which I have tied to the rear lift handle, or the rear AKA brace. I made the rope spool inside my motor mount after realizing 150 ft of anchor line completely fills up the boat (that's a lot of rope, I had no idea just how much until had it on the deck all jumbled up, if you have ever seen the movie Moby Dick, where Ahab get's all tangled up in the ropes (that was me, LOL)). To bring the anchor up you just pull on the rope from the front seat, and it automatically swings up and out of the way. For transportation I have a small piece of PVC water pipe that the 3/8 rod (coming out the sides) slides into so the anchor doesn't rattle around when transporting, when the anchor releases it automatically slips out of the PCV tubing and into the water, It's by far the best most reliable and trouble free setup I have seen and used.
We also use it for beach landing into high surf, it works great, basically as your coming in just outside the bad part of the surf zone (about chest high usually) we just drop the anchor and slowly play the anchor line out until we get to shore. Then on the way back out we just pull the boat out past the surf zone by the anchor line. Unfortunately if it is the last trip of the day somebody has to volunteer to walk out and get the anchor, actually we use it this way more than we thought we would.
At west marine they said you have to have the chain anchor rode, some ridicules length like 12 ft or something crazy. I didn't want 25 lbs of anchor chain anywhere near my plastic boat, I thought why make a 4 lb anchor that has to have 25 lbs of chain attached to it in order to work, doesn't make sense. I told the guy I would try the anchor out first then come back for the chain if it didn't work. He was furious with me (must be on commission), I ended getting my rope at Walmart for 1/3 the price, and never did get any chain, didn't need it, I have used the anchor many times and just have had no problems with it not holding without the heavy chain anchor rode. Seems to hold well in many different bottom conditions, since we are scuba divers, that always the first thing I do is go check the anchor out when I go down (most of the time we follow the anchor lines up and down when scuba diving anyway, as the currents are very strong in the gulf stream and the keys)
Hope this helps you
Bob