Here is PutAwayWet's casting platform.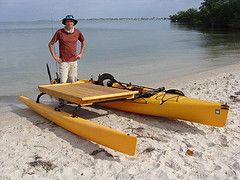 But, I like CR Yaker's suggestion of using a simple haka as a platform. CR actually suggested using 3 haka's--2 hakas deployed as usual (1 on each side of the hull, close to the hull) and the 3rd spanning them. This would allow casting from either side of the hull, and, since you are not standing near the ama, submerging the ama should not be a problem. Now, my camping mentality prefers using only 2 hakas. You could put the 2 hakas side-by-side to give a larger platform (and maybe sinking an AI ama), or you could deploy one close to the hull and the 2nd perpendicular and spanning the hull--this 2nd one would allow some access to the opposite side if the fish you are targeting moved.
In any case, I like the idea of using the hakas as a casting platform--even when out camping, but on your day off from traveling. Once again, we are looking at the great versatility of hakas!
Keith