This is a promised follow-up to the (now old) topic:
Lessons from an Ill-Fated Dive Trip
viewtopic.php?f=71&t=53527
as well as a response to some several other topics, such as Keith's AI 2015 capsize, topics about safety lines, and about akas slipping out.
Sorry this follow up took so long, with work and everything, I just got around to getting photobucket set up per Keith's (Chekika) instructions.
I am still using tramps since I haven't settled on a haka design yet, so some of this relates to the use of tramps.
Since that dive trip referenced above, and in reading several other posts, this posts addresses 3 risks regarding my 2014 TI:
1) Aka brace sheer bolt sheers under sail, with the following associated risks:
1a) Gear is on the tramps
1b) Person is on the tramps
1c) The sheered bolt is on the leeward side while sailing on a reach (I think this was Keith's scenario) resulting in a capsize
2) Tramp buckle(s) break with cargo or person on them.
3) Akas slip out of their locked positions (or were not locked properly). This was the scenario referenced in my dive trip report.
I believe I have addressed the three items above using a simple set of cargo straps with a 350 lb working load.
For #1 and #2, I think this mitigates or contends with those risks:
For this, I weaved a cargo strap through the slots where the tramp buckles fit and tightened it down. I tested this with a naive friend on the tramps
by releasing the aka brace handle to see if it would buckle. The akas gave a little but the tramps held without folding or buckles breaking. I haven't yet tested it under much of a load.
For #3 (which my dive trip made me fear highly, I did this: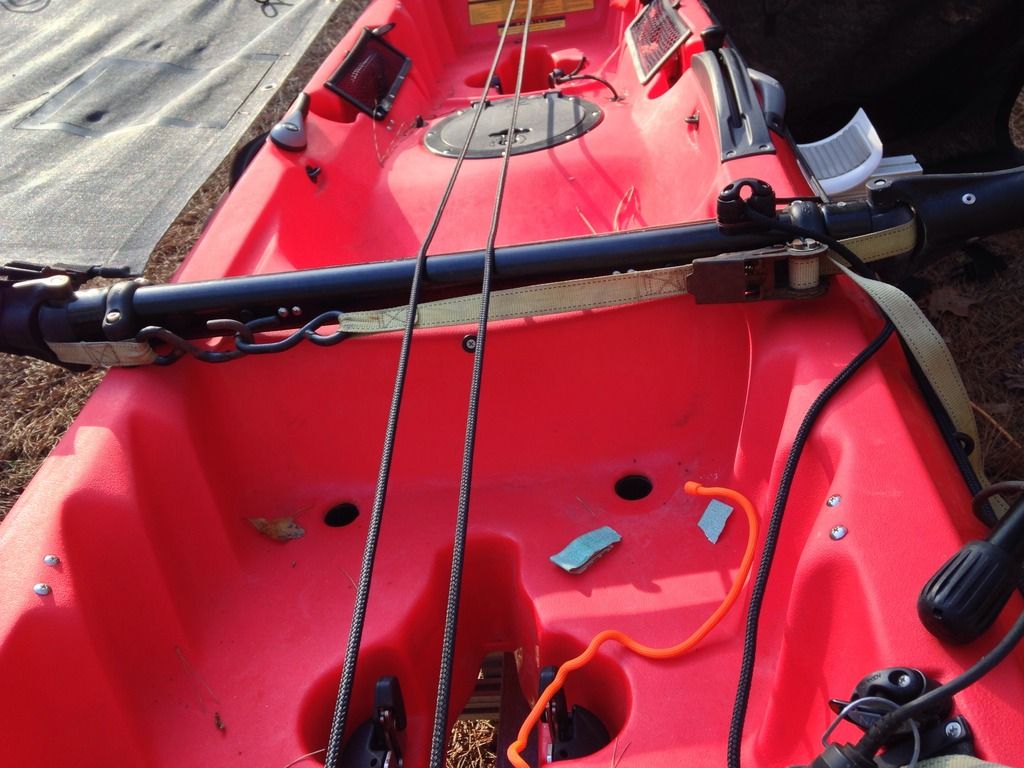 Now, I did have to do a little sanding and trimming to open up enough clearance between the knuckles and socket to where the straps would fit in easily, but it works, they can't slip out even a little, and I have more peace of mind.
Anyway, just yet another way to maybe harden. Please point out any problems you see (it's all about staying safe and happy!).