What better way to celebrate our last trip to Broughton Island at the same time last year?
Plan is to launch from Shoal Bay ramp of the day and head out of Nelson Bay (slack tide is about 830am), arriving at Esmeralda Bay around lunch time, and returning on the Saturday (slack tide is around 3pm).
We had an awesome time last year, and it would be great if we could assemble bigger numbers this year.
The trip involves an offshore trip of 10-12Nm each way, running parallel to the coast about 1-2Nm offshore.
Here is a view of the island as seen from the mainland.
and here from onboard, on the way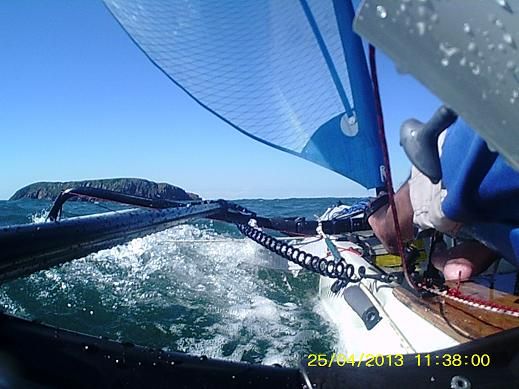 We will not be silly regarding weather conditions, and will make the go-no go call in the week beforehand.
Facilities on the island:
There are five camping positions (3 raised wooden, 2 grass), each of which can accommodate up to 4 tents and 6 people, although last time we just slept on the beach above the tide (dur!). Here is one of the platforms. We would need to be self-contained, although there is an eco-toilet nearby.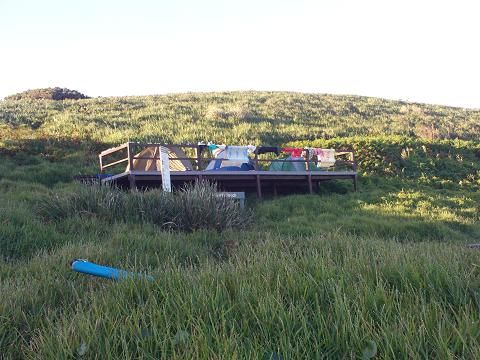 and here is the view looking over my tent on the beach

Recommended equipment
You cannot have too much safety gear with you, but I would think the following would be a good start:-
PFD (obviously) with strong whistle attached
Waterproof torch
GPS (Navionics sell a great app for smartphones for under $15) plus enough battery for two days
Compass
Sea anchor and at least 10 metres of line
Spare rudder pins (I surprisingly broke 2 last trip) and aka brace pins
Bilge pump or super sponge (mine lifts one litre at a time!)
Small tent, with pegs suitable for sand and some extra line for securing to wooden platform anchor rings if needed (plus sleeping mat etc)
Food & drink allow for an extra 24 hours should weather delay our return trip)
Desirable equipment
Chart plotter
VHF radio
Ground anchor and 50+ metres of line
First aid kit
flares etc
Sundry tools & spares
I am sure there are other items worth bringing, but the above will be a guide.
Parking at Shoal Bay near the ramp seems plentiful, and reasonably safe (although isolated).
I am hoping that I am giving enough notice to enable those who expressed interest last time to join us on this occasion. Both grass sites are still available as of 21/3/84, while I have booked wooden platform no. 3 in anticipation. Overnight costs are approximately $12 per person. In an ideal world we would need more than the one platform (ie more than 6 people), so making early decisions will hopefully enable grabbing a second (or third!) site before they are booked out.
Looking forward to your quick response!
_________________
Tony Stott
2012 Tandem Island "SIC EM"