lboiv001 wrote:
I have been convinced by the good ppl here on the forum that the trailer option is better than the mounting-this-big-heavy-boat-on-top-of-your-SUV option....now it's a matter of narrowing down the many, many choices out there.
Before you say it....
yes
, there are many threads on trailer mods and trailer options for carrying an AI, and the problem is condensing all those good ideas into a single source to draw from, such as this thread (hopefully). I have been banging my brain looking at some fantastic ideas that come very close to the exact solution but often end up being still a little too expensive in the long run, or they require some welding/modding skills that are outside of my skill set, which is basically PVC, and I can't unlock myself from deciding amongst the very good ideas.
Also, I want to start a new thread here that will focus on carrying an AI plus one or more Kayaks/AI's (and maybe some of the peripheral gear as well), and can fit in a 18' storage area without taking up all the room, and without spending $2K on the Hobie model.
Who out there has solved this problem by spending less than $600?
Pics are very, very welcome, not to mention DIY instructions.
I want to thank those who take the time to respond very, very much in advance. I eagerly await the brilliant ideas that are peppered all throughout this forum.
While I see you are disappointed at the scarcity of replies, maybe, as you have obviously read many other posts regarding trailers, you could take the time to collect the posts into this thread, rather than ask people to possibly repeat themselves? I know this is a lot of work, but when you see other threads like the "haka" or "expedition" threads, you see they tend to take on a life of their own.
As I live down under, my own experience might not directly translate to options for you, however here goes anyway.
I have a TI, and my trailer is galvanised. It has been dunked in salt water over 400 times in the two years I have had it, with a fresh water hose down after every trip. So far, there are minimal signs of rust
My trailer guy supplied 13 inch wheels, instead of the 12s which were standard.
I have a short garage (well the junk makes it so
) so he went to a lot of trouble to minimise the front overhang (the trailers supplied by Hobie here in Australia have about 24 inches of empty space between bow and hitch).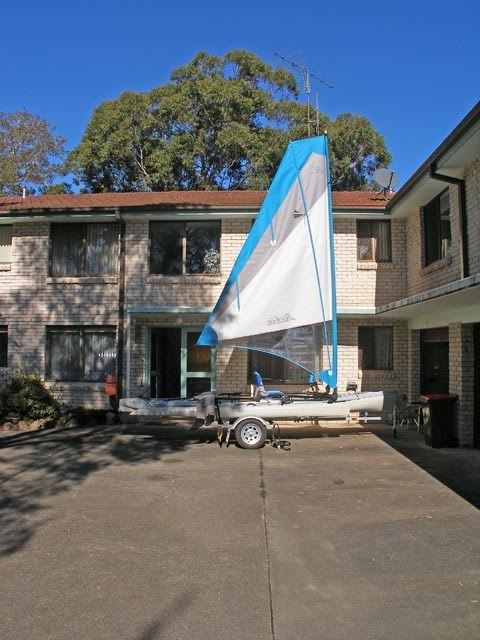 I have a roller placed midway between the cradle and each end of the hull, and despite my TI staying permanently on the trailer when not in use, have not seen any signs of hull distortion.
To minimise friction between the hulls, I got a freebie torn wetsuit from the local dive shop, and cut a section of thigh area , adding a pvc spreader pipe, and clipping these on to the padeye on the akas, so the double thickness neoprene sits between the hull and akas. So far, no signs of abrasion.
I added a rudder cover sewn from a hi-viz jacket, and because the standard trailer lights were a long way forward from the stern, I made up support for a "light board" which sits in the rear cargo area, and the lightboard goes into the back of the wagon for launching. This bracket also supports the mast in travel mode.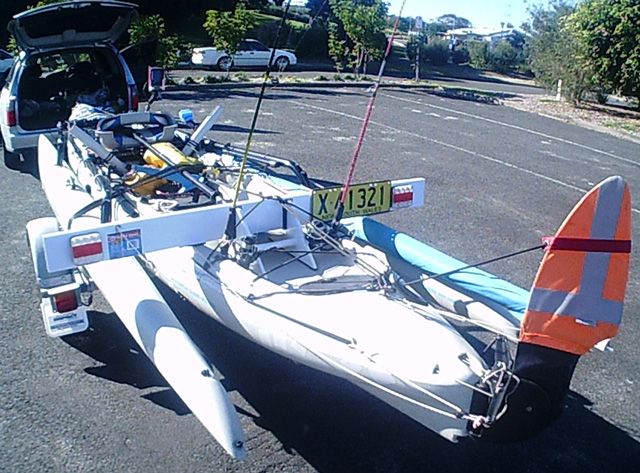 _________________
Tony Stott
2012 Tandem Island "SIC EM"