Nohuhu:
I'm not suggesting every one just go get a HF steel trailer (especially if you live near salt water) because the inevitable does happen and they do rust out quickly, and critical components like bearings and fasteners will fail (load components). And obviously the mild steel trailers are heavier (mine is a little over 150 lbs). I'm sure a quality trailex trailer will last 20 yrs with little maint required. I'm fairly confident I will get 5 yrs out of my $140 dollar trailer, then have to buy a new one or replace the steel components with aluminum as they rust away, and of course the maint on mine is much higher, I remove the bearings and clean them monthly, I have already replaced the stock 8 inch Chinese tires with nice Carlyle 12 inch tires, and replaced all the bolts on the trailer with stainless steel bolts (about $25 bucks worth of bolts). Once the cheap lights that came with the trailer fail (and they will), I will replace with quality led waterproof LED lights.
We just got back from our other house in Key West, and for the first time towed our TI with the trailer vs car topping our TI down there, launching from the trailer is so much easier and quicker for me I don't think I'm going to car top anymore more because of my bad back and age than anything else, my wife is strongly suggesting now if we do take our camper she is saying let's just take two cars and pull the boat with the roadster, then we have a small car to bum around in once we are at the destination (I'm all about that because it takes over an hour to get the boat down from the car and get everything rigged (she always hated that part), where with the trailer it's 10 to 15 minutes even with all my junk (and I have a lot of crap on my TI).
Even my wife (my biggest critic) commented how nice the trailer towed, she does all the driving, and at many times was running 75mph down I75, that trailer was rock solid back there, whenever we stopped I would check the bearings and tires for heat, never had an issue 350 miles there, then the same back. Of course I alway repack the bearings before any long trip (we also do that with our camper as well, and would do it on any trailer we own.
Of course with a cheap trailer there are things that you just don't do, like dunking the trailer into the water, but with a TI there really is no need, I just back up to the waters edge, then either lift and pull the boat up on the rollers (the entire boat slides on rollers and linear bearings (9" cloth paint roller heads) so it slides easily, if I'm exhausted (usually am) I just use the boat winch at the front of the trailer.
I'm not suggesting anyone do what I did, I'm just sayin if your a little handy and don't mind working on your stuff a little once in a while you can save yourself a thousand to fifteen hundred bucks by going the cheap route. With the downside being every time I park my trailer at a launch I come back to find some trailer companies business card stuck on my windshield (true story I have several dozen cards now), I always laugh and tell the wife, these guys have more invested in them coming out and placing their business on my trailer than I have invested in my whole trailer (lol).
Warning if you belong to a yacht club and everyone runs around in white shorts and sneakers with their sweaters tied around their necks, with captain hats on, you will be hated and banned (we were lol, I guess were not the type of folks they are interested in (kayakers).
In my answer I was just stating that I was completely surprised at how long my plain steel motor mount has lasted with little to no special care (over 4 years of weekly heavy use), and this has modified my thinking about the use of plain steel (basically stating plain steel if thick enough lasts longer than expected even in salt water with no special care, as long as you don't care what it looks like).
Even knowing that with my new twin motor mount I splurged and spent the extra ten bucks and went with 1/2" dia aluminum on my motor mount bring the total cost over $20 bucks (it still only took 2.5 hrs to make though). Here is a pic of my new motor mount with the aluminum rods.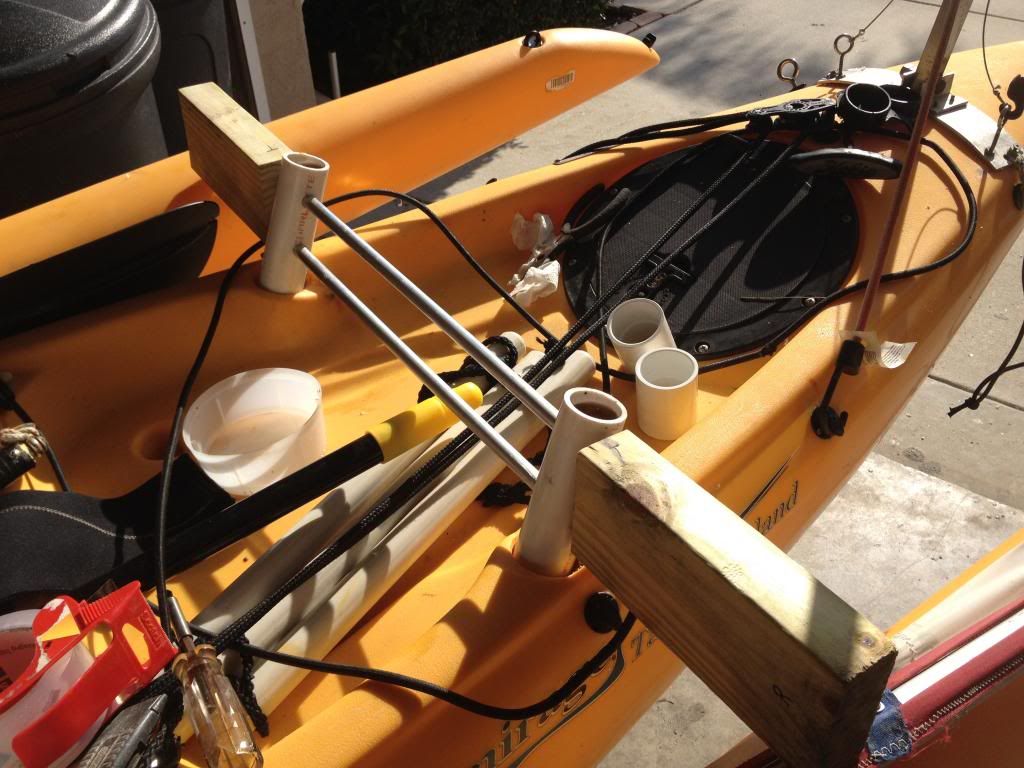 I have over 500 hard running miles on those new mounts now with the twin Honda's and they still look like brand new, so that extra $10 bucks was well worth it. My old motor mount was looking pretty ratty by then.
Here is a pick of both my original motor mount and the mast topper ( I built both the day after I bought my first TI back in April 2010, and used both for 3-4 years of very hard extreme use, with way over 5000 very hard sailing miles on both (all in salt water, we don't do fresh water down here because I'm Canadian, and am petrified of alligators). Both were made from mild steel ( I had no idea about the rust problems and salt water at the time), I don't think either piece cost me more than $10-15 bucks to make and only took an hour or two to make in my garage with a hack saw and drill. Both are living the happy retired life now as my backups hanging on the garage wall, they both still work perfectly fine, just look like crap. Actually I don't recall ever going out without both those things mounted on the boat every single weekend (year round).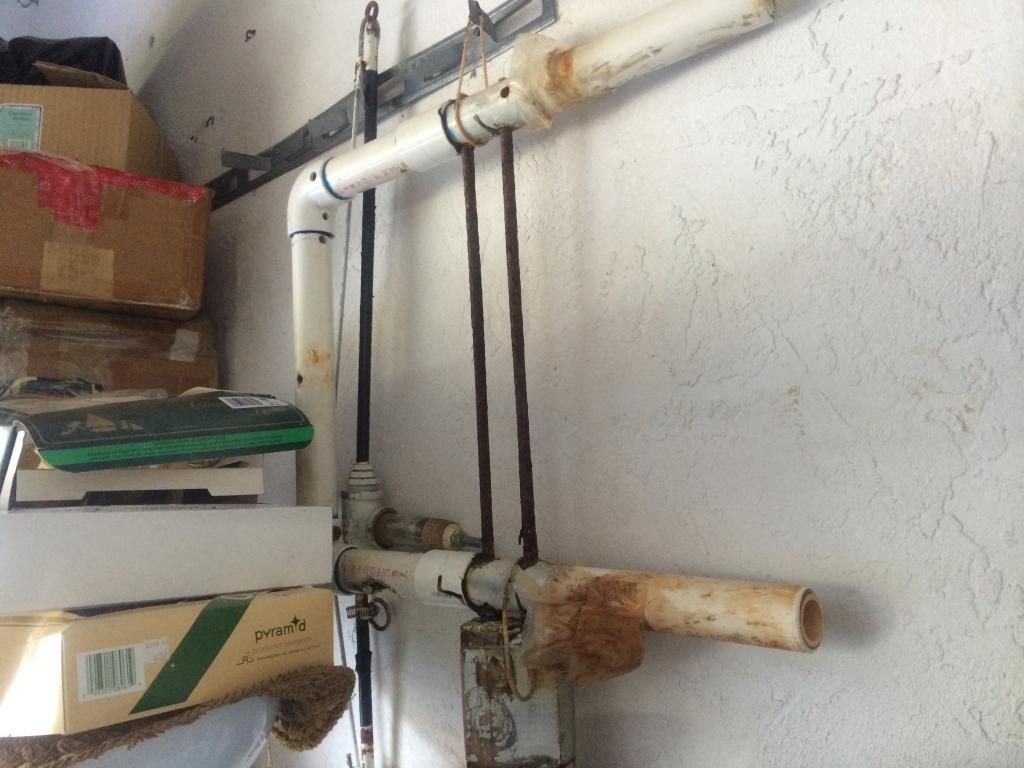 I have no idea what any of this means at all, I'm just saying that's the crap I've been using all along, and it all seems to function just fine, even though it's mild steel, and I didn't do crap maint wise to any of it, Just stay away from the Yacht clubs and everything is good, they all make a lot of fun of me and my crappy little pedal boat as I blow past them all ( LOL)
Bob