NOHUHU:
When I first got my TI something like this happened to me (AKA came out) and I dumped a passenger, (she still will not go out with me sailing LOL).
Your right things get all twisted up very quickly no matter what the initial failure was. Hard to know what happened, if a sheer pin gave out or the AKA came out, or just the bungy failed, same results "damage".
Ever since that first mishap I just snap on my little 1/4 inch nylon safety rope on whenever I go out, and it keeps the AMA's from rattling around, and prevents them from coming off if a bungy fails (I never trusted those things anyway), and if a sheer pin breaks the rope also prevents the AMA's from folding in until I can get the sails down and make repairs.
I keep the rope threaded around the front AKA's with stainless clips on each end and just stuff the ends into the mesh pockets when storing, then when, I install the AMA's I just clip the rope to the stainless jib padeye's in the middle of the AMA's, takes 30 seconds.
showing the safety rope clipped to the AMA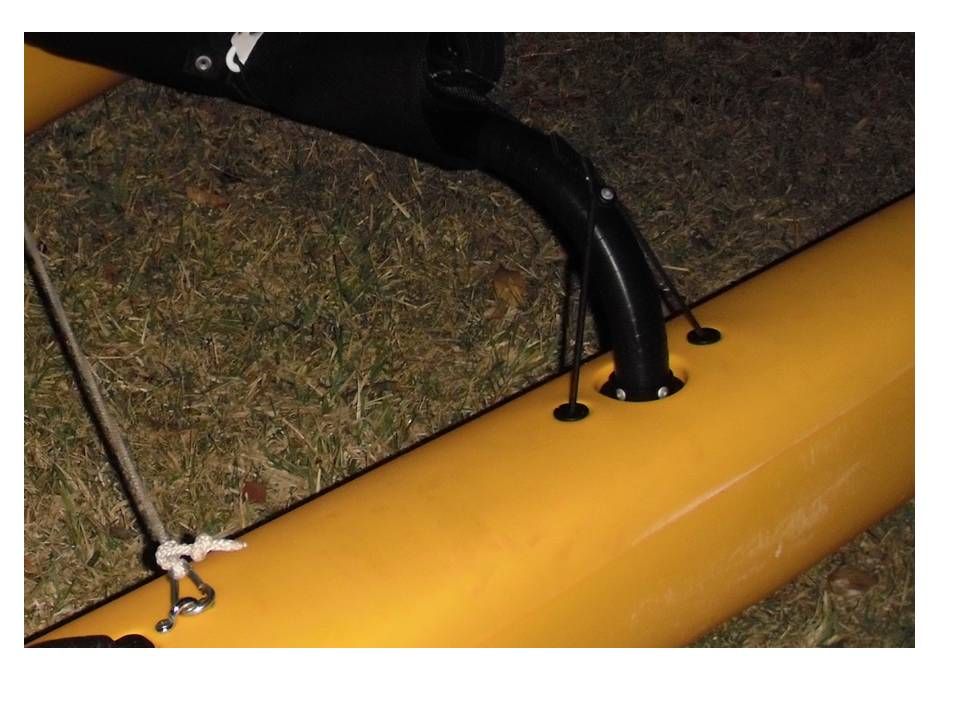 I don't know if anyone else has broke their sheer pins on the AKA's, but I have sheered off quite a few, I was out last weekend just screaming along with all my sails out on a downwind run, a big gust from the side buried my AMA about 2 ft under water and I came to a screaching halt (almost did a Captn Chaos pitchpole). Without that rope I know the AKA pin would have sheared.
I suppose a second rope could be added around the rear AKA brace also to create like a truss, but I haven't found a need for it yet, all my failures have been from either hitting docks, or burying the AMA's at high speed, all trying to push the AMA back.
Bob