Update – Thursday, 8:30 AM
Most people who arrived at Flamingo CP3 yesterday have left, trying to catch enough water to make it to the Finish. It has been reported that sailboats have not been able to make it across the mud flats to deeper water, but Hobie Islands seem to be doing OK—keep our fingers crossed. Sailboats that have been turned back, may head south on sort of a V-shaped route to the finish. It is much longer going south, but avoids most (not all) mud flats.
My GE annotated image of the mud flats east of Flamingo. It is 35 miles straight east to the finish in Key Largo. The competitors have to traverse about 12 mi of mud flats, or, as mentioned above, go south to avoid most mud flats.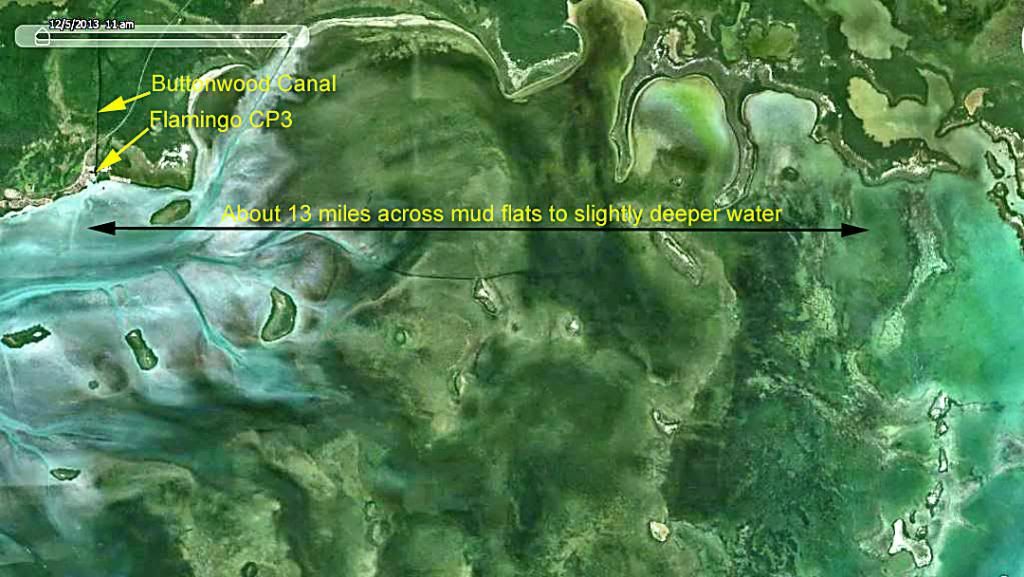 Dogslife did as I predicted—he arrived in Flamingo, rested a bit and left on the rising tide this afternoon to try and get across east Florida Bay. Dogs has finished—3rd Island in, about 9:15 PM, Wednesday. He was the fastest solo-piloted Island, Tandems or AI. Good for him.
TIs
--Most TIs still in the race are doing fine. The weather has been mild this year and all Islands have or are succeeding spectacularly.
SirTackalot (aka Roy Edwards) and WindWatcher (aka Alex Wilson)

—I'm a bit confused here. I believe SirTackalot has finished, maybe last night before Dogslife. It would make him the 3rd or 4th finisher.


PedalOn (aka Roy MacPhail) and Sherlock (aka ArDelia MacPhail)

—Finished, first Island to the finish line. Supposedly they went to a Tiki Bar before going to the finish—so they say.


ChumBucket (aka Bill Wickman) and TriSherpa (aka Steve Morris)

—Finished, 2nd Island to finish.


PrivateHam (aka Michael Prince) & Jimbo (aka James Pritchard)

—They finished last night.


BackwaterBob (aka Bob Nichols)

— BWB seems to have just left Flamingo CP3 headed to the finish.


Triman (aka Mark Ellison)

— In Flamingo CP3; he may be on his way to the Finish, but he never shows up on the Mapper.


Pelican (aka Nick Hall) and falcon (aka Mark Hall)

—

Listed in class 5 (not Hobie TI)

Pelican/son are about 6 mi east of Flamingo on the mud flats. They and PenquinMan must be in sight of one another, maybe travelling together.


DivesWithKraken (aka Tom Turner) and WyomingWolf (aka Debbie Turner)

—Camped on NW Cape this morning.


Dietired (aka Josh Bowers) and dietired2 (aka Denise Parris)

—Appear to be south of Nightmare but not to Ponce de Leon Bay.


Sundance (aka James Connell) and GoldenSun (Victoria Connell)

—

Listed in class 5 (not Hobie TI)

This Father/daughter team has made it to Whitewater Bay. Probably light winds as they do the final 20 mi into Flamingo.



People who are making good progress but their SPOT is not tracking properly.




Moose (aka Lee Havins) and Squirrel (Kimberly Havins)

— Probably on their way to the finish.


Hollywood (aka Butch Newell)

—Probably on his way to the finish.


Danceswithwaves (aka Royd Whedon)

—Royd had not moved for a day, but suddenly he has shown up in Chokoloskee. My claim of his demise (in the 2014 EC) was clearly premature. Go Royd! He is not on the Mapper today.
Sharknado (aka Kent Morse)—Another competitor that I have been unable to find on the Mapper. Apparently, he is in Flamingo, CP3.
___________________________________________

There is no shame in not finishing. Not finishing usually simply means you have a much, much better understanding o the demands of the Everglades Challenge. Usually, you have another opportunity to finish. And, the WaterTribers will always welcome you.
AIs
—Most AIs are doing great!
Dogslife (aka Paul Kral)

—Dogs was at the finish as about 9:30 pm last night. 3rd Island in to finish. Beautiful!


PenquinMan (aka Jim Czarnowski)

— Jim is in the Hobie IM class. Jim is about 5 mi east of Flamingo on the mud flats. He has a light southerly wind.


Juscuz (John Sims)

—Off Clubhouse Beach about 8 mi west of Flamingo CP3.


AhMaChamee (aka Bryan Tindell)

—AhMaChamee seems to be doing a rest stop on the eastern shore of Ponce de Leon Bay. It is a bit unusual to take an AI/TI on the inside route at this point, although he could come out and round Cape Sable. Time will tell.


Chief (aka Steve Isaacs)

—He is in the Ultimate Florida race (circumnavigate Florida in about 30 days.) He got into Chokoloskee at about 2 PM, today. Nancy & I happened to be there when he arrived. He is doing good, and said he was "doing sweep" for the competitors.
_____________________________________________


Dorsalis (aka Charles (Chip) Southerland)

—Unless Chip's SPOT is not tracking properly, probably DNF.


Kokopedal (aka Ray Jones)

— Kokopedal found a leak in his AI and has a temporary patch. Update: much of his gear is either wet or damaged (electronics.) He has dropped. DNF


FlyingFox (aka Susan Fox)

— Pressed "help" button, DNF

My apologies for any errors or omissions. Please make additions and corrections as you see fit.
Keith