I want to thank all the suggestions & the sprited debate (5pages worth in my Cracked Window Thread). After all, an Island without a sail is a pretty lame sailboat.
Thanks Matt & Dogg - Yes the Window CAN be replaced by a competent sail loft. $230.00, and done by the next day!
Guy that did it has been doing this for 15+ years, and has made & repaired all kinds of sails- many with windows. He also has sailed boats, including Hobies. Making him both qualified and competent.
If needing window replaced; an important caveat- make sure you don't remove your window or allow it to blow out completely. The sail maker needs the old window in the sail to make sure the shape and size of new one fit perfectly.
Mine was intact enough so I was OK there.
He looked at the damaged Hobie window on my sail while I was telling him I wanted the 6mil mylar just like that. He didn't think too much about Hobies choice of material and walked over to his bench and said: "No, I think you will find this better." I think to myself
Now what am I getting myself into.
He hands me a scrap of this new window material, says its about 2wice the price of my existing mylar but far more durable.
OK - now my curiosity is peaked.
He says to me "Fold it... Try to make a crease in it." Hmm. Ya, thats interesting, I mumble, as I struggle to fold a crease into the window scrap. I immediately notice the material has much more reinforcing thread, feels thicker & less brittle. Seemed to resist creasing despite tring to fold it.
He assures me this is the "stuff" and that it won't stretch and is stronger.
OK, I say; Do it.
Sail Looks GREAT. He replaced window and even double stiched some seams. I Have not tried it yet, but am anxious to.
Here is some pics - hobies window on top - new one on bottom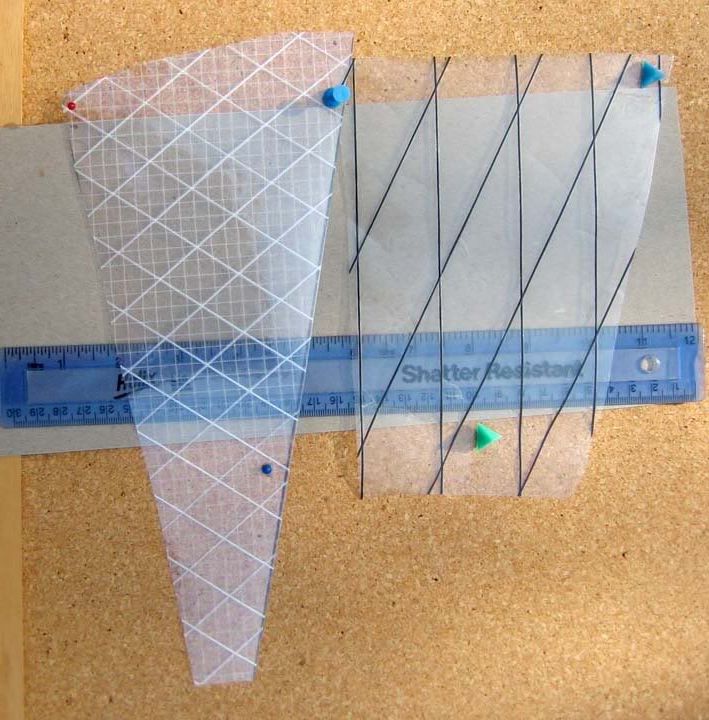 Now a close up of new material
Notice White thread instead of black. Hobie has threads every 1.5 inches. New window has threads every .75 inches AND a 1/4 inch fabric thread mesh running thru the window.
New Window looses a tiny bit of visability but that is no big deal