Slaughter wrote:
Just wondering what the acceptable amount of play is in the pin connection between the Aka and the crossbar. Just noticed on the weekends outing that the front left connection joint has a bit of wear and had a bit more play than I have noticed before. If I connect the Aka without the Ama, and then measure the vertical movement of say the
rubber
collar boot that goes into the Ama, would someone mind doing the same to see if I have a problem and have anything to worry about ?
I cut down self adhesive felt pads (like the ones put on chair legs) and attach then to a flat spot in the aka arm. Felt pad fills the gap between the x-bar and the arm.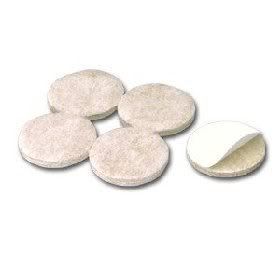 This does several things.
It eliminates any rattle caused by the aka arms against the xbar, especially in chop. It reduced the amount of wear because it reduced the metal to metal pounding. Finally if the felt is tight in the gap it reduces the "play" and up/down travel of the aka arm.
The felt needs replacing after a 1/2 dozen outings or so but its easy and cheap. Others have used indoor/outdoor carpet as a hinge shim also. I used carpet but found the felt better.
As far as how much play is too much - can't answer that. More play means the boat will heel slightly more as it looses a bit of support from ama. Play in the hinge translates to quite a bit of travel by the time you get to the end of the aka arm where the endcap ama attachment is located. My theory is that wear like this is accelerated like any metal part that has play and subjected to stress/vibration. A replaceable bushing would be one possible design change.
My approach is that even when new the aka hinge would benefit from padding and extend the life of the metal. A proper sized and shaped replaceable
rubber
shim would be perfect for the job.
BTW if you use felt you will have to compress it some with a hammer - if it is too thick you will never get the aka arm pinned in place.
Play in the aka arm should not make the boat unsafe or unusable IMO. The felt as a hinge shim does a great job in quieting the arm and reducing play.