After a rainy day i had almost a gallon of water in the hull. Eventually I found the leaks. One under a shock-cord end and one under a bungee hook.
Leak 1
I thought it would be an easy fix to seal the leak under the screw-in fitting under the shock-cord end fitting for the main hatch. Unfortunately it turned out to be very complicated and I did not mange to make a sufficient repair. When removing the shock-cord fitting I discovered that the attempt to repair the leak at the Hobie factory was a botch job as you can see from attached pictures.
It seems that the threading tap had been "drilled" trough the bottom of the recess. In the attempts to repair this a plastic welding was left with big holes (dark parts on the picture) and the repair had reduced the depth of the recess in such a way that the screw-in fitting could not be seated fully. Because of that (I guess) the threads was destroyed. Furthermore the actual cord itself had been welded into (through) the plastic repair. In addition the flange on the screw-in fitting has no proper seat as this was also partly destroyed at the factory.
I tried to use the stainless mesh to build up a new bottom of the recess but because of the previous botch job it did not work as there was not material enough to build the repair to.
It seems that a new recess has to be cast and new threads has to be cut.
Has anyone experienced a similar problem?
I have made a formal claim to the dealer.
Leak 2
The bungee hook to starboard did not fit into the recess and was riding loosely on the edges, which meant that the silicon seal become a laugh. However, this leak I could fix by shaping the hook with a sharp knife and refit it into the recess with new silicone.
Does the factory knows what is important. Fitting rudders with too short screws, allowing leaks in the hulls etc. Makes me wonder.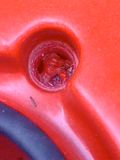 _________________
Bo Karlberg
Taby
Sweden
Sail Tandem Island No
P1787
in the Stockholm Archipelago (some 40,000 islands and rocks)