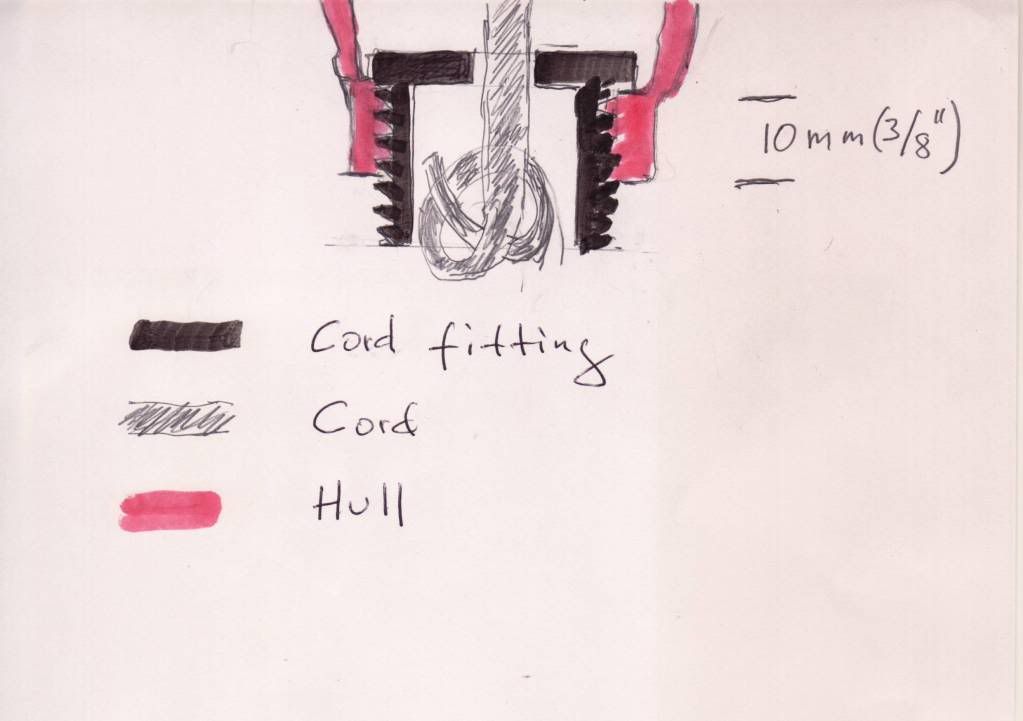 Just to make clear my dealer, the only one in Sweden, has made her best to get Hobie Europe in Holland to sort the matter out. I do not wish to start consumer actions against the Swedish dealer as the problem is created on the continent and across the pond.
The Dutch solution (after some eight months) was to put in a threaded plastic plug in what remains of the cup and screw a new cup on to it. This solution would only leave less than 3 mm (1/8") deep cup which is no good as the cord fitting is 16 mm (5/8") high.
Just before Easter I have asked Holland for a better solution but I cannot see any but replacing the hull.
I have attached a detailed sketch with the right proportions (almost) to illustrate the seriousness of the problem. Silicone will not solve any problem.
What I find most irritating is that the hull left the factory although they knew it was faulty. Instead of melt it down they tried to cover up by a most inferior repair. Further I am not happy with the problem pushed over to Europe as the hull was actually manufactured in the US. There were a number of other smaller manufacturing misses as well which I have fixed myself.
I sent the first mail about the fault on 9 August 2010 when the boat was only a few weeks old. On the 22 August 2010 I discovered the extent of the fault and informed the dealer in English so the information could be transferred to Hobie Europe straight away. Photographs of the mess was also attached and the the shallowness of the cup was explained together with information about the destroyed thread.
_________________
Bo Karlberg
Taby
Sweden
Sail Tandem Island No
P1787
in the Stockholm Archipelago (some 40,000 islands and rocks)