This discussion and corresponding pictures involve a 2011 Adventure Island.
The original Adventure Island AKA was fastened to the Xbar with a stainless steel pin. In 2011, Hobie changed that connector to the AI model V2 AKA which had an insert connector. The V2 connector is inserted into the Xbar receptacle where a latch holds it in place. The V2 connector is very easy to insert, but the latch is prone to "sticking," i.e., not releasing when the 2 release buttons are pressed. This can be frustrating since it seems no amount of tugging, jerking, and twisting-jerking will cause the latch to release the AKA insert. The owner's hands get tired squeezing the buttons. Just when the owner is ready to dump the whole thing in the lap of the dealer—literally—the AKA latch suddenly releases the insert and the AKA slides free with no effort. Why? It seems there has been some divine intervention that made the recalcitrant latch behave…until the next time.
JBernier of Hobie offered a suggestion as to the cause and the remedy:
Likely the aka arm is twisted in the crossbar - lift up on the aka with it folded back - this will get it back in alignment and release easily. No lube is required, it is just from having the ama folded back and the weight of the ama twisting the aka inserted into the crossbar - this will bind slightly the release mechanism.
Jacques is correct, but it turns out that the "twisting" and subsequent binding of the latch can occur in
both a down and an up
direction. The following pictures illustrate the NORMAL position of the AKA, which releases easily by pressing the buttons, and the abnormal positions which jam the latch. All pictures show the rear AKA folded back against the hull.
AKA folded back in the NORMAL position.
From this NORMAL position, extending the AKA out from the hull and pressing the buttons releases the AKA for effortless removal. In the NORMAL position, the AKA angles downward 10 degrees or so.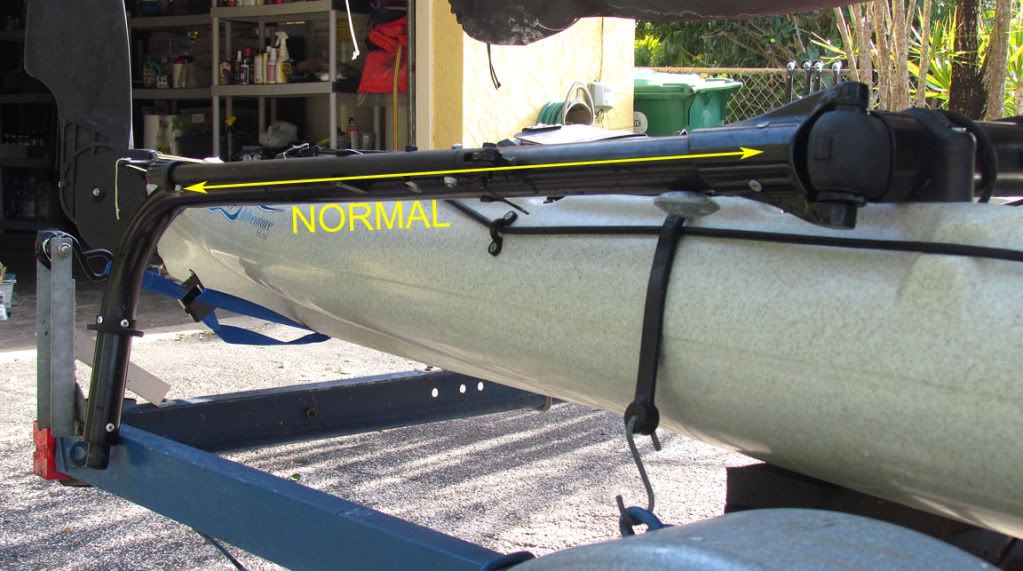 The next picture shows the AKA rotated downward.
Note the deflection from the NORMAL positions is several inches at the end of the AKA.
In this position, the latch is jammed,
and pressing the buttons will not release the AKA. Simply, lifting the AKA up to the NORMAL position solves the problem. The AKA releases easily.
The same can occur in the upward direction and may be harder to notice.
Here is the folded AKA rotated upward

and the latch is jammed.
In this case, light downward pressure returns the AKA to the NORMAL position, and the AKA releases easily.
Hopefully, Hobie will redesign the AKA insert system to remove this slight inconvenience. Maybe they have in the 2012 model. If not, the simple remedy illustrated above, should keep owners from tearing their hair out.
Keith