What with all the bad weather (even in the South) thought I would post up a fishing report. Even though it was last month, it was a decent trip so here goes:
I got to "The Slabs" area of High Island, of the Texas Gulf Coast, about 11:00 am and Longshotjames and friend Regan were already there. I was surprised at the condition of the water, very smooth with minimal surf. We started loading for launch and soon btbrich and sheriff_john show up. Everyone launched before me as I was making sure I didn't leave anything behind, like I did last trip.
One of the power wires on my Fishfinder was broken and I didn't want to take the time to fix it them so no one had a FF and we never really knew the depth we were fishing. We thought we were at 10 ft to start. It was an extremely low tide, barometer 29.85 with a West/Northwest wind bouncing between 6-12mph.
The first to land a fish was Longshotjames..............which is the way is should be.............anyone willing to drive 300 miles to go fishing deserves the first fish.
Then Reagan from Dallas (300+ mile drive) caught a bull red , too!! Someone somewhere has a pic......but I don't
Then we sat for about another hour with nothing happening......they must have caught the only two fish in the area.
I could see some birds working about 600 more yards out...........feeding and landing on the water.......so I struck out for them. When I got there and anchored up I soon saw some bait fish hitting the surface.........but the bait fish were very small, about the size of a 50¢ piece. But nothing was happening for me, and after about 30 minutes btbrich joins me. Not long after arriving, he hooks up and lands a bull red.
Fighting the red: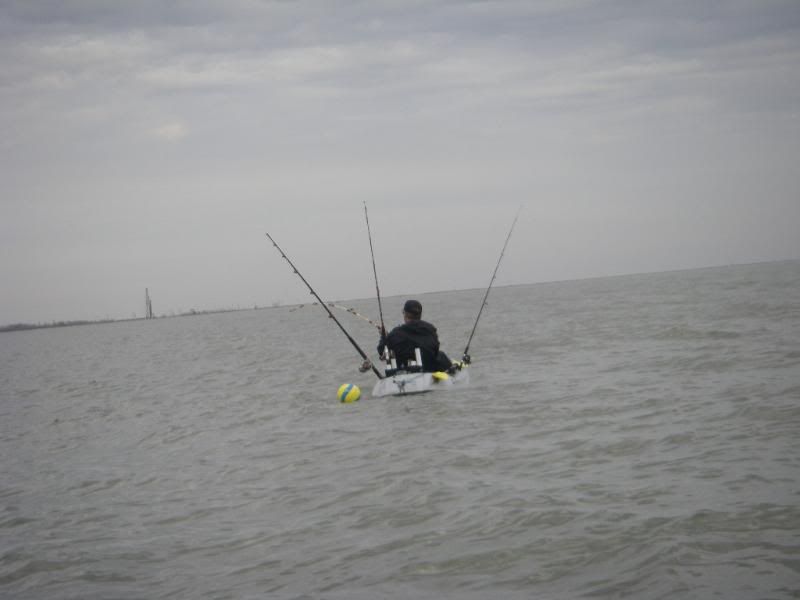 A caught fish: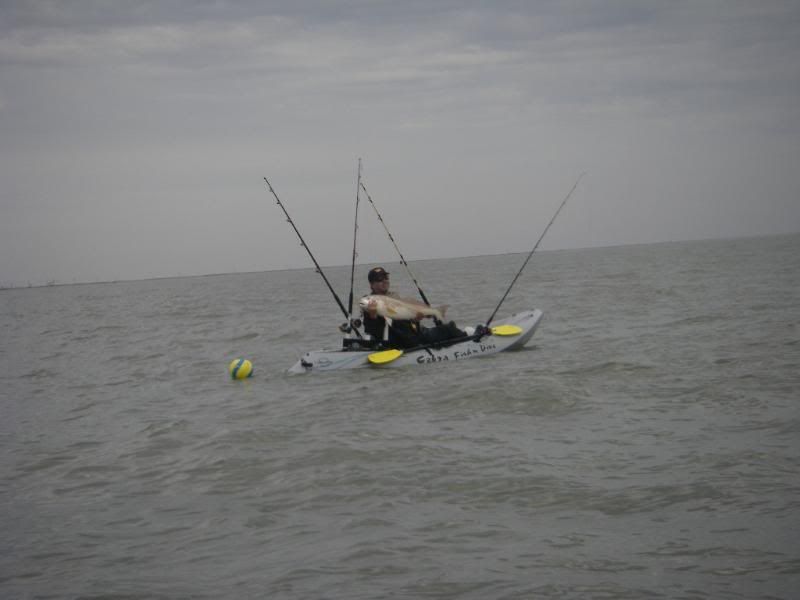 Then about 30 minutes later, dang if he doesn't get another run and hookup.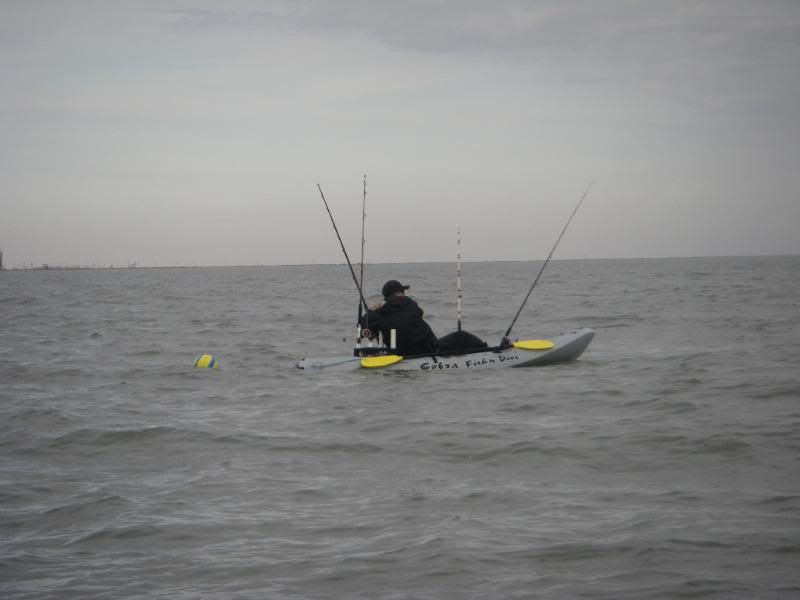 And he lands this one, too!
Then we sit for another 30-45 minutes and sheriff_john joins us. Now I been on the water for about 3+ hours and have had no action but a couple of runs that were dropped.
About 3:40 btbrich says he is going back in closer and shallower and leaves. I sit there for about 10 minutes and tell Sheriff_john, I am going in too...............as I reel my lines in I find I have a bull red on one. Never heard a click or saw the line move.........he was just there. After 3 1/2 hours, I finally hooked a fish!!!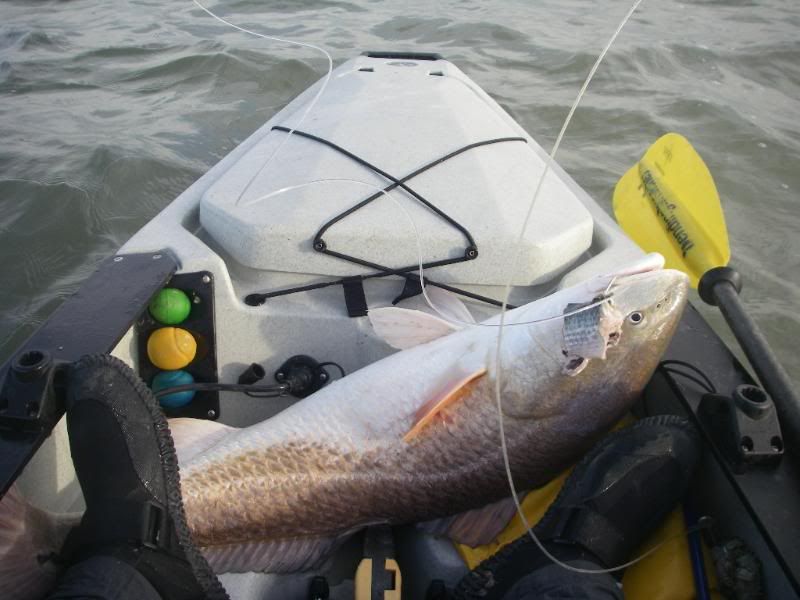 So I decide to stick around and see if there are anymore there. Soon I hear a faint click and take up the slack and I got a funny hookup. When I get it to the boat, I discover I have caught a big ugly (Black Drum). Now I know where all my short runs are coming from.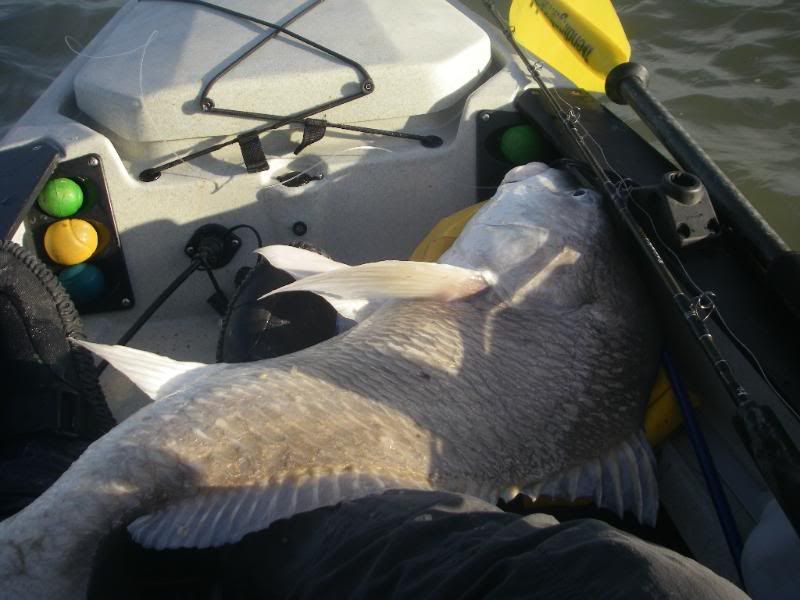 These fish aren't just ugly, this one had about 10 sea lice on him.........and he slimed me and the boat up goodl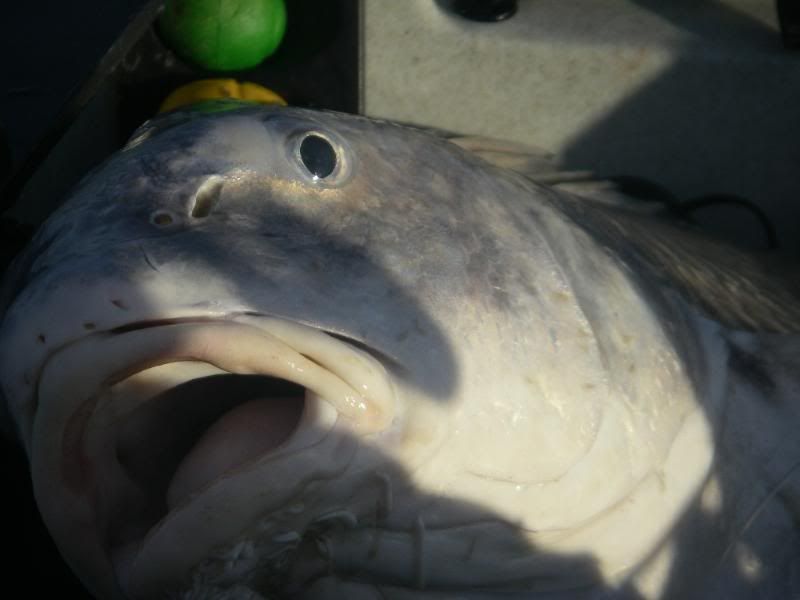 Then I catch two more bull reds!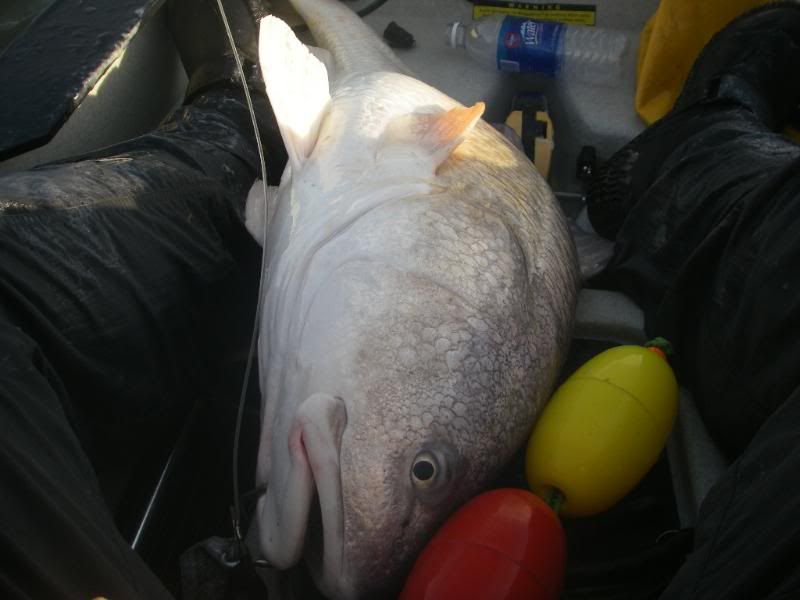 Bull red # 3..........................can you see all the big ugly slime on my right foot and leg, UK!!!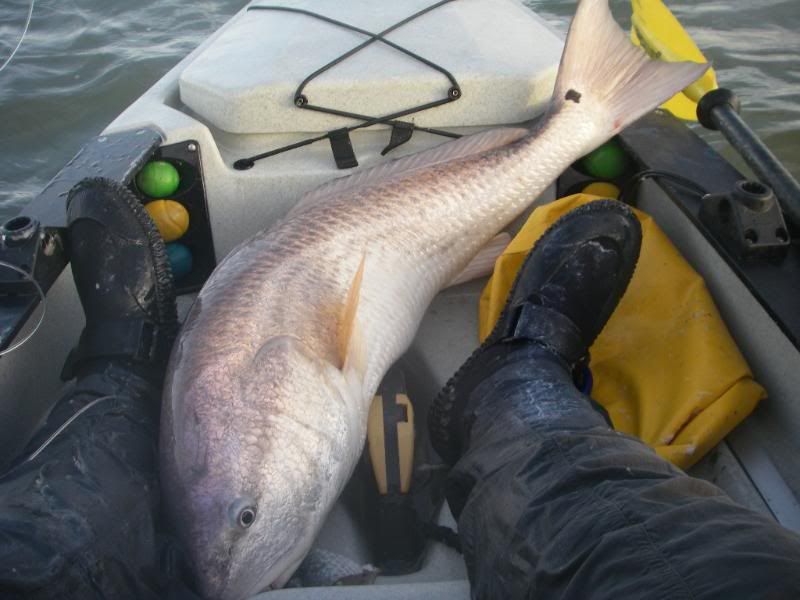 By now it is 4:45 and I decide to go for the beach, As I prepare to leave, I find my electronics are not working on my eVolve motor......and I can't get them to work. So here I am about 1 mile offshore and I got to paddle myself in (I had left my mirage drive in the truck). Luckily it was very smooth now and while a long paddle with my battleship, it wasn't too bad.........until I got to the surf.........but that is another story.
Good winter's day fishing at High Island with some old friends and one new one.