Wow, what started out a not so good day...........finished being a decent day. I met btbrich about 7:30 am at High Island area of the Northern Texas Gulf Coast.. I had planned a Tuesday fishing day and moved it to Wed. when the weather changed. Well the forecasters really, really missed the predictions of 1-2 ft.
All the way down all the flags were hanging limp at the poles, even at Winnie (15 miles from the beach). However, when I got to the city of High Island, the flags are standing out, pretty stiff. When I got to the beach, the wind was 12-15 with gusts to 18 mph.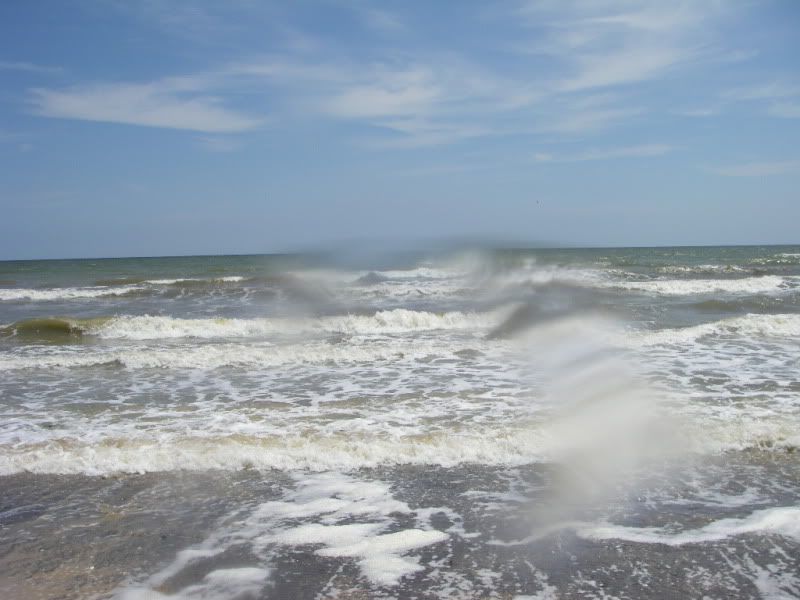 But what with the price of gasoline, now days, after driving 104 miles, I decided to fish any way. We launched and after about 30 yds I realized I did not have a life jacket on...........so back to the beach for me. Btbrich paddled on out and when I finally got to him he was in 8-9 ft of water.............I went on out to 10-11 ft. of water. This is not "Ice Cream"!!!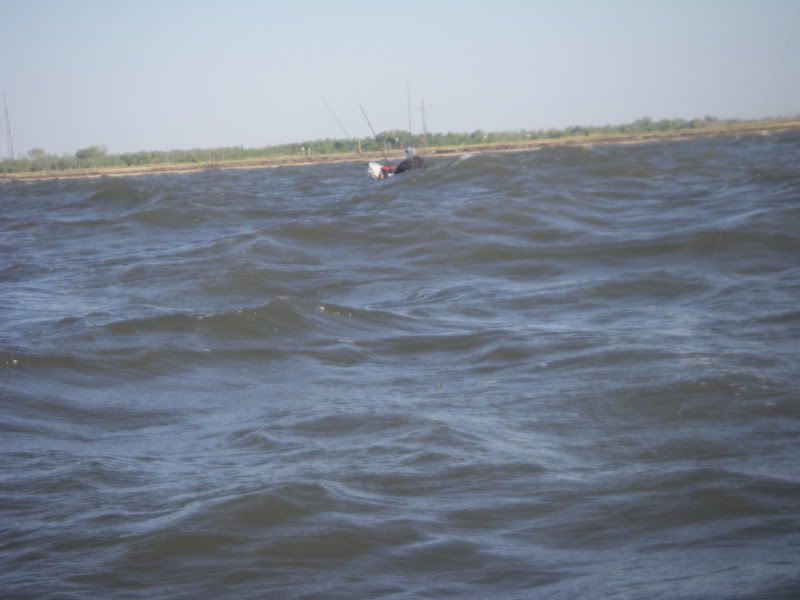 After sitting in 3-4 foot waves (with occasional 5 ft swells) for about 35 minutes, I started seeing fish on my fish finder.............which doesn't mean you are going to catch them.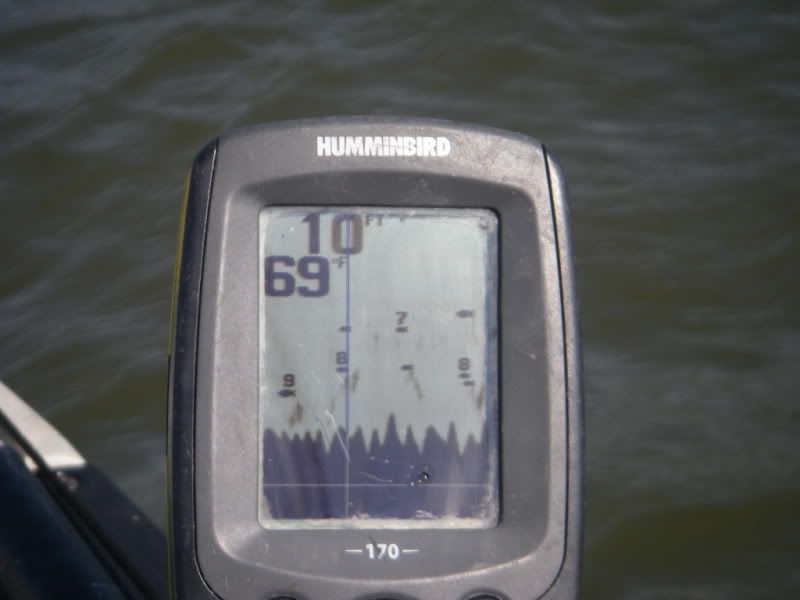 Finally I get a run and hookup on a mullet head......freelined on the bottom.
And I land him........my first bull red for the day!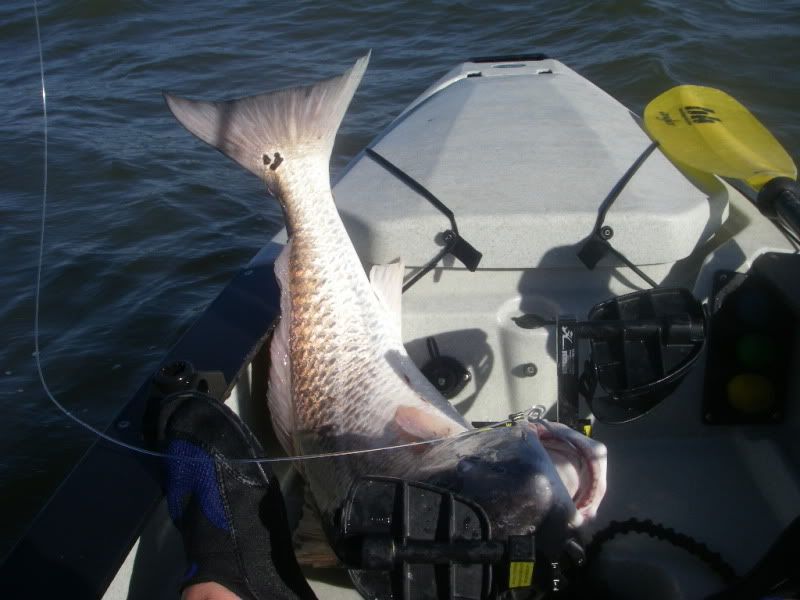 But thing were kind of slow at 10 ft so btbrich and I decide to go deeper and go to 13 ft. I start seeing fish right away!
In just a minute I am hooked up with a fish.
Another bull red fish!!
While I am getting the hook out of this fish, the other rods goes off and I hook another fish.
I get this fish in the yak too!!!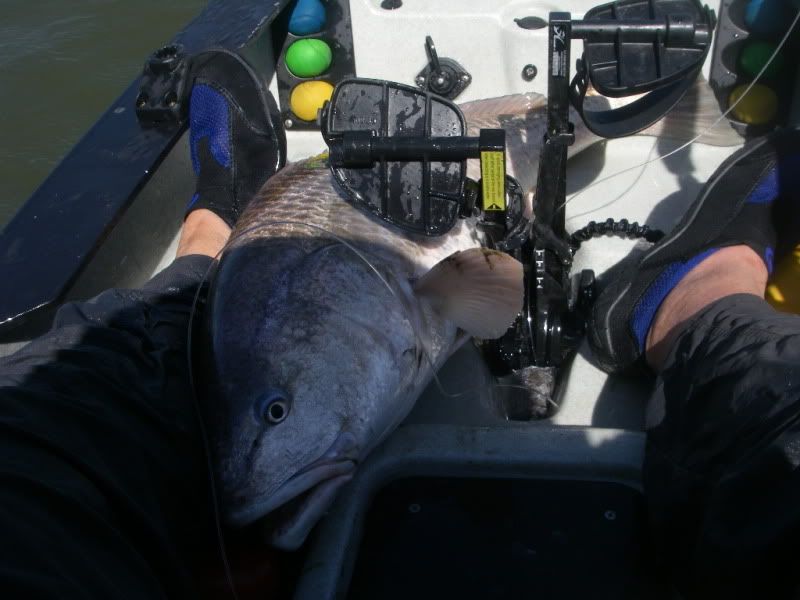 This one swallowed the hook and I tried every way possible to get the hook out, but finally had to cut the leader. It took him about 15 minutes to recover and finally go down.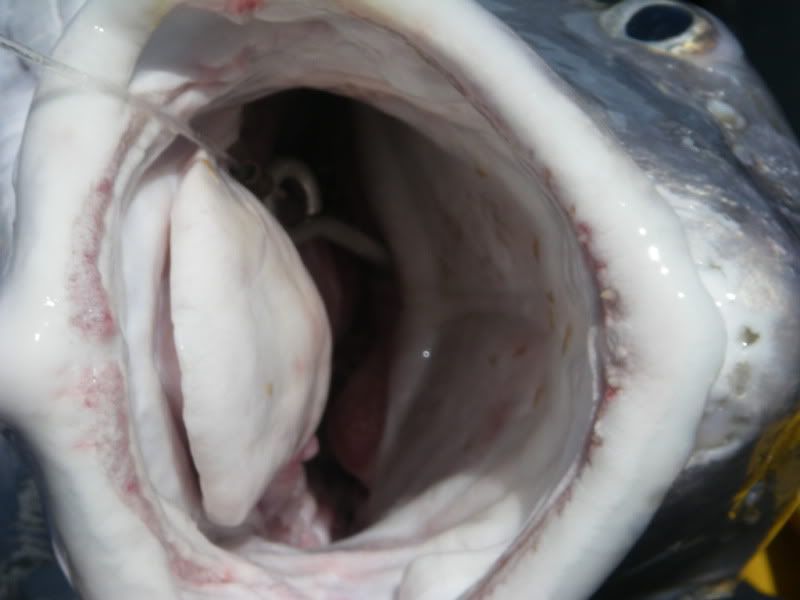 My buddy Btbrich hooks up and fight a fish!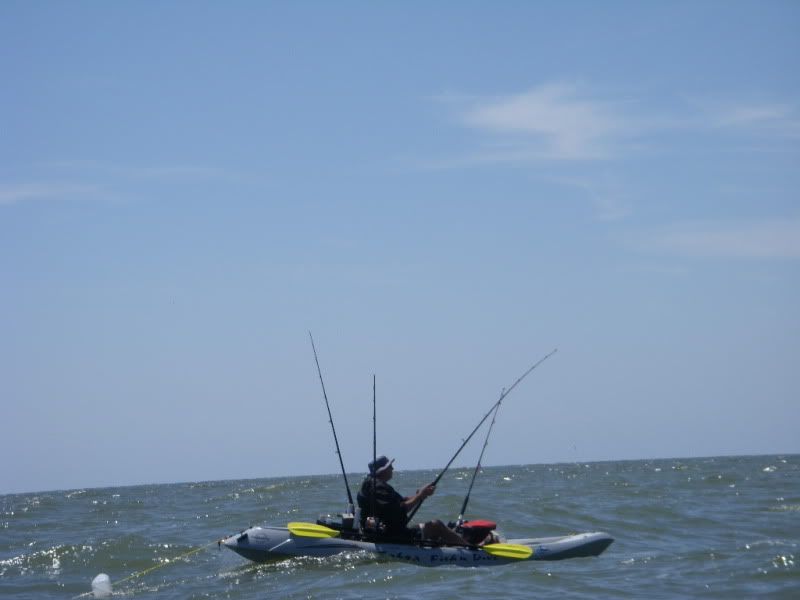 Guess what, it is a little shark!!!
Then he hooks ups again and catches a large, large gafftop!
:horse: :horse: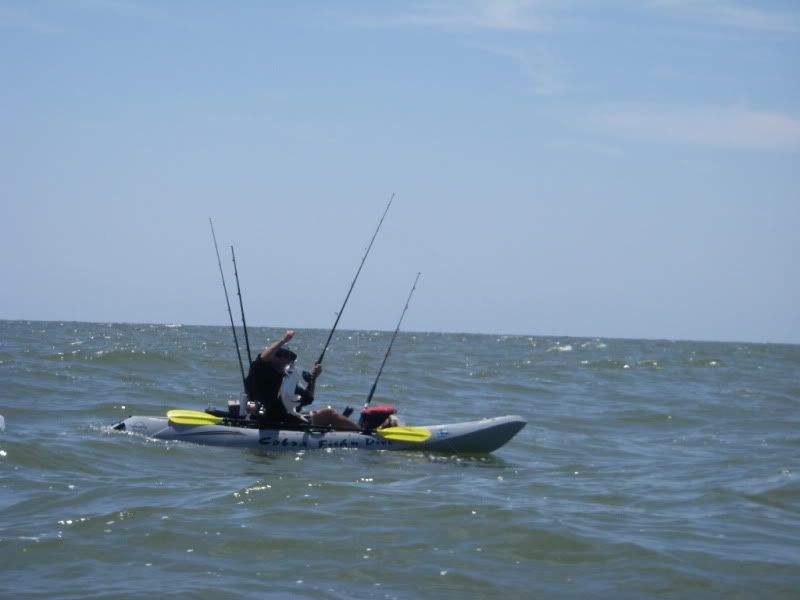 Finally he gets a screaming run and goes to battle with a fish.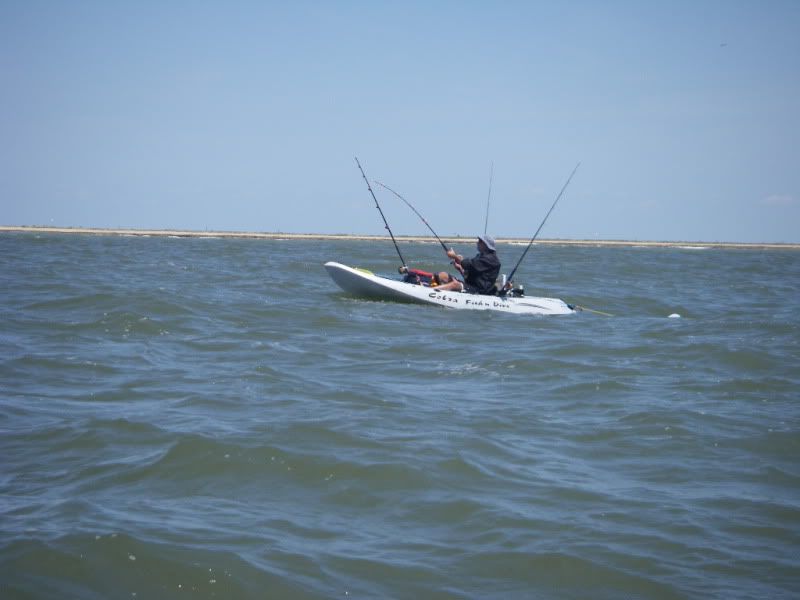 He lands his first bull red for the day!!!! :clap: :clap: I wish I had more pics of Rich, but this wasn't his day. I have sat and watched him catch one fish after another while I just watched....... but turn about is fair play...........today was my day!!!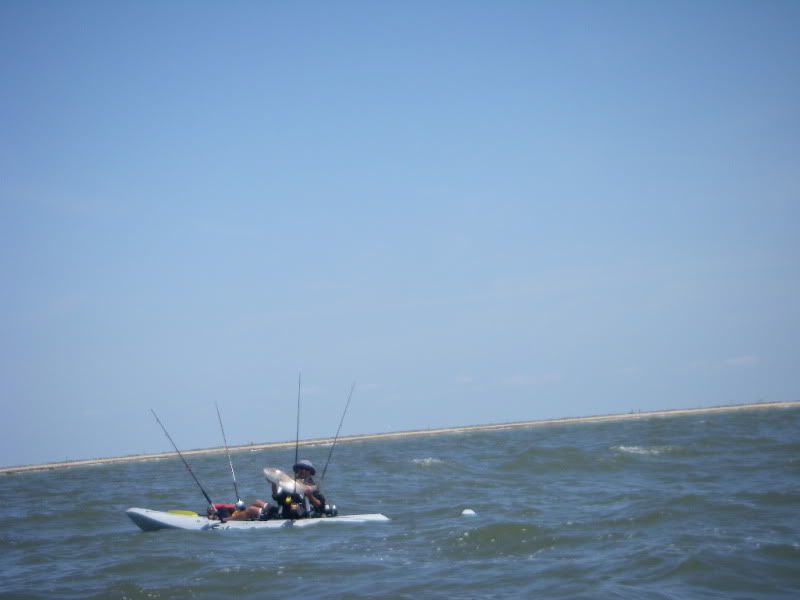 Then over the next hour I caught 3 more fish!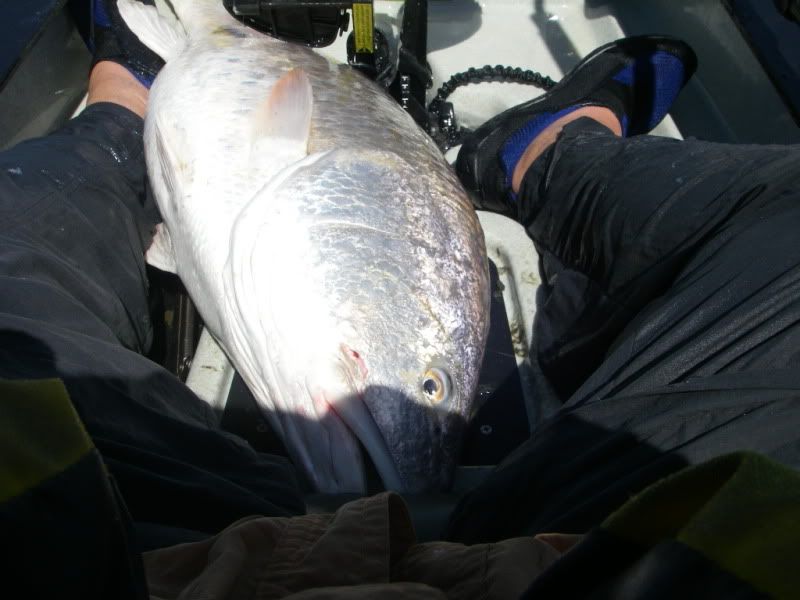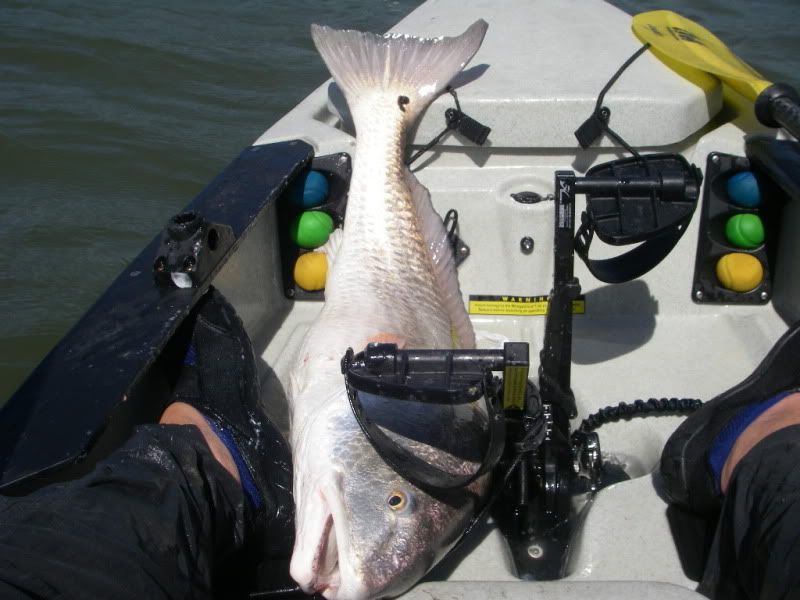 Then things come to a halt and we sit for a while. We were on the water at 8:30 and it is now 1:30 so we decide to come in.
The Pro Angler performed well and I only took on about 1/2 gal of water..........even though I have worked on my hatches to stop the water leakage.
It was a decent day in spite of the wind and waves and I had a great day fishing with my buddy Rich!!!!