I wanted a higher seat in my PA14, for a better leg angle while pedaling, and for general comfort. It would also allow my old bones to stand up easier!
Here's what I built, in rough state but fitted together. After a trial or two on the water, I'll round the edges with a router and then sand and finish it.
Parts List:
One 32" length of 2x4 (I used a piece of fir with straight grain)
Four 1/4" x 1½" galvanized cap-head bolts
Two 1/4" x 3" bolts
Two 1/4" x 4" bolts
Four 1/4" nuts and eight washers
Cut the 2x4 into two 16" pieces. Mark the bolt hole locations. Using a hole saw, drill two 1½" holes through the sides of each riser, centered. Drill four 5/16" bolt holes from top and bottom, into the large holes. Assemble. Attach the risers to the seat using four 1½" bolts and washers. Attach the aluminum base using the 4" and 3" bolts, with washers and nuts.
Here are the risers attached to the base, for clarity. (I trimmed the riser ends at 45° for a better look.)
Here's the seat and base, upside-down
Here's the assembled unit from the side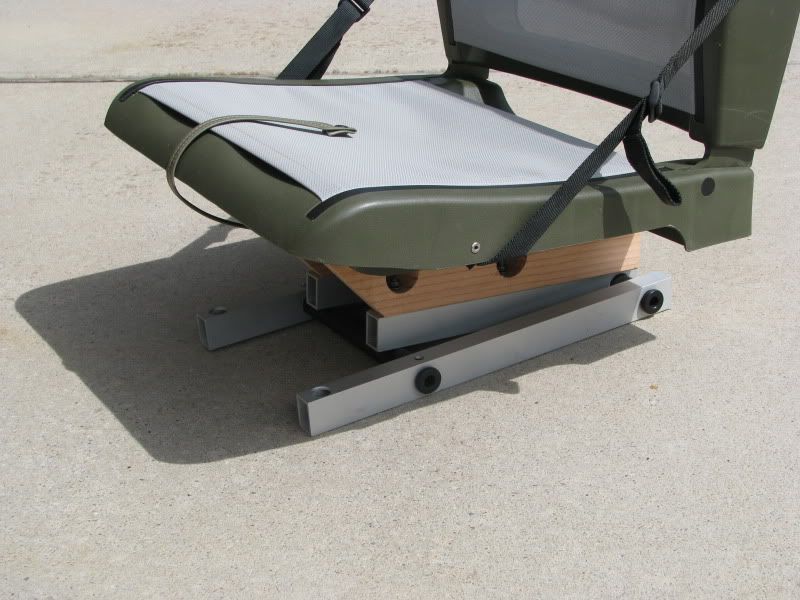 And from the front
Note the added storage room, too! Total cost was about five dollars. Hard to beat that.