DoubleOSeven wrote:
I used the evolve previously on an Outback mounted to the rudder; the prop tends to come up near the surface the more power you apply which causes instability when your dealing with fast moving or tall waves typical of a south florida flash storm. Now that I got a PA, I'm uncertain if I want to keep the evolve or buy a Torqeedo to mount on the rear so I can still do a combo of a mirage drive and motor.

I was hoping to get some feedback so I don't have to cut the hole for the power cable. I considered putting all the wires and the battery on the deck, but if I flip that could be 2K sinking to 250ft LOL.
Strap it down.
If you already have the twist and stow sort of mount for the EVolve, then just do this. Of course I am showing the rudder you would have the motor.
The up down are fed to the front, and the steering is done by adding a short piece of string between the rudder quadrant in the rear to the twist and stow. I use it for control authority. Just remove the handle and put eye bolts into the 5/16 threaded holes. I use some straps I got from Home Depot as a removable rear handle. Then you have your dual drive system, just like you did in your outback.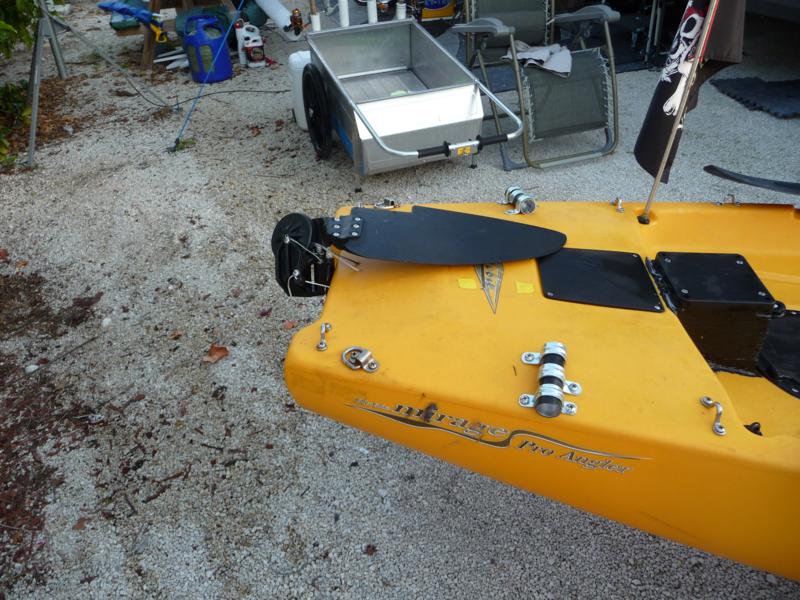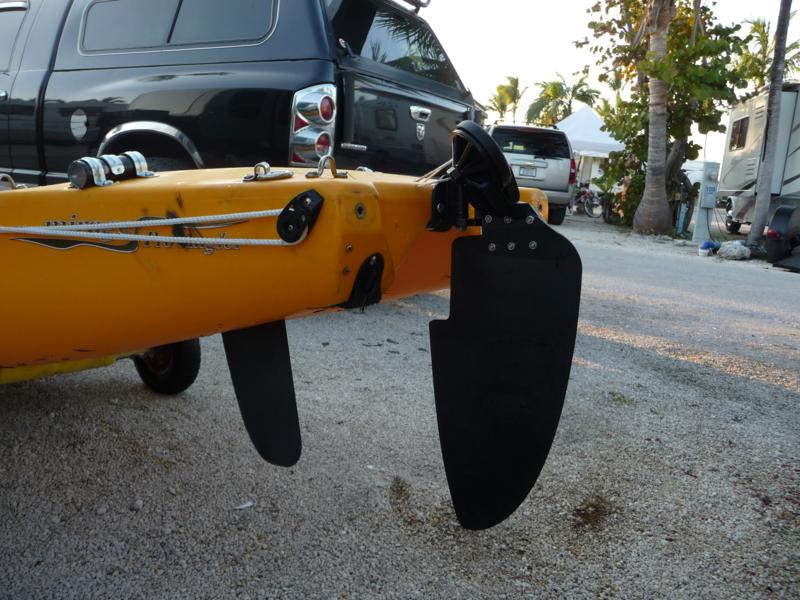 I have outriggers (ten foot spread) so I don't flip. Wouldn't venture out into big water without them. Was out off Ohio Key about a mile give or take. Wind came up and finally I gave up and started back to shore. Waves were exactly abeam. Those outriggers paid off that day. The waves were already whitecapping and the Yak was rolling pretty good even with the outriggers.
_________________
Hobie PA14 with a mod or two
Some random Modification Pictures