I purchased a 2013 PA14 recently and have been slowly rigging the new ride. It has been an interesting adventure getting the feel for the new PA14 versus the 2012 PA14. The jury is still out in several areas. The two areas I felt I needed to change were where the tackle boxes were stored. On my 2012 PA14 I used the bucket under the cutting board to hold 3 medium and 2 small Plano tackle boxes. The boxes held the various supply items I carried. I also kept my scale, stringer and fishing pliers in the bucket until needed.
The new ride has the mechanism that flips up the 2 small Plano boxes. Not my "cup of tea". I purchased the white rectangle "bucket" tray that Hobie makes to use instead of the "flip up" tackle arrangement. That put me back in my comfort zone as far as those items I kept stored below deck. Not as much stuff, but I have a great arrangement where I can keep the phone and digital camera in the floor storage unit.
At first glance at the nylon strap that is used to secure Plano boxes (or whatever) under the seat, I knew it wasn't for me. To use that strap/clip arrangement, it's best suited if you stand up and lift the seat base to get to the release mechanism. If you pulled a Plano box out initially, you still needed to get up and re-secure it by tightening the strap or re-clipping it in.
I came up with the solution below that can have several variations depending on personal preferences. I removed the straps and used the existing screw to add a small j-hook to each side where the strap was attached. I then added 2 black "Deck Loops" on the middle ridge between the black pads. I decided to use a shock cord strap for each side utilizing black plastic deck hooks with the retainer mechanisms on the so the hooks stay attached to the deck loops.
This worked out to be ideal for me. To pull out a box, I just rear on the side and unhook the shock cord from the j-hook. To secure the box back under the seat, I just hold the shock cord up on the side it's going in and then hook the shock cord back on the j-hook.
Here are some shots of the installation.
Boxes installed. Usually just one level of boxes. Two levels do not get in the way if you're using the seat in the "Vantage" position.
Close up of J-Hook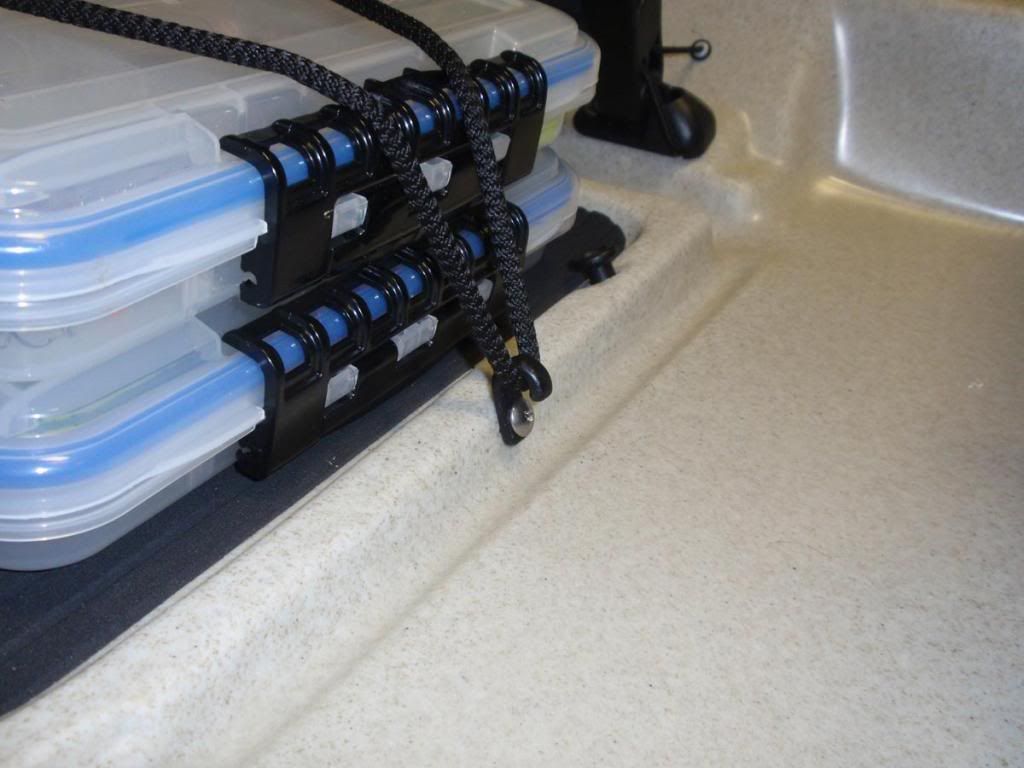 Clean floor with Shock cords removed.
With the seat installed.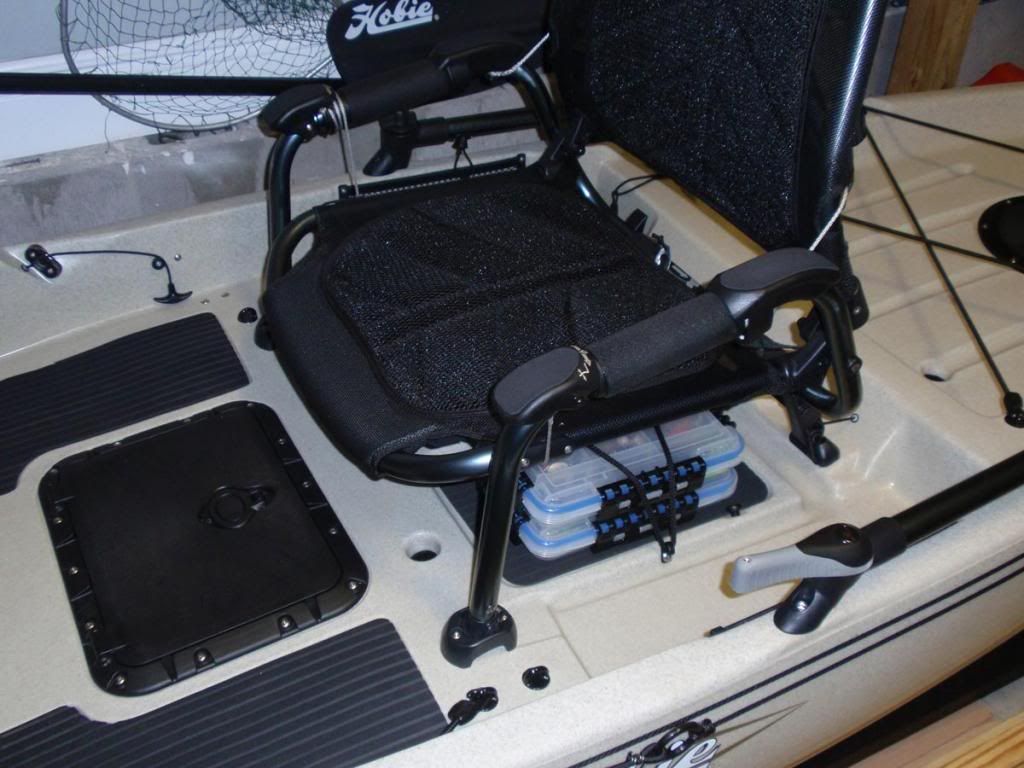 _________________
Steve Stubbs
USAF (retired)
SeaDek Fishing Team
2012 Pro Angler 14 (owned now by a good friend)
2013 Pro Angler 14 - Dune
2015 Pro Angler 14 - Papaya