I got back from my saltwater outing and decided to unpack the new Livewell XL. Jury is still out for the lid color. Will see if it grows on me. Still prefer black, but might hold off spray painting the lid black for a little while. Stopped by my Hobie dealer before the 2 hour drive back to GA. They didn't have the black hatch in stock. Not impressed with the quality control of the assembly, but I'll post that on the Livewell XL thread.
I want to share a picture for Luv2fishnpaddle. Luv2fishnpaddle...you are right about the Livewell straps getting in the way of the paddle on the paddle clips. I played around with various concepts. Worst case I could just lay the T-Handle half paddle on one side of the floor/seat when on the water. Rod storage in the tubes and by the seat is only used when I transport the PA. On the water all roads are in a holder, so having the paddle on the floor might not be a big deal.
I might try the concept below and see how it feels. I purchased a couple extra of the H-Rail rod holders when I bough the 2015 PA. It's not flush against the hull. It's tilted out just a little. Just throwing this out there as a concept for paddle storage in case someone else might want to try it. I thought abought mounting one of the current paddle clips on the H-Rail 4X2 inch universal mounting plate like the rod holders in the picture. That way I could clip the paddle in the middle and use the clip's tie down cord if needed.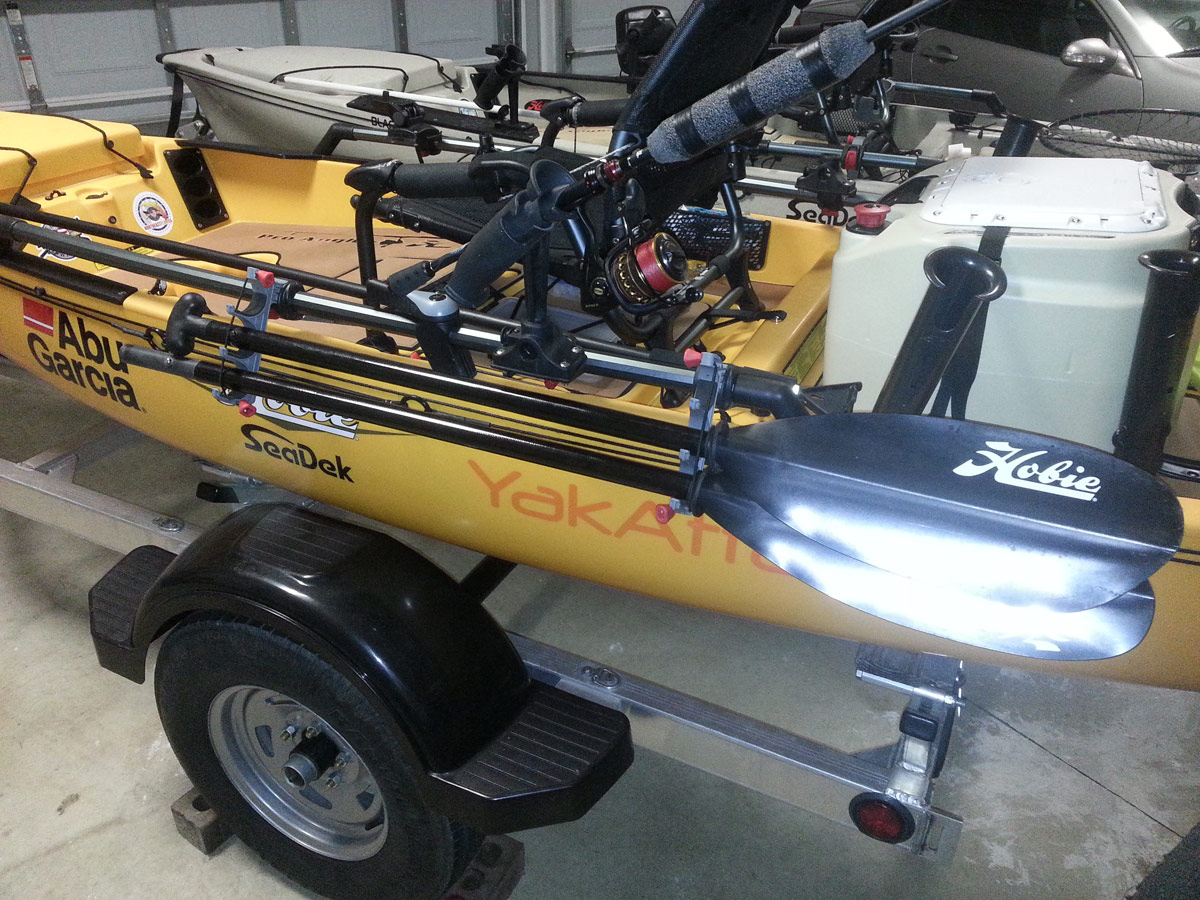 UPDATE: Came up with a better solution using the 4X2 H-Rail plate and the paddle clip. Will post a picture in a little while. Repainting the Livewell XL lid black at the moment and letting it dry between coats.
_________________
Steve Stubbs
USAF (retired)
SeaDek Fishing Team
2012 Pro Angler 14 (owned now by a good friend)
2013 Pro Angler 14 - Dune
2015 Pro Angler 14 - Papaya