My plan was to place my Drift HD cam out above the forward end of my TI's ama, to capture all of the boat from about 2 feet above water level, and hopefully clear of spray.
I had lusted after the Railblaza set-up, but at over $100 for a Starport and 600mm boom, I decided to make my own budget mount, to move the camera further forward.
I had a couple of glass painter poles, one which had a homemade socket made by stretching a split PVC pipe over one end, and then locking it in with glassfibre cloth. (I originally used 4 or these for a photography mast). To hold them together, I used some bungee cord, with a keyhole slot to fit the knot in one end which then holds the two tubes together with tension, but is simple to undo.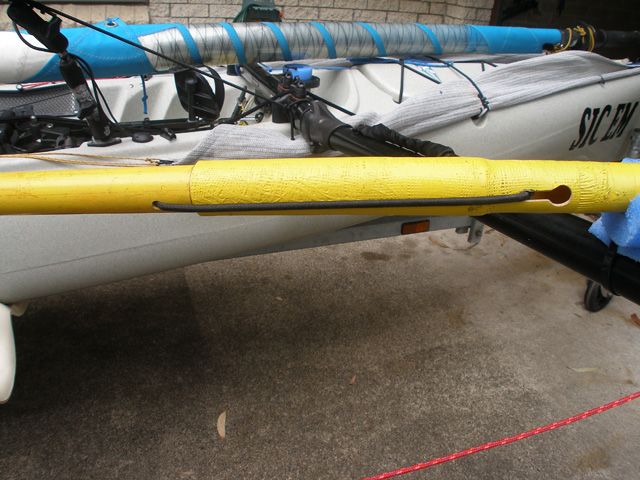 At the camera end, I inserted a small carbon rod horizontally, to help me keep horizons level.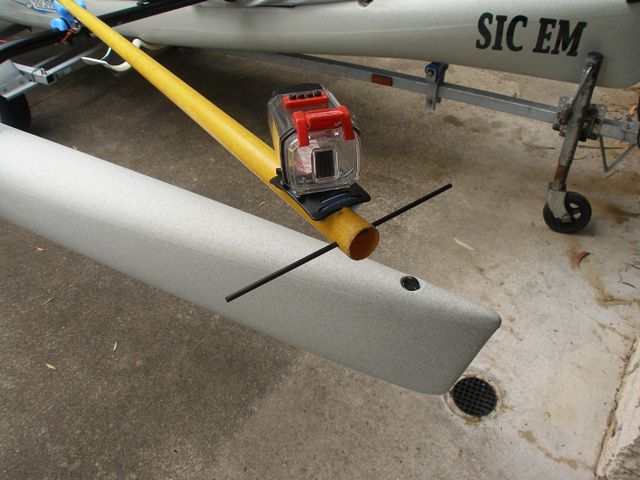 To support the pole on the aka, I hacked a pool noodle and attached it to the aka with zip-ties. In order to prevent the pole jumping out of its mount, I attached a small cord passing under the aka to a zip tie on the pole via a snap-shackle.
To anchor the base of the pole to the TI, I positioned it inboard of the aka knuckle, held in place by another bungee cord with keyhole slot.
So everything is quite secure, but can be easily removed without tools. Job done.
_________________
Tony Stott
2012 Tandem Island "SIC EM"