2 Days Sailing in Florida Bay Off Key Largo, June 29-20, 2010
This was a rare day out
sailing-for-fun
for me and my wife, Nancy. We joined Ted Jean (aka TJ) and Marc Krawatsky (mkrawats) for 2 days of AI/TI sailing off Key Largo in "the Keys" about 60 miles south of Miami. We stayed at the Bay Cove Motel which is the finish line for the WaterTribe Everglades Challenge. Just being at such a famous place raises the hair on your neck. Bay Cove Motel is a small, "old Florida" establishment, which is showing its wear and tear, but has a small beach, a gravel ramp, clean rooms, great rates, and lots of hospitality. Also, one of the best restaurants (Mrs. Mac Restaurant) in the Keys is just 100' down the road. Hard to beat all of that in one package. And, you have hundreds of square miles of sailing in semi-protected waters.
Sunrise in Key Largo. That is Ted's new red AI on the Bay Cove Motel beach.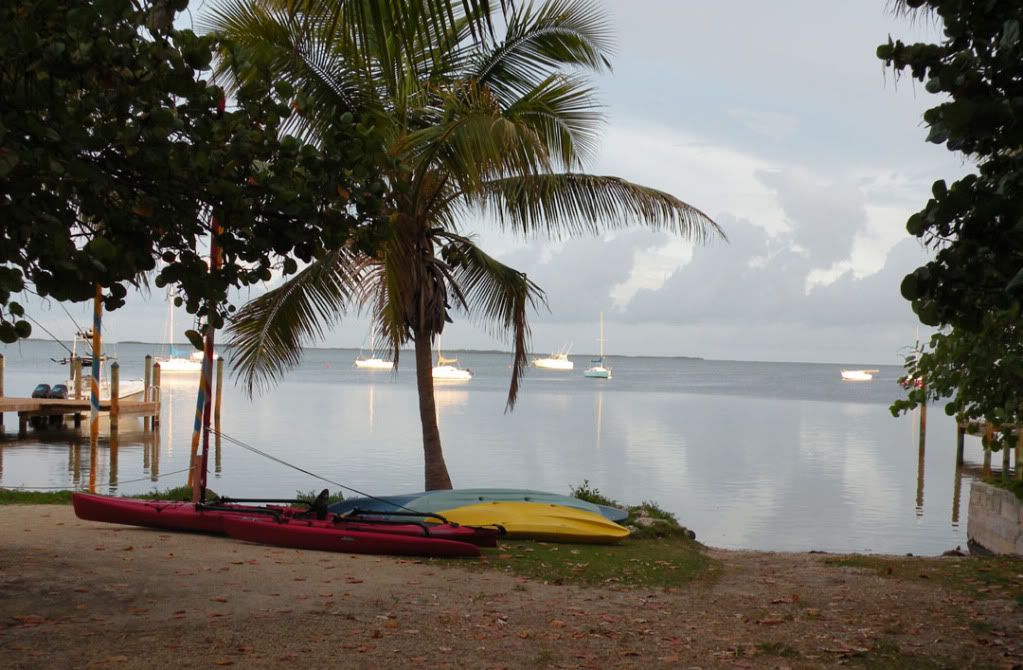 Nancy's red AI, Marc's tandem, and my AI beached comfortably on FL Bay.
This is only the first time Nancy has used her AI since our 6-day Flamingo to Chokoloskee trip in January. She spent most of the winter skiing in northern New Mexico.
This Google image shows our tracks for 2 days of sailing.
We spent the first day reaching along the coast of Key largo. On Day 2, we ran before the wind out to Nest Key and beat back directly into the wind. It was a 16.5 mile sail overall.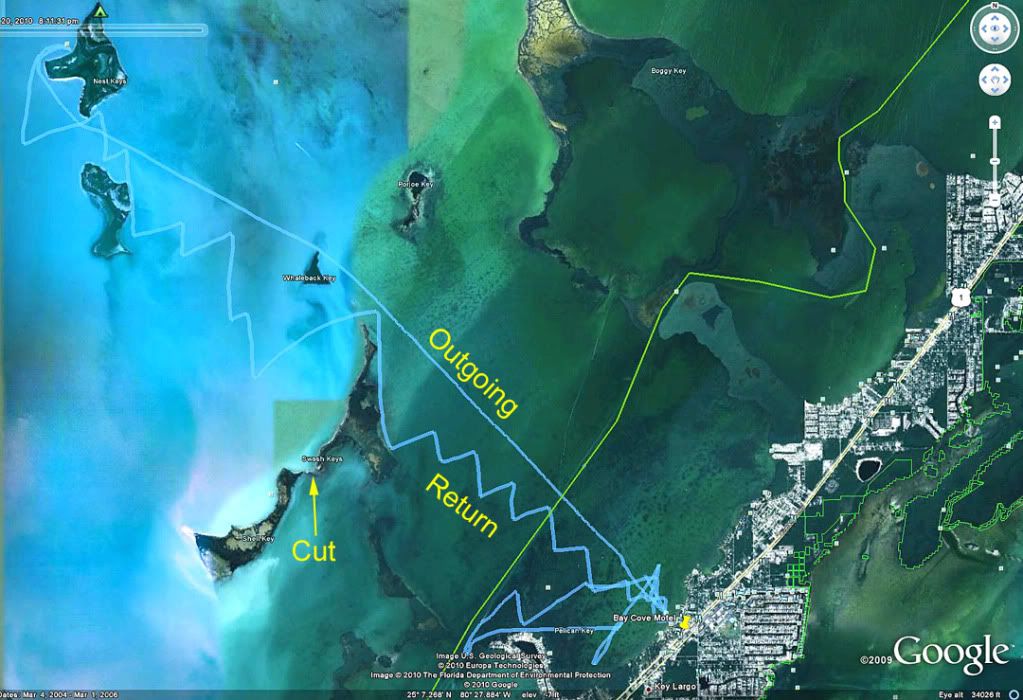 Nancy is sailing smartly in a heavy downpour.
Almost any cloud can drop a lot of rain at this time in S FL. It is about 90 deg F.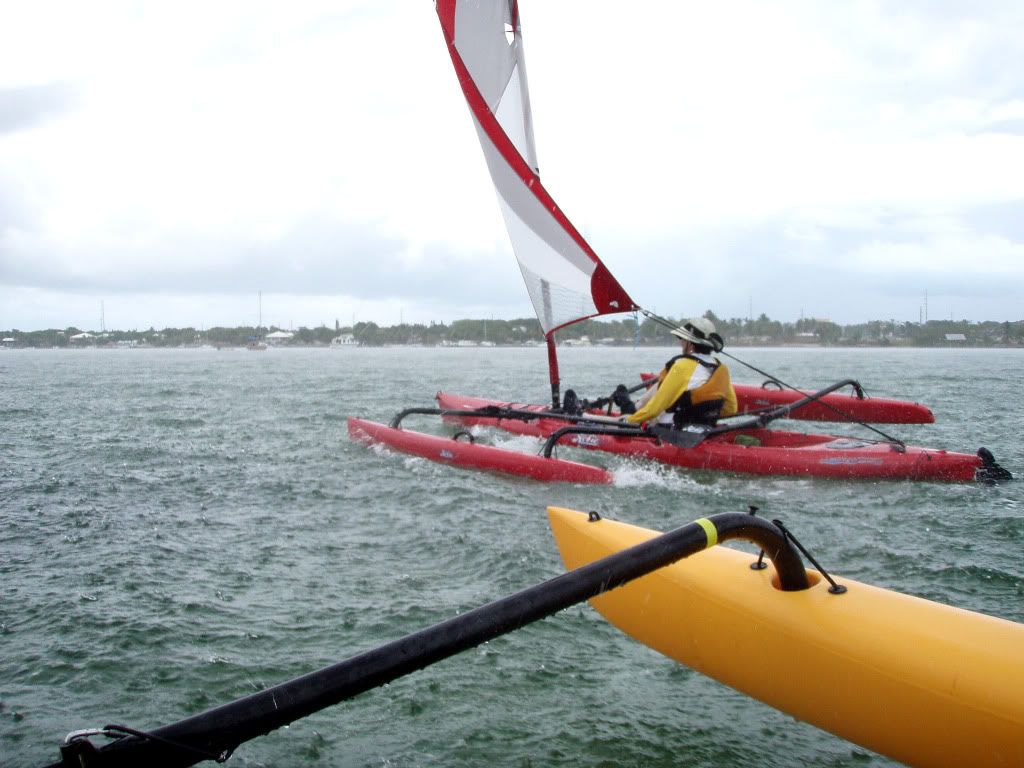 Nearing Nest Key—this is a campsite in Everglades National Park.
Ted, Nancy (exiting her boat), and Marc at Nest Key—Marc is doing some snorkeling.
Ted, Marc, and Nancy.
Back on the beach at Bay Cove Motel.
Dozens of sail boats are anchored in the area, but, except for our 4 AI/TI's, only 1 or 2 other sail boats were on the water. AI/TI's are more fun—the virtue of small boats.
Marc is not in this picture, because he was still on the water helping a capsized Hobie 16 or 18. After a struggle, the guy got his Hobie up and moving again.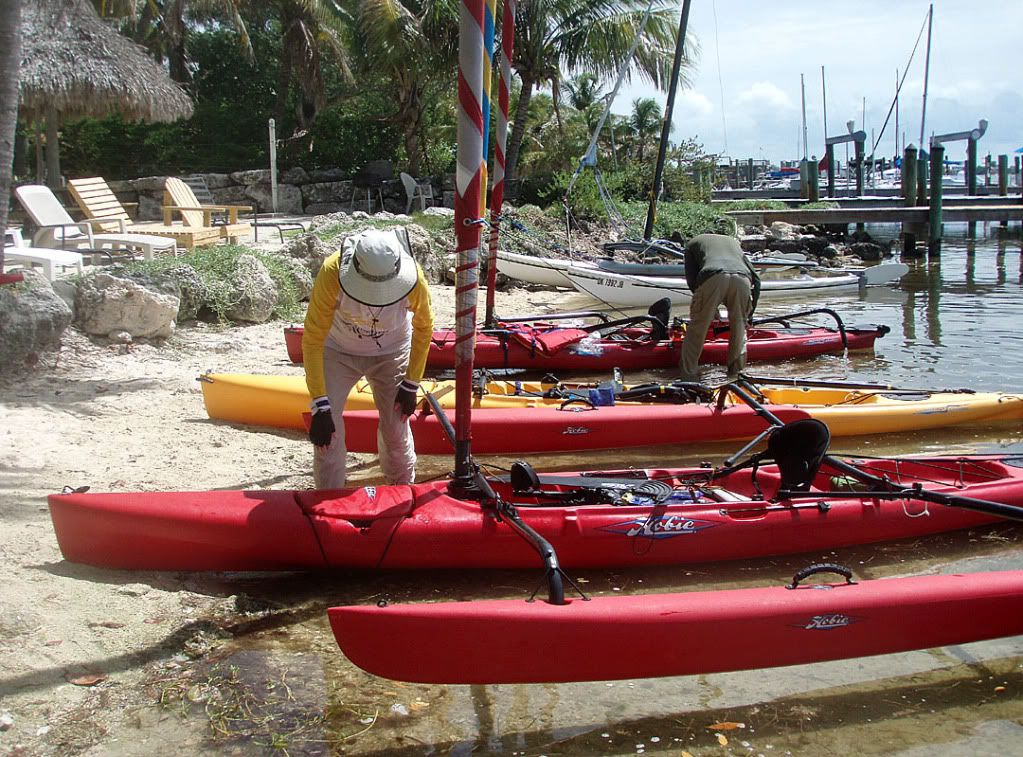 It was a fun couple days of sailing. I found that my empty AI handled very differently from my fully loaded "expedition-ready" boat. I actually furled my sail—something we don't do often when fully loaded. While our hulls did not "dive" during this outing, they were trying. Occasionally, huge amounts of water (a wall of water) would come flushing over the bow of our boats. Kayaking Bob's spray skirts would clearly be helpful in these conditions. I don't know how Marc's TI was doing w/ respect to "hull diving" and water flushing over the bow. Perhaps he can comment on that in a subsequent post. I do know that he preferred to sail on "flat" water and liked to avoid waves.
You can read about our "expeditions" at
viewtopic.php?f=70&t=7276
Our boats were pretty dry (inside) at the end of 2 days sailing. Clearly, my fully loaded AI "leaks" more than when it is empty. Hobie has done the right thing on the new tandem to slant the rear hatch cover. They should do the same on future AI's. The middle hatch cover also needs a fix.
Keith