timo wrote:
Hi Sterling (hope you're still monitoring this),

We're just finishing construction of the mast base assembly and moving on now to the furler mechanism and mast stays and we have a couple new questions:

(1) The pics of the lines involved in the furler show three lines (a) an orange one that we believe is used to support the entire sail from the top of the mast to the bow pad eye, (b) a black and red line that looks like its purpose is to make the sail furl or unfurl, and (c) a black and blue line. What is the function of the black and blue line? What does it attach to -- the sail somewhere? Would appreciate whatever extended description you can supply of how to rig all these lines.

(2) When mounting the pad eyes for the shrouds behind the cockpit aka cross bar, it appears that they must be attached with screws because it it seems you can't get inside the boat to hold a nut or a bolt from underneath. Are screws really sufficiently secure? Did you drill a starter hole for the screw first? How deep? A little nervous about this step since putting holes in the boat seems so risky!

Thanks!

Timo
i missed that post sorry!
the black and blue line you speak of is the downhaul line that holds the jib secure to the furler mechanism, with out this line the pvc going through the sleeve in the jib will spin when you try to furl your jib and the jib will not actually furl (because it is not attached to the furler drum)
and i attached the pad eyes with well nuts that i got from hobie but you can bolt the pad eyes in place as well
the fairlead's i used 2 self tapping screws that are about 1/2 longer than the fairlead itself. i did drill a pilot hole that was smaller than the screw just to make sure it fit snug.
as for the jam cleats, i also used some short (maybe 1/2 inch or so) self tapping machine screws with pilot holes to secure the jam cleats.
i also was not keen on the idea of using self tapping screws at first but after all the testing i have done i feel confident that they will hold together very well.
and if something goes wrong you can patch the holes that you drill into your boat. most hobie dealers can patch small holes like that. i have drilled many holes in the wrong places on my AI but i just use an extra piece of yellow hobie plastic from another (deeply departed) Adventure
and a blow torch to melt a little extra plastic into the holes.
just remember when it gets too windy (in my tests, over about 12-15mph furl it!
Hope this helps!
_________________
Sterling
2008 Papaya Adventure Island with Roller Furler Jib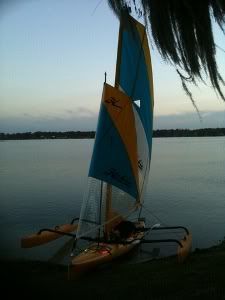 Post about my jib
viewtopic.php?f=69&t=20991