Ever since I first heard about the Outfitter several months ago, I have been intrigued by the concept behind this craft. Basically, it is a tandem, Mirage drive yak built on the Outback "frame", but is only 7 inches longer at 12' 8", and only 5 pounds heavier. But it is a true tandem yak that is completely comfortable for two in a relatively small package. By comparison, Hobie's original Tandem comes in at a length of 14' 6" and 69 lbs.
1.Here is an overall view of the Outfitter. Several things to note right away. One is the new twist and stow rudder that is expected to make its appearance on several of Hobie's new models next year, including the Adventure, and eventually perhaps on some of the older models like the Outback. Note the two built-in rod-holders each with their own splash covers. Although present on this demo model, it is not clear if these covers will become standard issue on the new production models. The tank-well space, although small, should be able to handle a small cooler or crate, but not both. Note also the dual seats and dual Mirage drives. Especially noteworthy (for me at least) are the full gunwale trays that we have come to know and love on the Outback.
2. Here is the cockpit view. Note that there are two starboard, mesh-covered pockets. Note also the two forward built-in rod-holders, each with a splash cover (although the port-side one is missing its cover). There are also two portside, self-draining cup-holders, one for each seat. There is also a large 8-inch hatch in front of each seat, suitable for carrying rain gear, food, or tackle boxes. I use a 8x13 mesh bag from Sports Authority beneath these hatches for carrying my tackle boxes in the hold, so as not to lose them. You could also use a second bag, or even a waterproof one for other miscellaneous items, including a camera.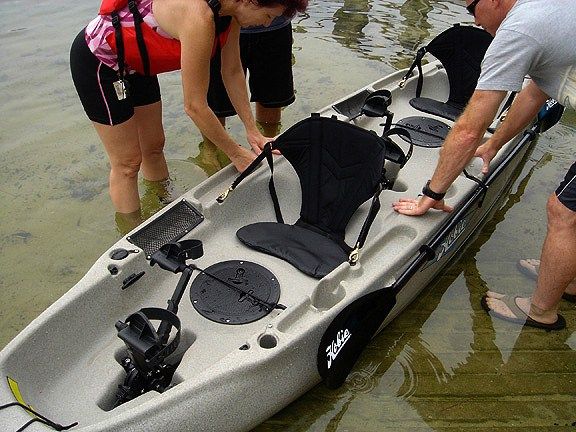 3. This pic shows the nice pair of amidships handles built-in to the gunwales. Folks have been asking for a similar feature on the Outback for some time, but it would have required significant re-working of the OB mold, and hasn't happened yet. But here they are on the new Outfitter. Note too the excellent location of the mast tube just ahead of the aft Mirage drive. Sailing the original Hobie Tandem proved to be a problem because the mast step was inexplicably located beneath the forward seat. This meant that you could sail single-handed easily, but that there was no seat available for a passenger who had to scrunch up in the cockpit forward of the mast. Note also the scupper drains (where the cart also plugs in) just to either side of the rear hatch.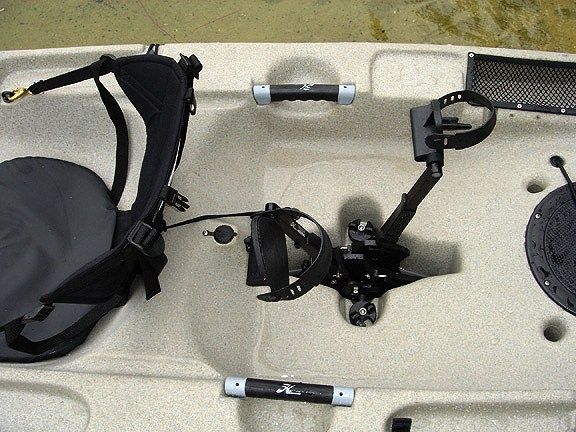 4. Moving further astern, we enter the after cockpit. Each seating position has its own starboard cleat to use as a leash attachment point, or perhaps for positioning the anchor. Personally, I would add an extra cleat and/or eye straps to the port side also for the same purpose. As mentioned earlier, each seat has its own cup-holder, gunwale trays, mesh storage pocket, 8-inch hatch, and bungee hook for holding one Mirage drive pedal aft to keep the flippers up against the hull in skinny water. Ditto for use in lots of FW vegetation or Pacific Coast kelp beds.
Note also the newly re-designed bungee paddle-keeper. This is another small, but definite improvement since it includes a small fabric tab on the bungee cord to make it much easier to pull these things up around the screw. I found that with the old, fairly stout paddle-keeper bungees, although they held the paddle very well, one's fingers often got caught under the bungee in the process. Although not life-threatening obviously, it was annoying, especially for someone with a touch of arthritis in their digits anyway. This new keeper is also present on the Adventure and new Quest, but not yet on the new Outback (or at least not on the demo model that I reviewed earlier--#II).
Interestingly, there are two paddle-keeper bungees (as on other Hobies), but here we have a forward paddle-keeper bungee on the starboard side within reach of the forward seat position. And, we have the second paddle-keeper located just aft of the portside handle, and within reach of the rear seat position. Another small, but thoughtful, touch on the part of the Hobie designers, as with the tab on the bungee paddle-keepers.
Another good idea is to have one of the new Hobie "eye strap" anchor points located just to the left of each hatch (note the bungee lying directly across the hatch). Although it may look like it, this bungee is not to secure the hatch in place. Instead it makes for a very convenient place to lash the bungee hook down, and to keep it out of the fray in the cockpit, say when trying to land a fish, paddle, pedal, or just during cockpit entry and exit. Always thinking-them Hobie folks! There could be nothing more annoying than to return to the beach, ready to make a nice graceful exit without falling into the drink, only to find that you are "anchored" in the cockpit with a bungee hook in your pocket or bathing suit! Don't know if these bungee hook keepers will make it into the final production models, but I like the idea of having them available.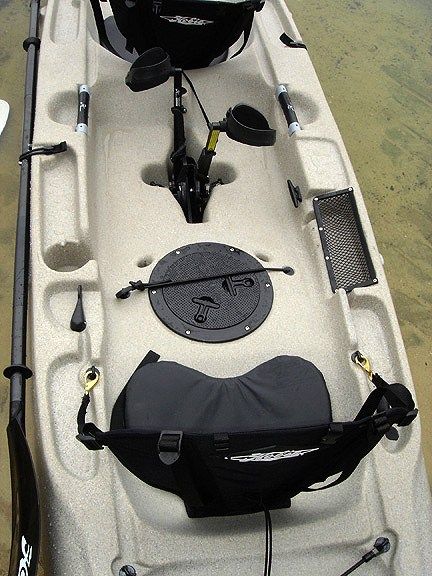 5. Also, it may be important to note that if you are a solitary fisherperson a good part of the time, yet want to use your yak occasionally for some family fun, the Outfitter may be just the ticket. Simply remove the forward seat and Mirage drive and you will have a ton of room up forward to carry your tackle, rods, cooler, camping gear or whatever.
6. Note also the quaint single bow bungee hooked in the cockpit. Not exactly sure what this could be used for, but I'm fairly certain that I would find a use for it for some thing, at some time. In fact, what I would really like to see is something like this on the bow of the Sport and the new Outback. This bungee would be very handy to help secure the Mirage drive on the bow when it is pulled, as when landing and launching.
Also, if I'm not mistaken, note what appears to be a hull drain plug right in he middle of the bow. This would be another small, but significant, advance over, say, the drain plug on the older Outback that is located on the stern, and almost impossible to use without potentially damaging the rudder assembly itself.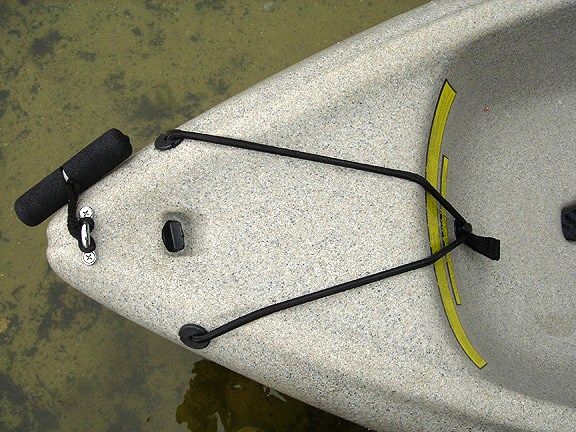 All in all, a really great new boat from Hobie that I expect will become very popular. But, what to do about the older Hobie Tandem? For what it is worth, IMHO, Hobie probably needs to begin thinking about pulling other less well-designed, or perhaps less popular, yaks and eventually retiring them. It may soon be getting to the point that Hobie is mainly competing against itself, especially with regard to the Mirage drive line. That not only drives up the costs on everything, but also makes it difficult for consumers to identify exactly what niche each yak fits into specifically for their needs or wants. Just my $.02 worth.