Well fellas the whale season is apparently on ( that may have been a whale after all that we saw at Jervis Bay Stringy ). I thought it was too early for it to have been a whale but 2 were sighted at Port Stephens at the weekend. I'm looking at hopefully getting out within the next couple of weeks and I'm thinking that Port Stephens has a number of benefits. Nice clear blue water, the whales tend to come in close between the islands for some reason, and there are whale watching boats around that we could use to help with spotting. Trouble is, as usual, I have to fit it in with a few commitments so at the moment this coming Sunday ( 30th ) or the following Saturday ( 5th ) would fit in well although I could be tempted to do a weekday if it suits better with others.
Any takers ? I wouldn't mind launching this time from Fingal Bay. We can drive down onto the hard sand beach at Fingal and unload at the waters edge. It's OK, if you blokes get bogged, I can pull you out.
Also with using Fingal we wouldn't have to tackle going out through the heads either. But if we find it isn't too rough, we could go into Shoal or Nelsons Bay for lunch.
OK, who's keen ?
Fingal Bay launch site. Have you seen this beach before ?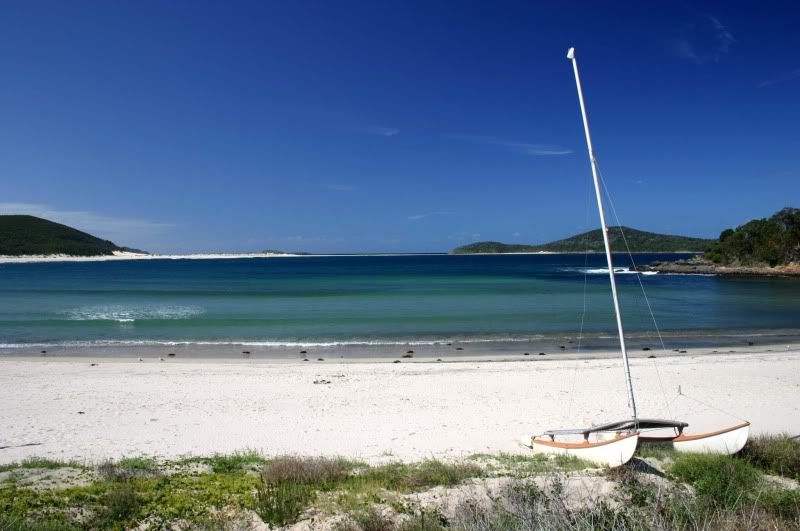 How about now ?
I gave Laura a ring and she's up for it.
_________________
Don't take life too seriously................it ain't permanent.