My local kayak dealer, The Wilderness Way had another Demo Day today at Lake Hall in the Maclay Gardens State Park in Tallahassee. Gave me a chance to try a few new things with one of their Adventures. This was a brand new yaller one from their rental fleet.
Here are a few of the issues in which I was interested.
1. Rudder retrieval problem
Although I had been told that the Wilderness Way folks had not had the �sticky rudder� syndrome where the rudder refused to come up on deck using the starboard hand control, I too had the same problem. You really feel like you are going to break something by forcing it. So when I returned to just off the beach, I hopped out, partially dislodged the rudder by hand, and then raised it onto deck normally using the hand control. Although I tried to figure out what might be causing this, I finally had to come away without any clear idea of why this was happening. I tried it with the rudder to port, starboard, and amidships, but all to no avail. Seems like the Hobie engineers may need to put their heads together on this one.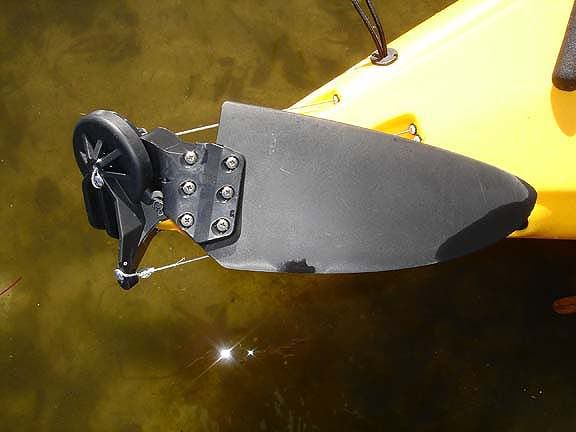 2. Paddling and pedaling simultaneously
There has been some discussion about this on several boards. Personally. I have always felt a little out of sync doing this, and as a result, generally stick to straight pedaling when in open water, using the paddle mainly when launching or returning. I finally discovered a simple solution to my �out of sync� woes. I noticed that with a normal setting of the Mirage drive for my height, my knees were just about at chest level when both pedals were aligned side by side (flippers fully extended). Thus, when pedaling, I kept banging my knees with the paddle on one side or the other, and it never felt quite right doing both simultaneously. However, if you coordinate your paddle stroke with your Mirage drive stroke, then it all falls into place. You do this by extending, say, your right leg on the Mirage drive pedal. This brings your right knee down to just above waist level. Then, and only then, you perform a starboard sweep stroke with your paddle. This allows your starboard paddle stroke to clear your knee nicely. Ditto for the left knee and the port paddle power stroke. Just a few times doing this alternately on each side will get your upper body in sync with your lower body, and you will be amazed at how smooth your simultaneous paddling/pedaling strokes will become. If you do get out of sync (and you will occasionally), just start over with either the port or starboard paddle stroke, and you will quickly be back up and running. I'm sure that a number of you have already figured this out, or just do it automatically, but it was another one of those �duh, dude� experiences for me. In the below pic, note that my right leg is almost fully extended on the pedal throw, while my paddle shaft is angled down to the right for a simultaneous starboard power stroke with the paddle. Note also that my paddle shaft clears my right knee by several inches at this time.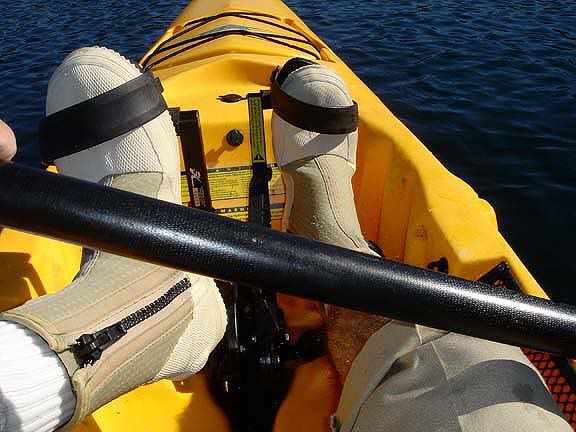 3. General Stability
I'm always impressed with the overall stability of the BigA, and today was no exception. Even though the BigA has a fairly narrow beam, I always get the feeling that I'm in a pretty solid craft, perhaps even more stable than either my Sport or Outback (although these are both very stable boats in their own right). Andy, the yak guru and rigger at the WW says he has come to the same conclusion. Although I have commented on this elsewhere, I also am impressed at how little water is present in the Mirage drive well. Note that the water level is just about even with the side of the cams that lock the Mirage drive in place.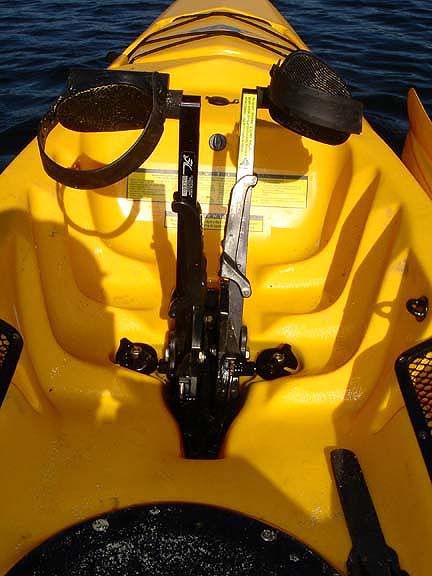 4. Standing and Kayak Stability
Although most folks don't recommend standing in a yak unless you have exceptional balance or outriggers installed, it can be done successfully. It is somewhat dependent obviously on how much flat space you have in the cockpit of any particular yak. Here's Andy in a Tarpon 140 that has a broader beam than the BigA, and no Mirage drive well obviously. This means that you can position one foot slightly ahead of the other, and take a wider stance in the cockpit. The Hobie Mirage drive yaks tend to not be as good for standing as some others, however. The main reason for this is that the Mirage drive well uses space that otherwise might have been flat deck in the cockpit of another brand. Thus, there are just fewer flat places to stand in the Hobies.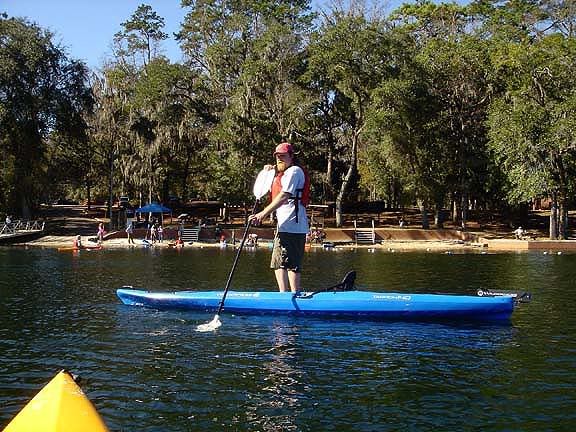 5. Standing in the BigA
Also, in the BigA, with its narrow beam, it is more difficult to place your feet very far apart in a comfortable, balanced stance.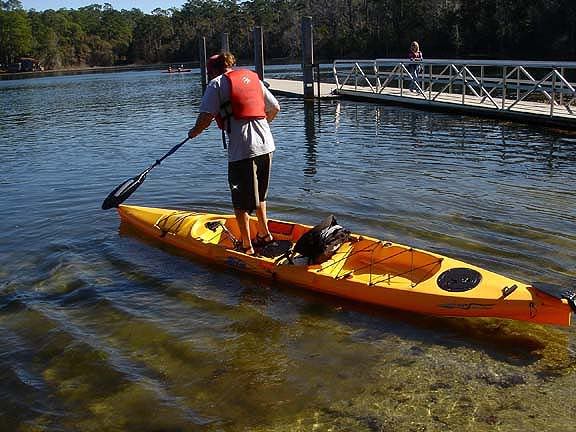 However, with a little practice it can be done. Once Andy got comfortable standing, he was able to move right on out in the BigA as well.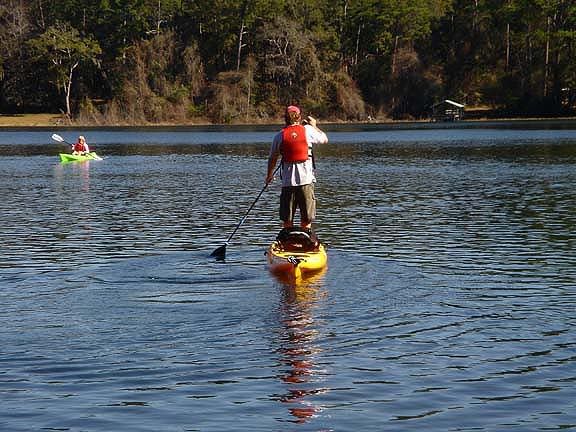 All in all, another great winter's day in North Florida! Although the temps had been projected to be in the 20s-30s last night, it never got anywhere near that cold. In fact, the weather was just about perfect for the demo today with temps in the low 70s in the late morning and well into the afternoon. It turned out that The Wilderness Way had its biggest turnout ever for a Demo Day with over 75 folks showing up during the 1000 to 1500 time slot at the Park!