Hi All,
Long story short -
while solo sailing my brand-new TI in moderate winds/light seas, the rudder spontaneously snapped in half mid-fin.
Pictures and narrative follow...I want to make sure that I wasn't somehow negligent before I try to get a replacement under the warranty. If there's another thread where this issue is discussed I apologize for the re-post.
Here's the deal...I purchased a new TI last month and have only had it in the water about five times. So far I've only had the chance to sail it with winds under 10 kts until today. Conditions were pretty much perfect this afternoon with winds about 15 kts and less than 2 foot seas. I was on my way home in 30-40 feet deep water and on a port tack beam reach, probably making about 8-9 knots, when the steering suddenly became unresponsive and the boat started to point up on its own. I had not struck anything in the water nor taken an unusually large swell...there weren't any unusual noises or vibes.
Based on perusing these forums I'm pretty well versed on all of the problems TIs have with their rudders (but up till today I've been pretty lucky with mine), so I just figured it had popped out. Once I got stopped I decided just to pull the rudder up and then redeploy it to reseat it...but when I pulled it up, this is what I saw...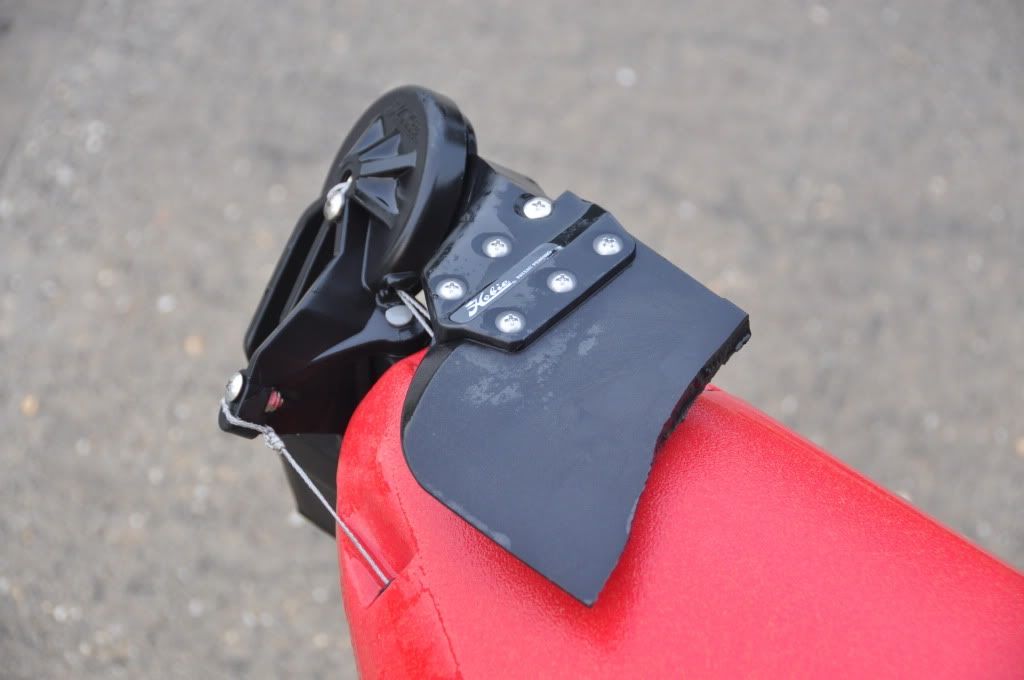 I was obviously a bit concerned...but was mostly relieved, since only 10 minutes before I had been out in the gulf where the conditions were more challenging. If it had happened out there I don't think I would have been able to successfully steer home using the paddle as a makeshift rudder. I had my VHF at the ready, but I would have considered it a major loss of cool-points if I'd had to call in the cavalry.
Some other pictures follow - but I'm all ears for suggestion/comment here. I didn't hit anything, and I really wasn't sailing the boat that hard. The sail wasn't reefed at all, but I definitely didn't have it powered up all the way, either. The boat had been cruising pretty much perfectly up to this point. I like this boat, but must agree with most other users that the rudder setup is less than optimal. Sailing a couple of miles home while dragging a paddle to keep the boat on course made me appreciate how much stress the rudder is under - the stock one is far too small. At the very least a reinforcing spar molded in to the rudder could probably have prevented this.
So...I assume this should be covered under my warranty? Any thoughts on what could have caused this?
Cheers,
-Charlie