OK this is by popular demand, from forum users to show my Tandem Island mods.
I have around 500 miles on the boat to date with the mods and everything seems to work well in pretty much all conditions when used wisely (you don't raise the spinnaker in 4 ft waves and 25 knot winds (Duh). The Hydrofoils are not to raise the entire boat out of the water like those crazy Moth boats, but do serve the purpose of raising the boat just enough to keep my bottom dry, and keep the bow from nose diving (not fun in 60 deg water). The outboard motor is only for emergency use, for when I am 30 miles from my car and the wind dies, or the rudder breaks, and I am exhausted. I keep the boat on top of my car, and it takes around 35 minutes to unload off the car and setup by myself. I sail mostly around Sarasota, Florida and Key West, and am out pretty much every weekend on an adventure somewhere year round. I'm also an avid Scuba diver and love to combine my two hobbies. Here is a link to hi def pictures of the boat on photobucket
http://s281.photobucket.com/albums/kk22 ... /?start=20
. My only word of warning to anyone is don't do these mods unless you have a pretty good understanding of sailing, and engineering, because if done incorrectly you will exceed the design intent of the boat and it will break, and you could die (don't blame me). There is alot of rigging, that has never gotten tangled yet, but I keep a knife handy just in case. I'm happy to answer any questions, and will post some video one of these days (hard to video yourself).
Bob
2010 Tandem Island
2007 Revo
my rig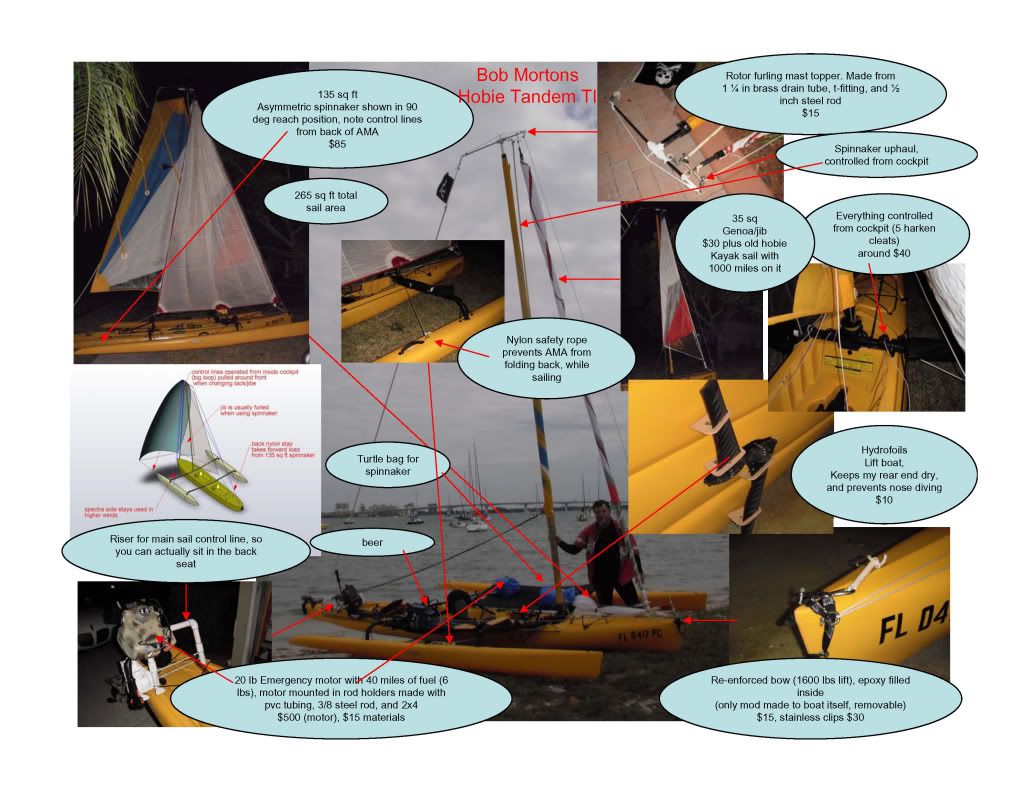 Hi Bob, just wondering is your motor one of these and if so how are you liking it?