Howdy.
John from Spring, Texas
I purchased a TI a few months ago and have used it 4 times with not very good results. I love the concept but the problems are so numerous that I am losing confidence in this boat.
1st time - Rudder & Mirage Drive- the first time I took it out was on Lake Livingston, Texas. Needless to say the outing didn't last more than about one hour because I could not get it to steer correctly due to the inherent design defects of the rudder. I wanted to take my daughters out on it but I just couldn't get it to work right. I ultimately thought it was something I was doing wrong and I set about researching the tandem island and low and behold I found this forum! I quickly realized from the forum members that there were inherent problems with the steering. I also had trouble getting the front drive to seat properly. It was a real struggle and took at least 15 to 20 tries to finally get it to seat securely in the drive well.
2nd time - Rudder & Mirage Drive- I took the kayak out a second time (prior to the temporary rudder fix) on Lake Livingston again. I had my family with me this second time also, but I would not take them out in the TI until I was certain that it would operate correctly and safely. I was determined to get the rudder to seat properly but alas, it just would not steer correctly. After about one hour I decided to just take it back to the dealer for a fix. Before I pulled the boat out of the water, we took a break on land for a couple of pints. When we came back, the boat was basically sunk. The entire main hull was full of water. Apparently in the struggle to get the front drive to seat in the front drive well, the drive punctured the hull. Fortunately, the TI was only sitting in about 3-1/2 feet of water. I sent the TI off to a local kayak dealer and had the puncture repaired. In the mean time, I heard about the TI rudder temporary fix coming out, so I decided to have Southwest Paddle Sports in Houston, Texas build a trailer for the TI while I waited on the fix.
This is where the drive well punctured: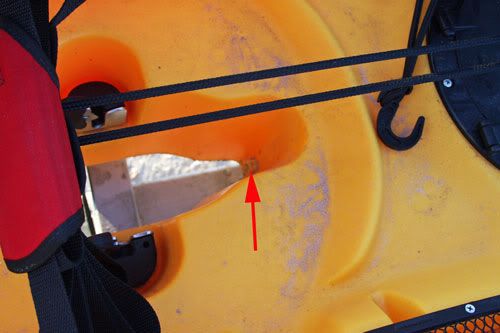 3rd Time - I received and installed the temporary rudder fix. IT WORKS! The weather warmed up enough to take the TI out so I headed to the Texas City Dike late on February 13th. The weather was good, wind was good, and I took it out and had a great short sail (45 minutes); however, I had a lot of difficulty getting the front drive to seat securely in the drive well. It took me about 10 minutes to get it to seat properly. I really think there is a problem with the front drive well. I have not had any problem getting the drive to seat in the rear drive well the few times that I have tried. When I pulled the TI out of the water, it had approximately 2 to 3 gallons of water in the main hull. That is after about a 45 minute sail in fairly calm waters. That seemed excessive. I unfortunately had run out of light due to the late take-off and did not have time to try and trace where the water was coming from.
4th time - I decided to take the TI out again the next weekend on February 20th. My daughter had been dying for me to take her "sailing" so I bought her the necessary clothing (not cheap) and we headed back to Texas City. The day looked pretty good, Air Temperature 75 degrees, wind 15 knots, water calm, water (a little cool) at about 62 degrees... what more could a TI owner ask for. Well, it was not to be. When we got there, I unloaded the TI from the trailer and after setting the TI up, I noticed the rigging lines were slack. After a couple of minutes, I realized that a pin was missing out of a shackle holding the Harken Block. I had no way of reliably pinning the block in place, so I reluctantly trailered the TI. I was really mad!!!! and I was fed up with Hobie,
but I have to say that through it all, my daughter never stopped smiling. When I had to tell her that she would not be able to ride on the Hobie TI for the 3rd time, she just smiled at me and said "that's OK Dad, I really appreciate you trying". That's priceless. I will say this for the record. If I try to take my daughter out a 4th time, and there is a Hobie failure, Hobie is going to have a very, very, very, very unhappy TI owner to deal with. It's not right that I have spent several thousand dollars on a boat and have not been able to take my family out on it. I've even bought every spare part that I thought I could possibly need. I've bought spare everything! Drives, fins, you name it, everything I could reasonably conceive that could fail......but I apparently should have known that the shackle holding the Harken block will fall out in transit and I should have had a replacement on hand for it also. But by the grace of God, the block did not drag on the highway as I was traveling to Texas City or I.....no... Hobie would be replacing it. The harken block should not be loose after less than two hours of use from the time this TI was new. Should there be Loctite on the shackle pin? Oh, I forgot to mention, the seats on the TI do not work well. I (and others) cannot get the seat pegs to hold in the kayak bottom which results in the seat bottom sliding forward; however, I have only used them less than two hours and maybe I'll figure it out. I've also ripped and destroyed a drive fin within the first 15 minutes of owning it. Wow!!!!
Shackle Fail
No Sailing Today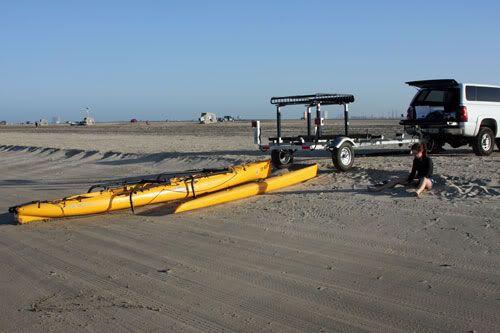 Smiling Daughter]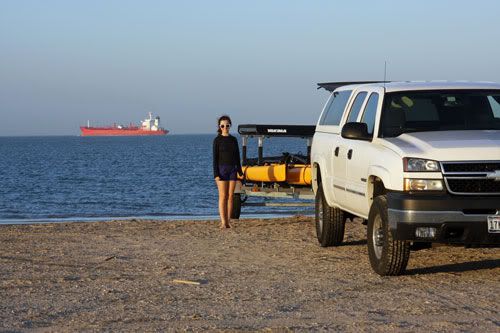 Here are the things that I have learned:
1. If you are going to invest in a TI, also invest in dressing for immersion. You may very well end up in the water.
2. Don't ever go out on anything other than a small body of water without an Epirb or a SPOT locator. Make sure it is attached to your body and not the boat.
3. There are 2 reliable ways to use a TI:
A. Get a 2nd TI to tow behind the 1st so that you can use it as a "parts" boat.
B. Make sure a rescue boat is following the TI.